---
Updated on January 23rd, 2021
A boat (vessel) bill of sale form can be used during the transfer of ownership of a watercraft. Its function is to consolidate all the information regarding the sale or gift of a watercraft, thus creating a receipt for the purchase. This information includes general details such as the purchase price, buyer/seller specifics, and the vessel's HIN (Hull Identification Number). The contract benefits both parties and may even be legally required dependent upon which state the transaction is taking place.
BY STATE
How to Sell a Boat (Vessel)
If you are looking to sell your boat, there are some steps that can be taken to increase your chances of a sale. Listed below is a guide that will help ease the process of selling your watercraft.
Step 1 – Preparing your Vessel for Sale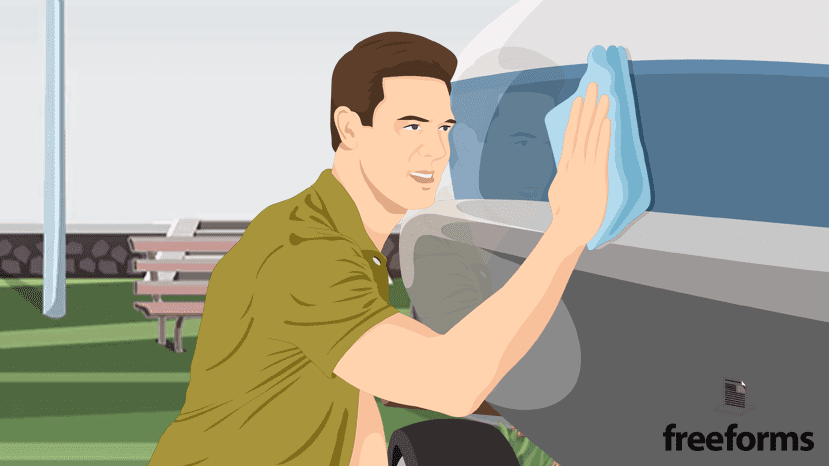 Before you present your boat to the public, you are going to want to make sure that the vessel is in tip-top shape. Start by emptying out any unnecessary clutter within the boat. If your boat contains a cabin, clean the inside top to bottom using household cleaning products and vacuum the floors. Next, you are going to want to clean the outside. Begin by washing the deck making your way down to the hull to scrub off any grime caused by the water (a power washer could be used for the more stubborn build up).
Examine the boat looking for any defects such as scratches, rust, damaged parts, malfunctioning equipment, etc. Assess whether or not you think it is worth taking the time and money to repair the flaws to increase your chances of getting a higher price. Some defects may be easily repaired for a low price, others you may think will cut into your profit.
Step 2 – Collect the Vessel's Paperwork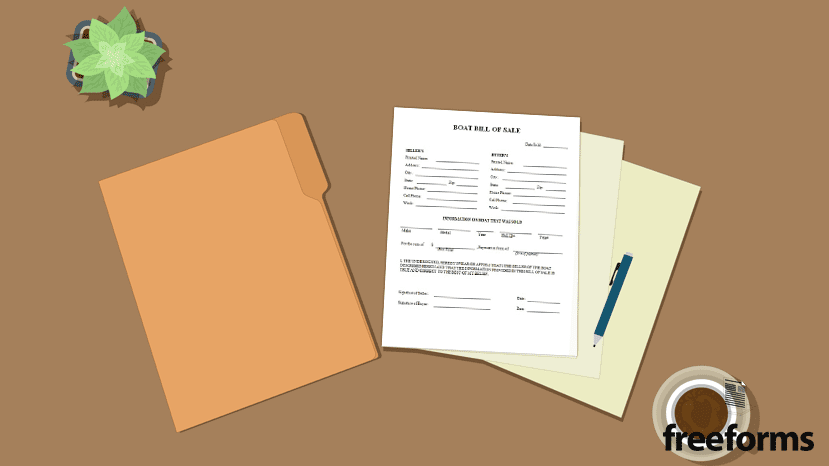 There are various documents that a seller should have on hand when getting ready to sell their boat. These documents would include:
Bill of Sale – Be prepared with 2 blank copies that can be filled out and signed on the date of the sale (it is recommended that both parties receive a copy for their records).
Title of the Vessel – This is the certificate of ownership one receives at the time of sale.
Registration – Unless your boat is exempt from registration, you should be prepared to present the new owner with a copy of the vessel's most current registration card.
Proof of a Paid Loan – If the boat was financed, you are going to want to provide paperwork confirming that you have reimbursed the lender, e.g. lien release.
Trailer Documentation – If you plan on including the trailer you use to tow the vessel in the sale, you are going to want to gather the title and registration.
Receipts for Maintenance and Repairs – Compile any documentation regarding the improvements made to your boat.
Warranty – If the boat has a warranty attached to it, be sure to provide the supporting documents.
Step 3 – Figuring the Price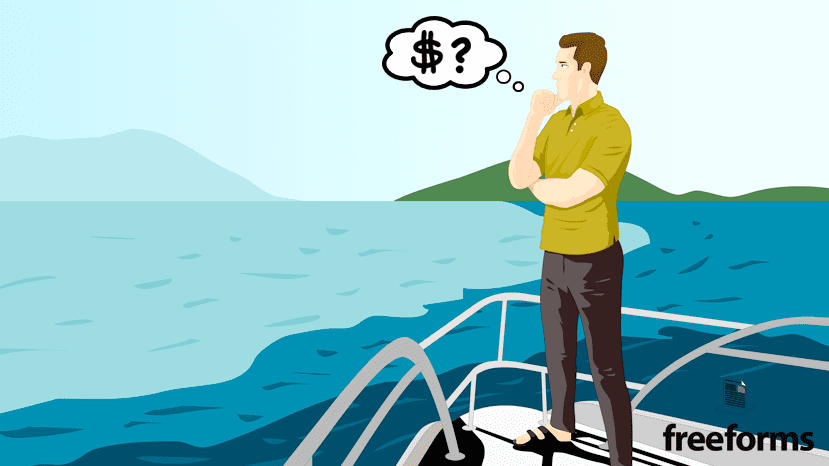 Now that you have thoroughly cleaned up your boat and have all the necessary paperwork, it is time to figure out what the selling price will be. There are several considerations you are going to have to make when adjusting the value of the vessel. First, you are going to have to give an honest evaluation of its condition. Is the watercraft in poor, fair, good, very good, or excellent condition? The better the condition, the better price you could potentially receive. Next, scan through the classified ad websites to get a feel for the market. Viewing ads of similar boats can help you assess your watercraft's value. There are also websites online that provide pricing tools, the most popular being:
NADAguides.com – Here you can enter specific information pertaining to your vessel and their system will generate an estimated price.
Step 4 – Advertising
In today's technological climate, the internet is considered the superior route for advertising an item for sale and a used boat is no exception. Certain websites are specifically dedicated to the sale and purchase of watercrafts. A few of the more popular websites would include:
BoatTrader.com – One of the top websites to advertise your vessel. They do charge a fee in order to post an ad on their website, packages include:

Basic – For $59, you can post an ad containing 2 photos for a maximum of 2 weeks.
Enhanced – $149 to post an ad with 12 photos for 6 weeks.
Premium – $199 to post an ad with unlimited photos for 12 weeks.

Boats.com – Owned by the same company as the previously mentioned website, this site ranks high on Google and is a cheaper option to advertise your vessel. Plans include:

Basic – $30 to post an ad containing 2 photos for 2 weeks.
Enhanced – $85 to post an ad with 12 photos for 6 weeks.
Premium – $120 to post an ad with unlimited photos for 12 weeks.
You may also advertise your boat on some more generic websites that aren't strictly dedicated to the sale of boats. These would include:
Ebay.com – Allows you to create a listing under "Boats". You have the option of setting a fixed price or initiating an auction style approach. Visitors will then bid on the vessel for the duration of the listing. Fees will vary depending upon several factors.
CraigsList.org – Is the most well-known classified ad website. It is a free option that allows you to advertise your boat to a local audience. Just visit the website and post under 'for sale>boats>by owner'.
Facebook.com – Create a post on your Facebook account announcing that you have a boat for sale (especially if you are friends with fellow boating enthusiasts). It is free and a good way to get the word out.
Step 5 – What to Include in your Ad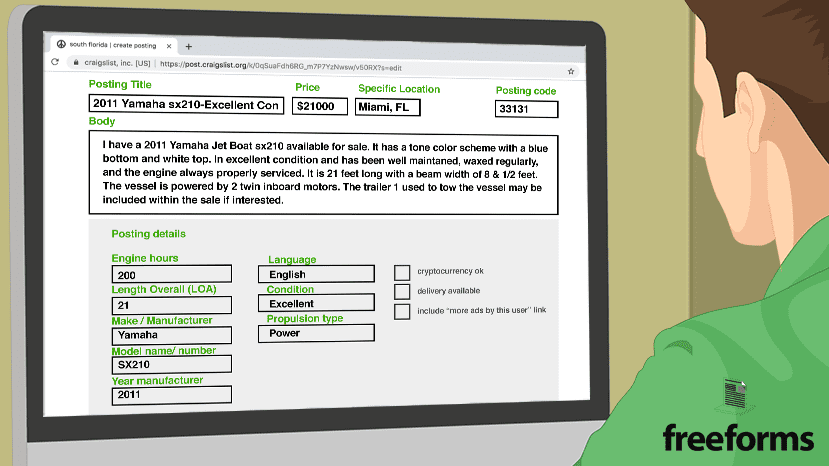 You are going to want to include as much vital information as possible concerning your boat. Most advertising websites will have fields where you can input the necessary information. The main areas you are going to want to cover are:
Title – This is going to be the heading of the post and what entices visitors to click on your ad. Be sure to provide the essential information pertaining to the vessel. You may incorporate:

Year
Make
Model
Brief Selling Point

Price – Enter the sales price that you have decided upon when calculating the vessel's value.
Location – Where is the boat currently located?
Description/Posting Details – This is a crucial portion of the ad that should be carefully considered. List as many details as possible regarding the vessel, such as:

Year of the Vessel
Color
Make/Manufacturer
Model Name/Number
Condition (poor, fair, good, very good, excellent)
Propulsion Type
Length & Width
Inboard or Outboard Engine
Hours Clocked on the Engine
Additional Features/Improvements
Amenities
Defects (it is better to be upfront about any mechanical or cosmetic issues with the vessel)
Any extra items included with the sale of the boat.

Seller Contact Information – To allow potential buyers to get in touch with you, you must provide the following information:

Name (you may refrain from using your last name if you wish)
Email Address
Phone Number (you may specify whether you prefer call or text)

Photos – Maybe the most important aspect of your post will be the pictures. People want to see accurate photos of the vessel inside and out from different angles. Be sure to use a quality camera with good lighting to take crystal clear photos of the watercraft.
Step 6 – Showing the Vessel
It is only a matter of time before you are contacted by an interested party wanting to view the boat in person. Come to an agreement on a time to meet the potential buyer for a showing. Make sure the boat is in pristine order and be prepared to sell that day. Once the interested party has arrived, give them a full tour of the vessel highlighting all the qualities of the boat. The buyer may want to test drive boat to make sure it is in working order. How this handled is up to your discretion and you may insist on accompanying them for the ride (they may also want a mechanic to overlook the vessel for approval).
Step 7 – Negotiating the Sale
Once an individual has expressed interest in buying your boat, it will be time to sit down and discuss the terms and conditions of the sale. The first hurdle will be the sales price. A lot of times, a buyer will try to get a reduction on the original asking price in an effort to save money. This puts the ball in the seller's court on whether or not they would like to accept, decline, or offer a counterproposal. Once both parties have come to an agreement, you will want to determine what type of payment will be used for the sale. For the seller, cash and certified check are always the best options. If certified check, you may take it a step further and meet the buyer at his or her bank to guarantee that it will clear. After the buyer provides the payment, the seller may hand over all the necessary documentation and present them with the keys to their new vessel.
How to Write a Boat Bill of Sale
Step 1 – Download in Adobe PDF or Microsoft Word (.docx).
Step 2 – Sale Details – At the beginning of the form, you are asked to divulge the following information regarding the sale of the vessel:
Name of Purchaser(s)
Date of Sale (mm/dd/yyyy)
Total Purchase Price (numerically, in dollars)
If there are additional components involved in the sale, enter the individual price of each item making sure that it all adds up to the purchase price above:
Boat Price (numerically, in dollars)
Outboard Motor Price (numerically, in dollars)
Trailer Price (numerically, in dollars)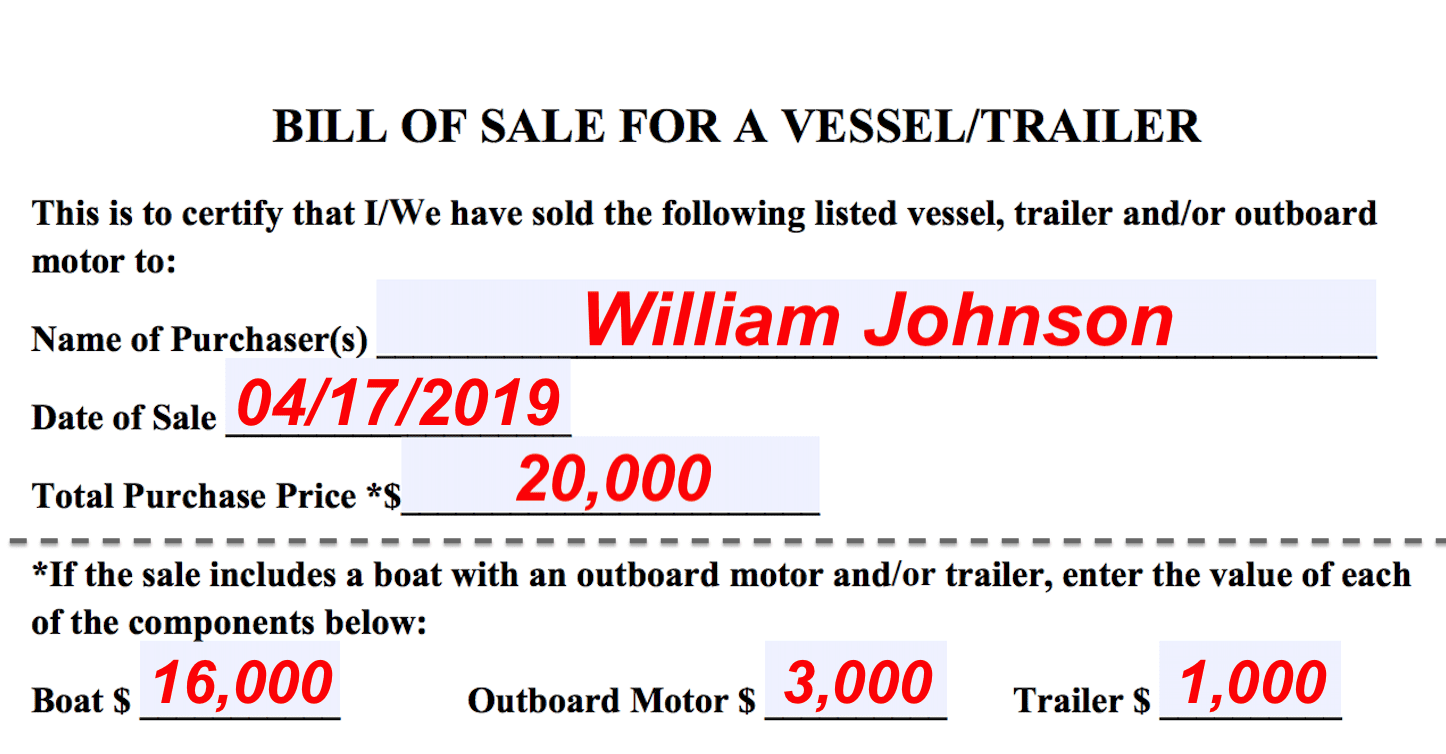 Step 3 – Description of Vessel/Trailer – The bill of sale requires that the seller insert the requested details concerning the vessel. If a trailer is being included within the sale, there is an additional section that allows you to input information related to the property. Provide the following:
For Vessel:
Make
Year
Length (in feet)
Title Number (if available)
Hull ID Number
Registration Number
For Trailer:
Make
Year
Empty Weight
Identification Number
License Plate Number

Step 4 – Finalizing the Document – The buyer(s) and the seller(s) must complete the form by providing the requirements listed below:
Signature of Seller
Signature of Co-Seller (if there is no co-seller, leave blank)
Printed Name of Seller
Printed Name of Co- Seller (if there is no co-seller, leave blank or write "None")
Signature of Purchaser
Signature of Co-Purchaser (if there is no co-purchaser, leave blank)
Printed Name of Purchaser
Printed Name of Co- Purchaser (if there is no co-purchaser, leave blank or write "None")