---
A lease agreement allows a tenant to occupy space in exchange for the payment of rent to the landlord. Prior to authorizing a lease, the landlord may request the tenant's credit and background information to ensure they can afford the rent amount. In addition, the landlord may require a security deposit equal to one (1) month's rent in case the tenant does not fulfill their obligations under the agreement. Payment is commonly due on the first (1st) of the month with late fees or eviction proceedings that may commence if the tenant is late.
Rental Application – In order to find qualified renters, landlords will commonly distribute this document to interested parties. It requires applicants to disclose certain information regarding their past tenancies, present occupation, and overall financial status.
Lease Agreements By State
Lease Agreements By Type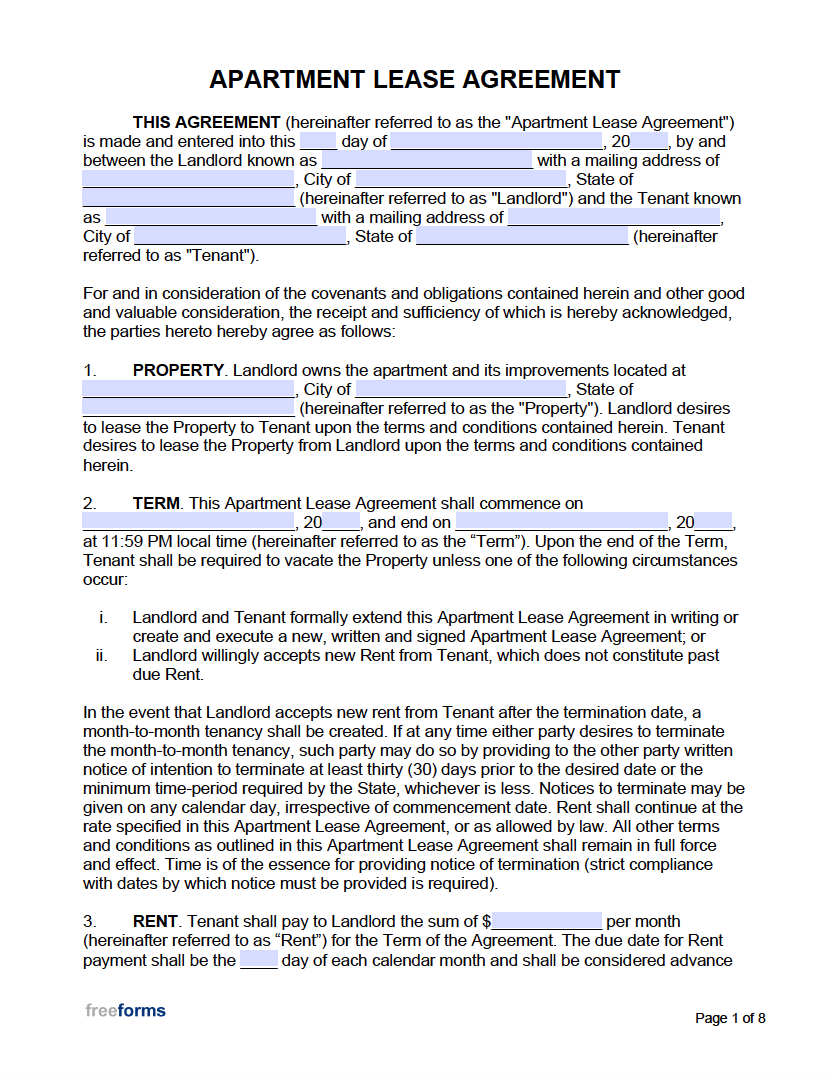 Apartment Lease Agreement – A residence located in a multi-family building or structure. Unless the apartment is located on the first (1st) floor, there are no requirements for the tenant to maintain the premises.
Download: Adobe PDF, MS Word (.docx)
---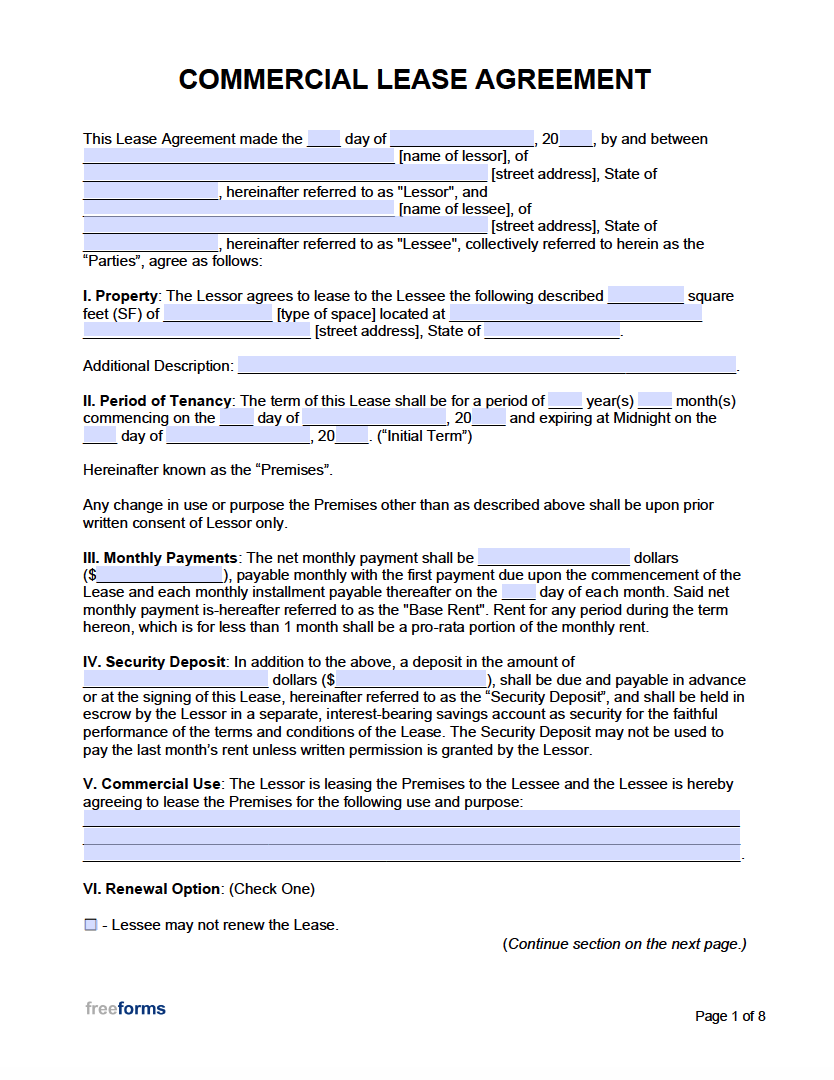 Commercial Lease Agreement – The leasing of property for a business-related use. This may be for any retail, office, or industrial purpose.
Download: Adobe PDF, MS Word (.docx)
---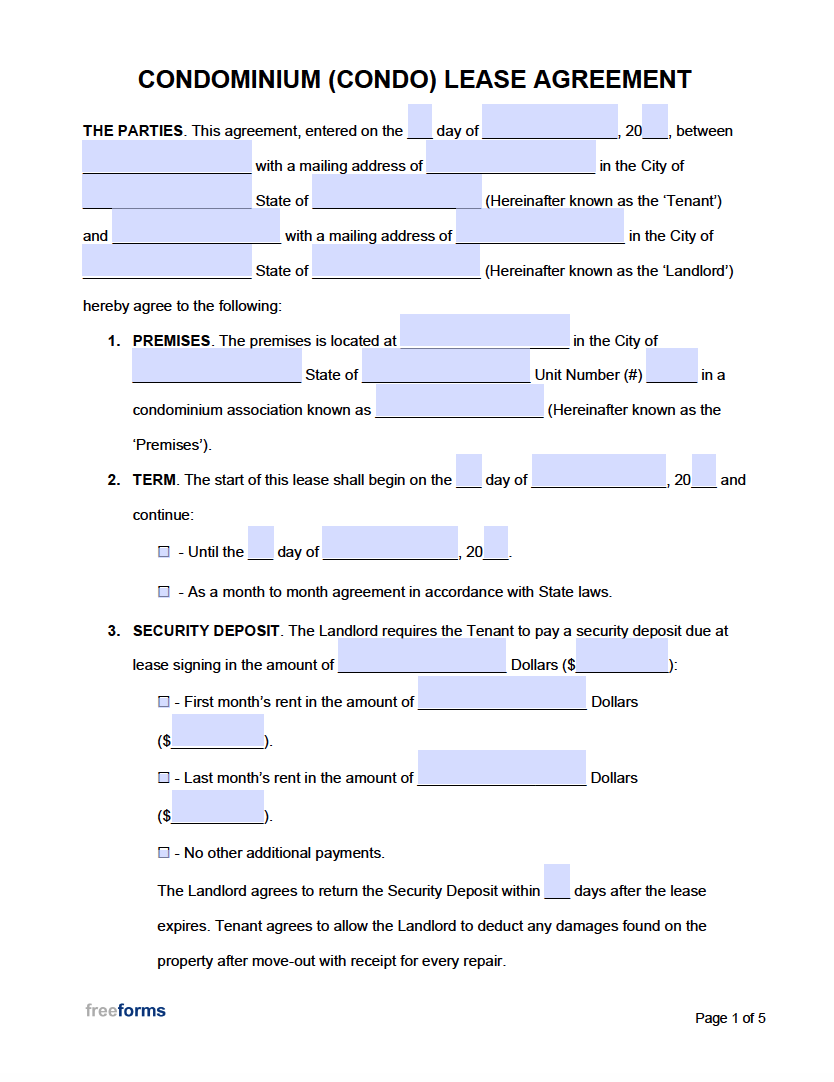 Condominium Lease Agreement – When an owner of a condominium decides to rent the property to another person.
Download: Adobe PDF, MS Word (.docx)
---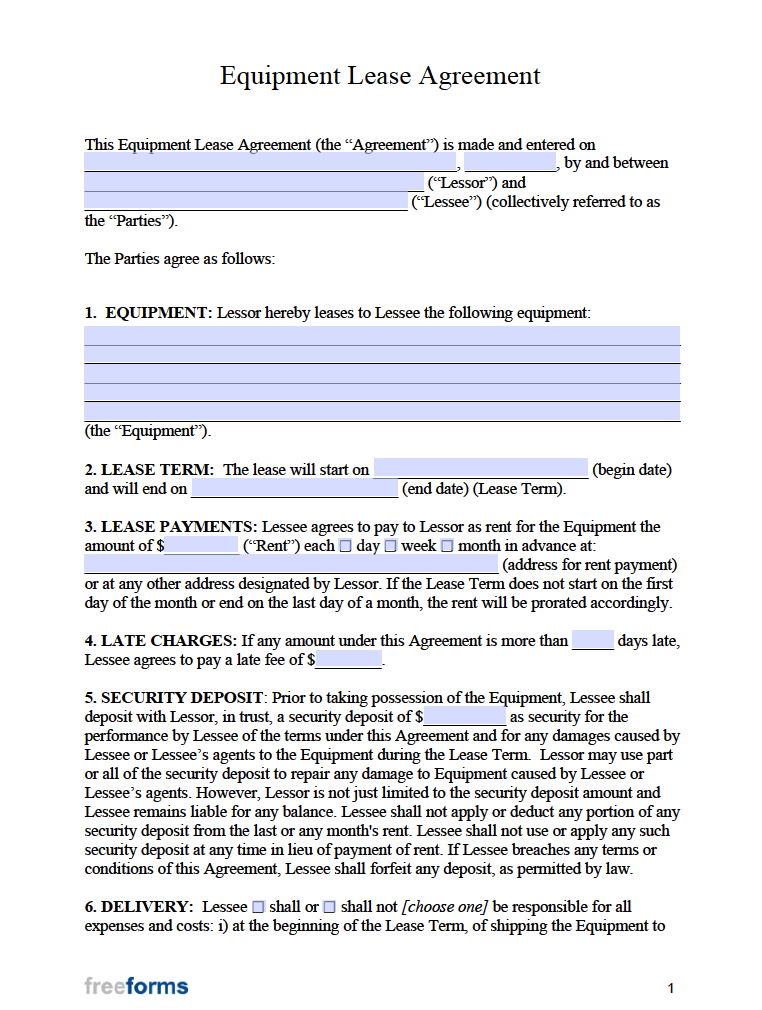 Equipment Lease Agreement – The renting of an item for personal or work use.
Download: Adobe PDF, MS Word (.docx)
---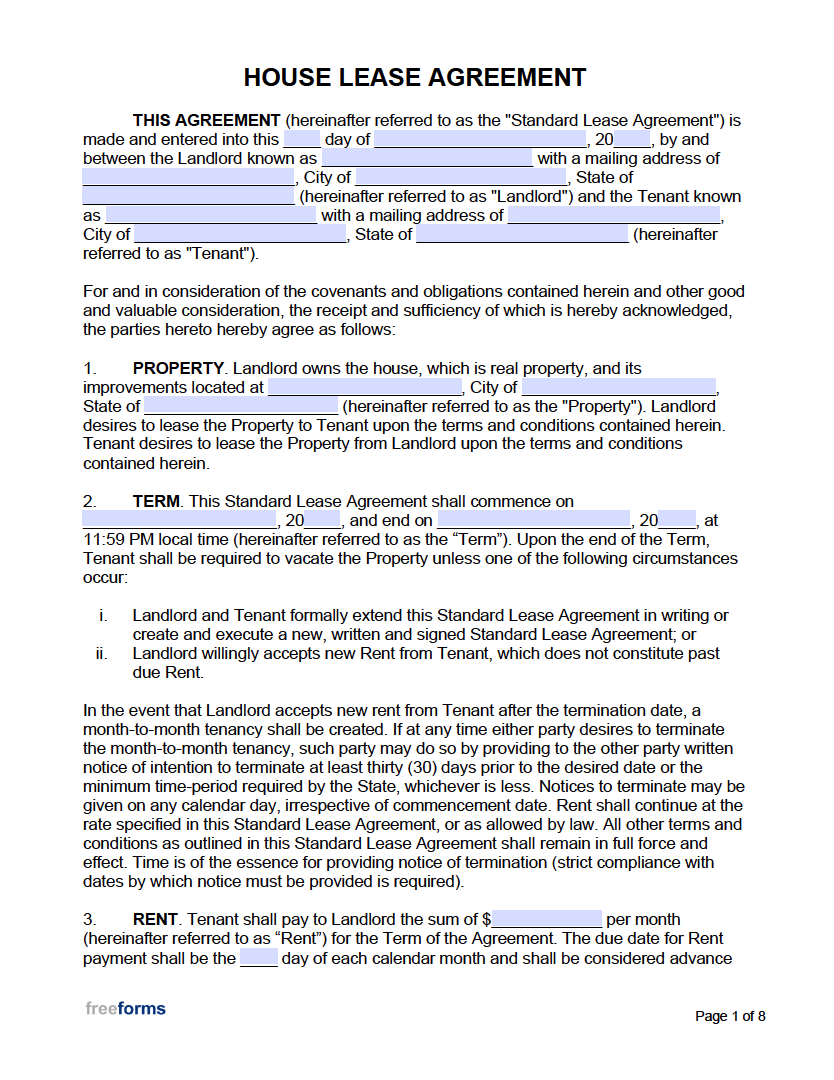 House Lease Agreement – The rental of a residential home.
Download: Adobe PDF, MS Word (.docx)
---
Lease to Own Agreement – When the tenant rents the property with the option to purchase during the course of the tenancy.
Download: Adobe PDF, MS Word (.docx)
---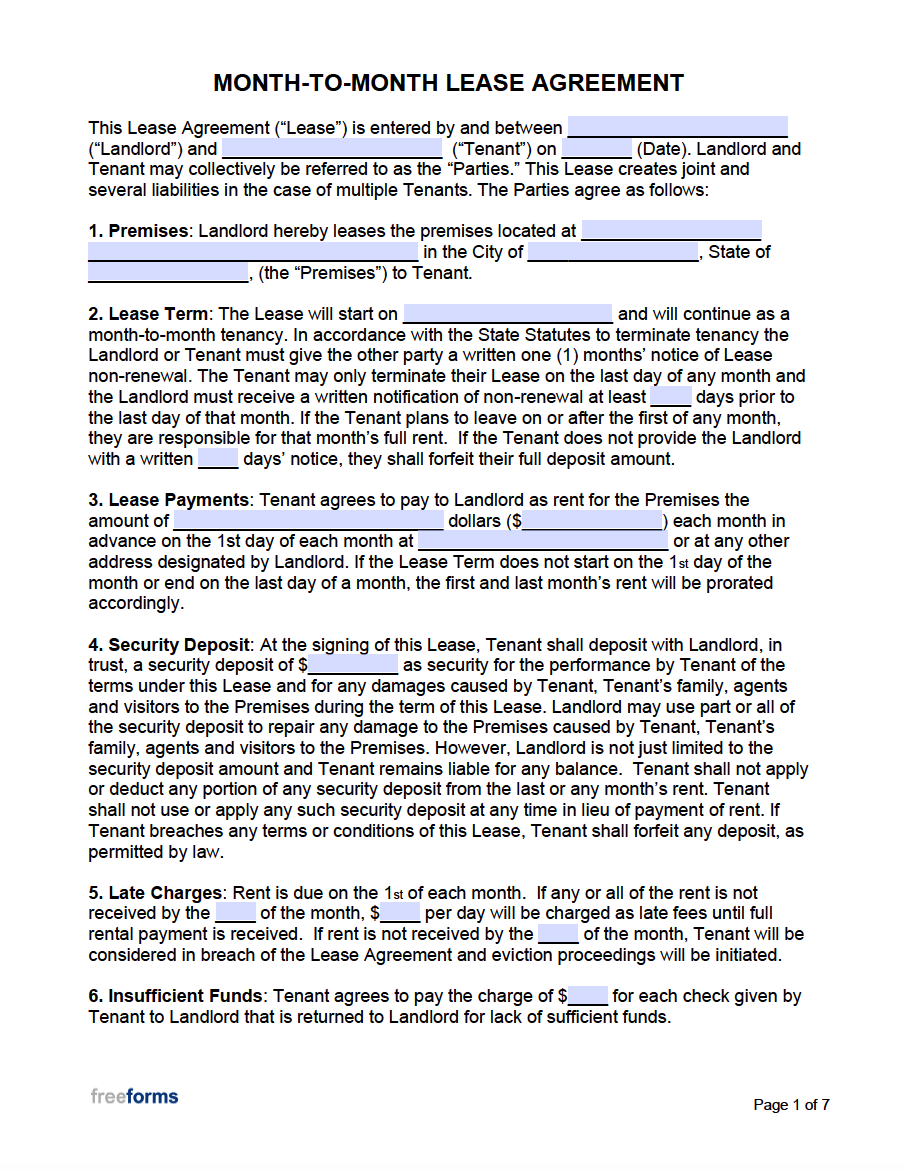 Month-to-Month Lease Agreement – Known as a "tenancy-at-will", allows the landlord and tenant to come to an agreement that can be canceled at any time with thirty (30) days' notice.
Download: Adobe PDF, MS Word (.docx)
---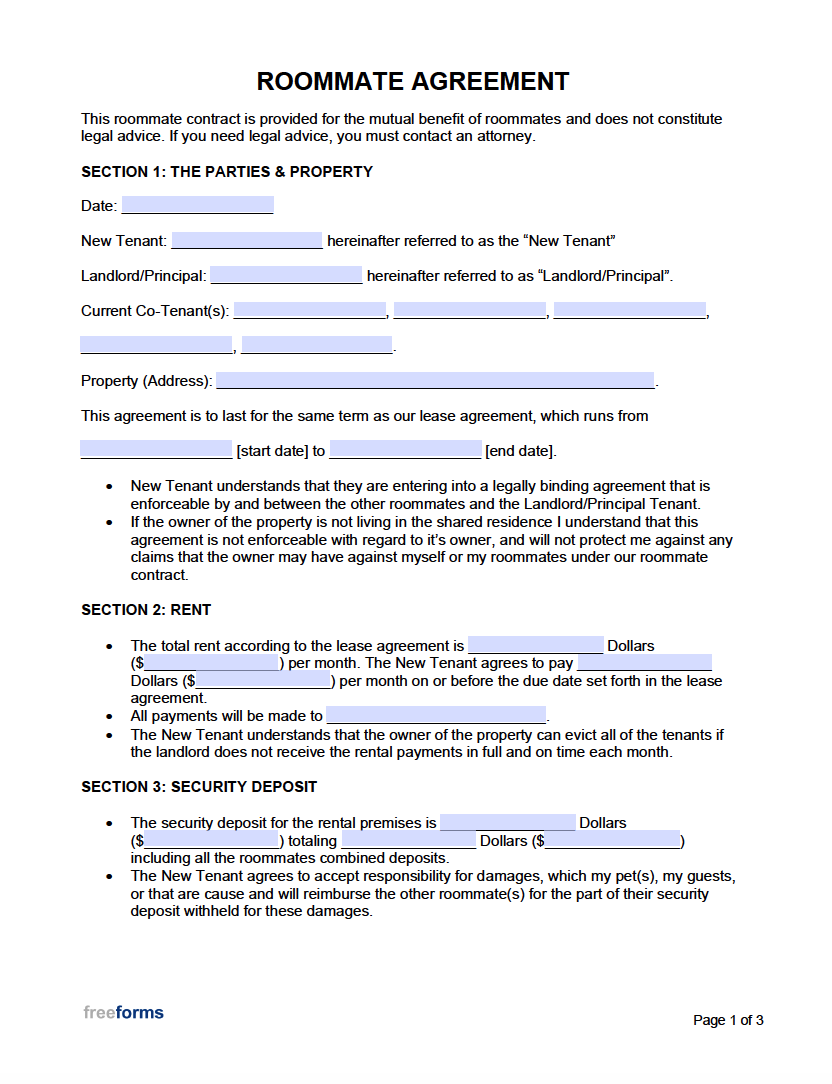 Room Rental (Roommate) Lease Agreement – For a roommate or a person seeking to rent a room in their residence.
Download: Adobe PDF, MS Word (.docx)
---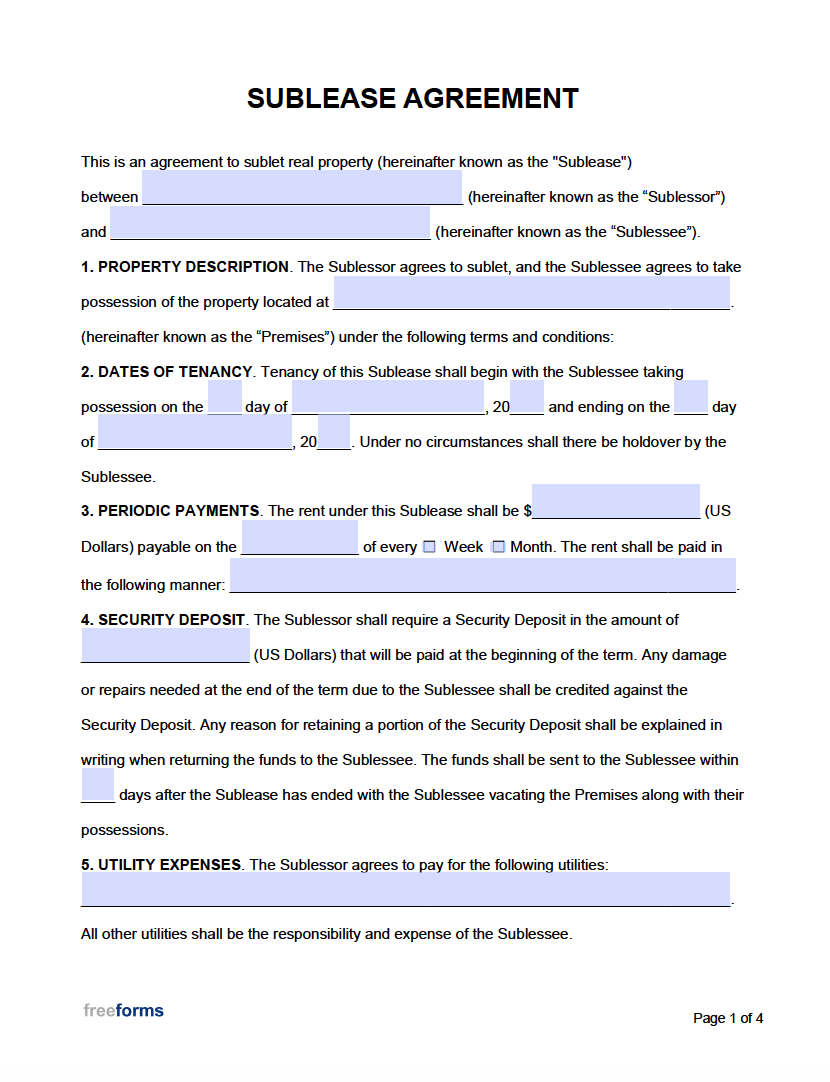 Sublease Agreement – For a tenant seeking to re-rent their residence to someone else (the "subtenant"). The landlord will commonly have to give consent as most standard lease agreements prohibit the act of subleasing.
Download: Adobe PDF, MS Word (.docx)
What is a Lease Agreement?
A lease agreement is a common legal document that allows a person or business to rent property from the owner. Most residential agreements are for one (1) year and commercial agreements are multiple years. In the USA, each State has its own rules and regulations, specifically:
Maximum security deposit amounts ($) and returning;
Rights to enter the property;
Grace periods (when is rent late); and
Required disclosures and statements.
Once a lease agreement is signed by both parties it becomes legally binding. There is no need for witnesses.
How to Write a Lease Agreement
If you are new to owning property or becoming a landlord, you will need to know the ins and outs of a lease agreement pretty well. For professional help, it's best to hire a landlord & tenant attorney to draft a lease agreement for your property. If you wish to draft to your own lease agreement (annual), follow the steps below.
Step 1 – Lessee(s) / Lessor Information
Every tenant, called a lessee, that will be living on the property needs to be included in the lease agreement. The same goes for the landlord, who is called the lessor. Completing the information of the lessee and lessor should be the very first part of the agreement. It's the easiest section of a lease agreement and when it comes time to filling out the document with the lessee, it gets both parties off to the right start.
Include:
Name of lessee and lessor
Property's address
Step 2 – Terms of the Lease
In the terms of the lease is where you will need to include information about when the lease will begin and end. Also, you will need a section in the terms of the lease that provides a place to input the rent amount both in numerical and written format. Helpful tip: In most states, monthly and annual lease terms have different rules of engagement. Monthly lease agreements are more lenient to the tenant whereas an annual lease terms gives more protections to the landlord.
Include:
Beginning and end date
Monthly rent amount
Lease type (fixed-term or month to month)
Step 3 – Rules and Provisions
This sections of the agreement states what the tenant and landlord can and cannot do. In most apartment buildings, all tenants are normally subject to the same rules but even so, these rules still need to be written into the agreement. Rules such as noise, occupants staying over and illegal activity should be covered in this section. When a rule or provision is broken, the tenant is considered in breach of the rental agreement and a landlord can bring about an eviction if the breach isn't fixed within an allotted timeframe.
4 – Rent, Deposits and Fees
5 – Legal Entry to Premisses
6 – Repairs or Maintenance
7 – Signing Requirements
Security Deposit
Many people have two questions when it comes to the security deposit which are: Is there a security deposit and how much? And, do you get your security deposit back? Almost every landlord/owner charges a security deposit when renting out their property. A security deposit is normally equal to one or two months rent, depending on the tenant's credit report and rental history. If a tenant damages or abandons their lease during tenancy, the deposit is there to cover any losses incurred by the landlord. After a lease ends, landlords have a certain timeframe set by the state to return the security deposit back to the tenant.
Security Deposit Return Letter/Refund
Federal Fair Housing Act
Lease Renewal
Termination of Lease Agreement
Lease Termination Letter
Early Lease Termination Letter
Co Signing a Lease
How to Get Out of a Lease (Breaking a Lease)
FAQs
How to get out of a lease agreement?
What if your roommate abandons a lease agreement?
How to evict a roommate with no rental agreement?
Can you use a lease agreement as proof of residency?
How to evict a tenant without a rental agreement?
How to negotiate a rental lease agreement?
Can a landlord break a lease?
Can a landlord change the lease after it is signed?
What is a lessee?