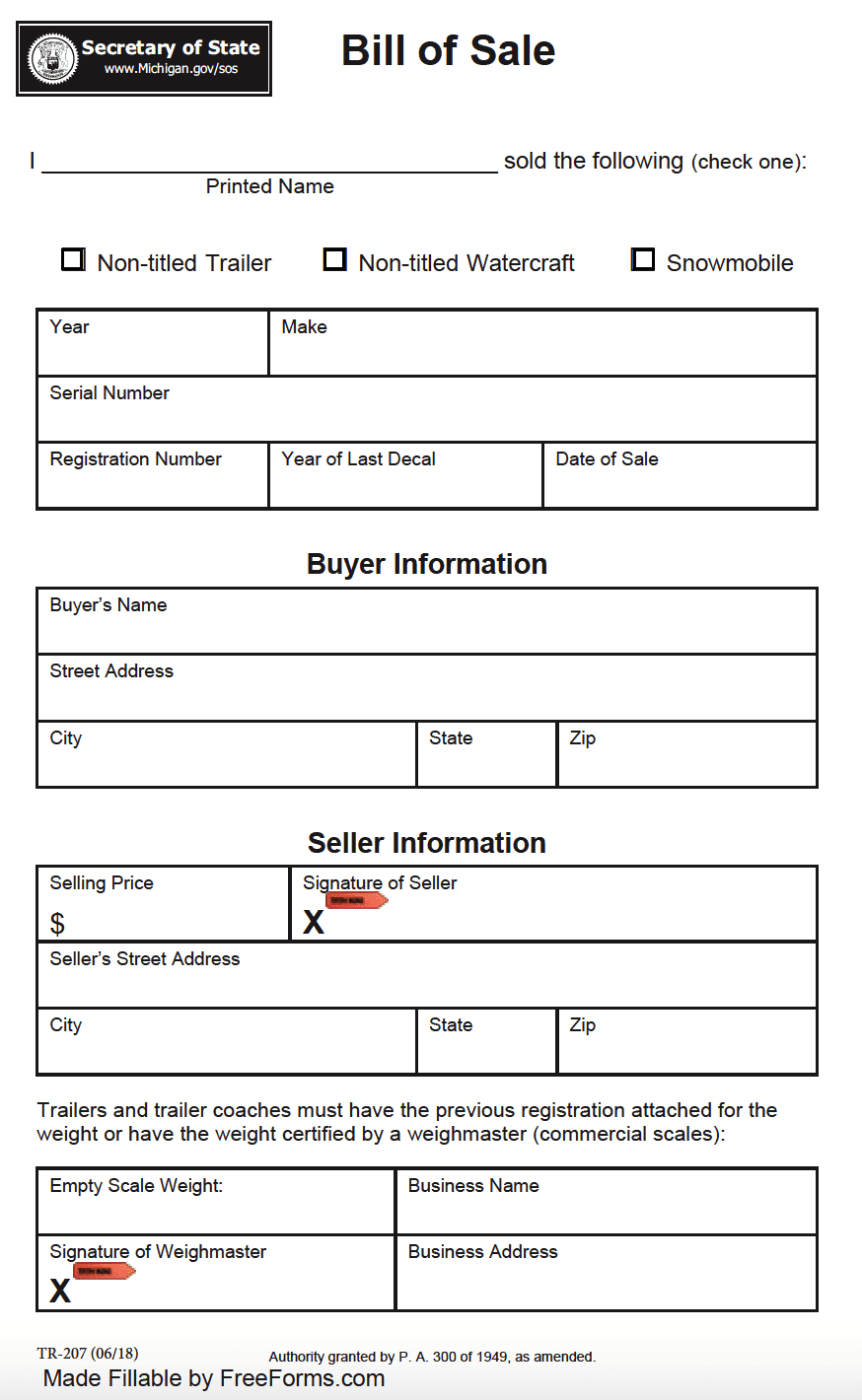 Downloads: 1,823

---
The Michigan boat bill of sale form is a paper document that reports the key elements regarding the sale of a boat for a particular sum of money. Upon proper execution, this form will provide adequate proof of ownership which may be obligated to legally register and title the watercraft in the state of Michigan. The contract will also protect against liability should the boat be used before the sale for an unlawful purpose as it signifies the date of purchase, demonstrating the transfer of ownership.
How to Register a Boat
To be permitted for legal use of a watercraft upon Michigan waterways, most vessels will be required to register under state jurisdiction. It will then be mandated to display, according to state regulations, decal and registration numbers in plain view on the vessel's exterior.  Boats that are exempt from enrolling in registration are as follows:
Any watercraft that is not mechanically-propelled (or sailboat) that measures at a length of 16 feet or less that is not used for a commercial or rental purpose.
Any boat legally registered in a different state or country that prominently presents a tag number.
Keep in mind that all watercrafts exhibiting a length of 20 feet or larger or if propelled by a motor or sail must be titled by the state of Michigan unless they are sufficiently registered by another governing authority.
To initiate the registration and title process, gather the following paperwork to transport to your closest Michigan Secretary of State facility:
An accurately finalized Michigan Application for Watercraft Title.
A completed bill of sale.
For purchases of a new vessel from a dealer:

Manufacturer's Certificate of Origin
Original Sales Invoice
Bill of lading

For purchases of a used vessel from a private party:

An accurately signed-over title, complete with all requested information and signatures.

Receipt of paid Michigan Use Tax (should the sale be from a relative, the purchase will be exempt from paying use tax).
A proper photo identification card or an active driver's license.
Payment for registration/titling fees.
 How to Complete the Form
Step 1 – Download the Adobe PDF to fill in the electronic form.
Step 2 –  Record the name of the seller in the first blank space.
Step 3 – Place a checkmark in the box labeled "Non-titled Watercraft".
Step 4 – Vessel Information – Input the desired information identifying the boat being sold:
Year
Make
Serial Number
Registration Number
Year of the Last Decal
Date of Sale
Step 5 – Buyer Information – Complete the information regarding the buyer of the vessel:
Buyer's Name
Street Address
City
State
Zip Code
Step 6 – Seller Information – Enter the required details involving the seller and sale of the boat:
Selling Price
Seller's Signature
Street Address
City
State
Zip Code
Step 7 – If the purchase includes a trailer for the watercraft, and the trailer's prior registration does not specify the weight of the trailer, you may need to hire a certified weighmaster to weigh and document the weight to properly transfer registration. In this case, the weighmaster can fill out the following:
Empty Scale Weight
Signature of Weighmaster
Business Name
Business Address