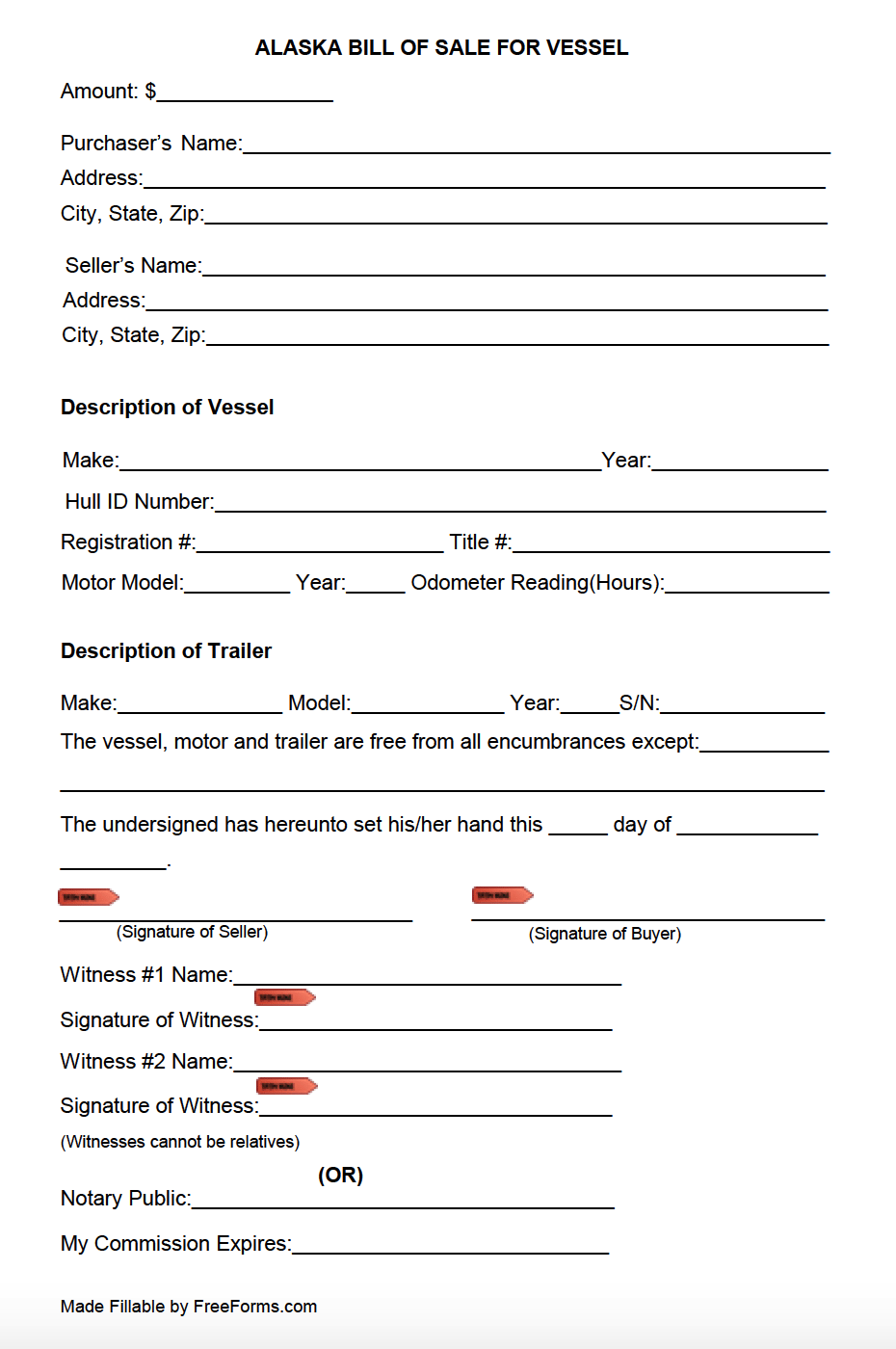 Downloads: 384

---
The Alaska boat bill of sale form states all relevant data about the sale of a vessel and serves as recorded evidence of the transaction. The document contains a written report of the identification of the buyer and seller, along with vital distinguishing facts regarding the boat. The bill of sale will also include signatures confirming the agreement to transfer the property for a disclosed amount by both parties. To register a watercraft, a bill of sale is required as supporting proof of the exchange if it was purchased used.
How to Register a Boat
Alaska mandates that all powered seacrafts (or non-powered with auxiliary-power units) regardless of size must be registered to be utilized on state water deemed water of the state. "Water of the state" may be viewed as any lake, river, stream or salt water coming within 3 miles of the Alaskan shore. Vehicles exempt from this are limited to seaplanes, lifeboats, water toys, non-powered boats ( with no auxiliary-power, unless operating as a fishing guide boat), and government boats. Also, boats registered out-of-state or in a foreign country are also exempt. Once registered, a boat will not need to be renewed for another three years.
To register your boat, attend your nearest Alaska DMV facility with the following items:
One of the following pieces of evidence proving ownership of the vessel:

Manufacturer's Statement of Origin.
Bill of sale.
The title or registration from the former owner (if the watercraft purchased was registered or titled out-of-state).
An authentic Carpenter's Certificate.
A completed Alaska Affidavit of Boat Ownership (Form 848).

Payment for the state registration fee ($10 for non-powered vessels, and $24 for powered vessels).
How to Write
Step 1 – Download in Adobe PDF.
Step 2 – In the first blank spot, enter the sale amount for the vessel
Step 3 – Buyer/Seller Information – input the information regarding the seller and buyer:
Name
Address
City
State
Zip Code
Step 4 – Description of Vessel – Fill out the spaces with the corresponding identifying information of the watercraft involved in the transaction:
Make
Year
Hull ID Number
Registration Number
Title Number
Motor Model
Year (of Motor)
Odometer Reading (in hours)
Step 5 – Description of Trailer – Include the information on the trailer if one is accompanying the purchase of the boat:
Make
Model
Year
Serial Number
Step 6 – You can notate here if the boat has any loans outstanding or any other encumbrances associated with it. If otherwise leave it blank.
Step 7 – Include the date of the sale along with endorsements from both the buyer and the seller to bind the contract.
Step 8 – Have a notary oversee and attest to the signing of the document. You also have space assigned should you wish to have witnesses made available to verify the authenticity of the signatures.