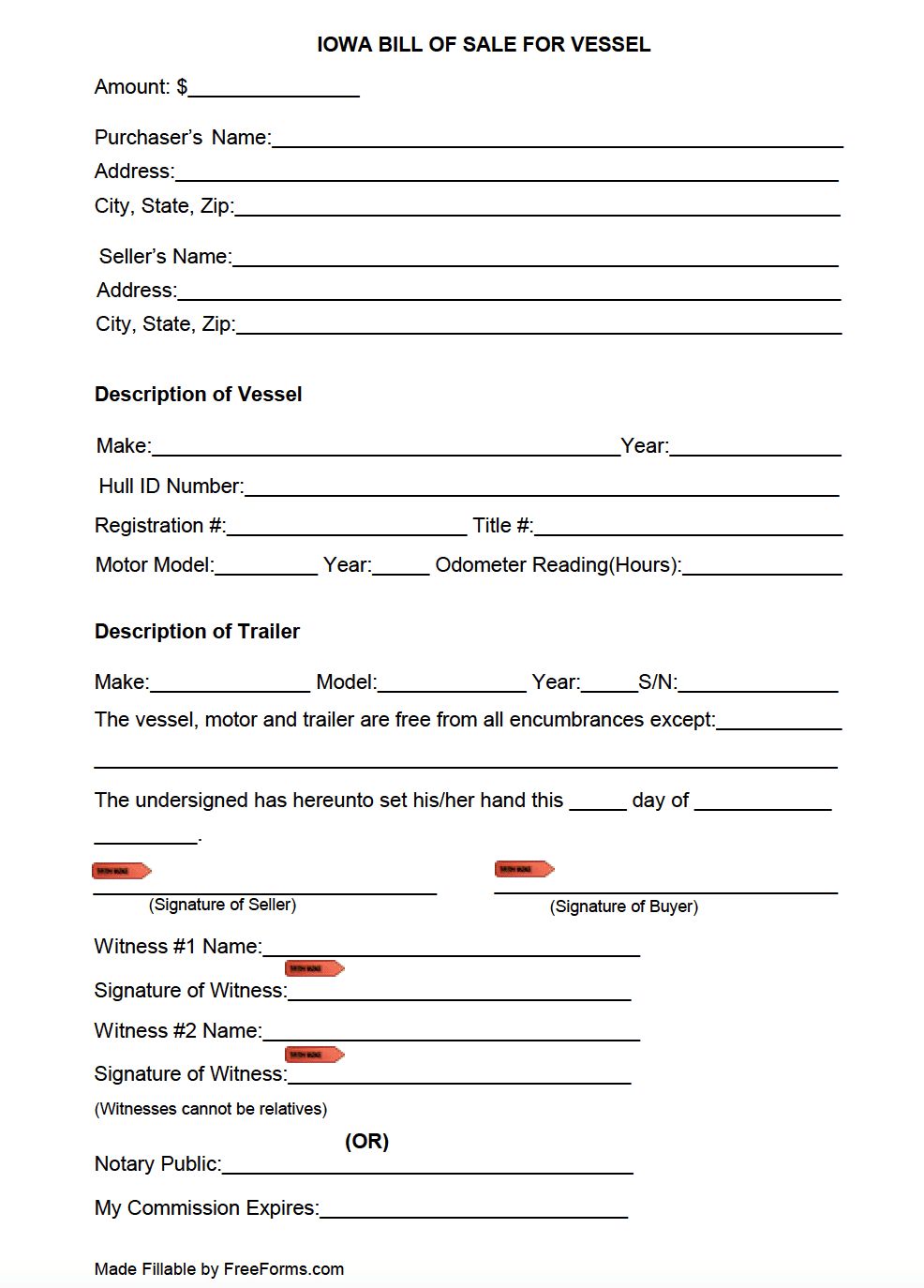 Downloads: 876

---
The Iowa boat bill of sale form creates a documented understanding via a contract entered into by the buyer and seller indicating the stipulated information about the sale of a vessel in exchange for agreed-upon dollar value. The form introduces language referring to the specifics involved in the transaction regarding the seller, buyer, watercraft, purchase price, and the agreement by means of an endorsement. This filing establishes a valid transfer of ownership of the boat to be presented during the registration process.
How to Register a Boat
To operate a watercraft within the borders of Iowa State, you will need to adhere to governing laws and regulations. To employ the use of a vessel, it will require registering it with the state of Iowa unless it falls under the category of:
Boats not propelled by a motor
Boats not propelled by sail
Inflatable boats
Boats measuring less than a total of 12 feet in length
Boats registered in another state or country

Provided the vessel be utilized on Iowa waters no more than 60 days.
The process of registering a boat with the Iowa Department of Natural Resources necessitates an individual to attend an area Registrar's Office or County Recorder's Office with the following materials in hand:
An accurately filled Iowa Boat Application (DNR Form 542-8067).
Proper ownership documentation, such as a completed bill of sale or Manufacturer's Certificate of Origin.
Valid Identification or driver's license.
Acceptable form of payment for all required taxes and fees.
Once registered, the vessel must exhibit all related decals and registration numbers in plain view. The operator of the boat must also have the current registration certificate onboard at any time of use. Registrations are good for a full 3-years and expire on April 30th of the year due for expiration.
 How to Write
Step 1 – Download the bill of sale Adobe PDF to complete by using your selected device.
Step 2 – Enter the dollar amount of the purchase price of the vessel.
Step 3 – Buyer/Seller Information – Input the following information corresponding to each party involved with the sale of the watercraft:
Name
Address
City
State
Zip Code
Step 4 – Description of Vessel – Accurately describe the particulars surrounding the boat that is to be transferred:
Make
Year
Hull ID Number
Registration Number
Title Number
Motor Model
Year (of Motor)
Odometer Reading (in hours)
Step 5 – Description of Trailer – Should the purchase of the vessel also include a trailer to go along with it, notate the applicable identifying information:
Make
Model
Year
Serial Number
Step 6 – Complete any information regarding any current claim or lien actively present on the boat's title.
Step 7 – Finalize the transaction via signatures from both the seller and buyer in the proper spaces provided.
Step 8 – To authorize the document, it is advised to sign the document before a notary public, a witness or witnesses in the allocated spaces.