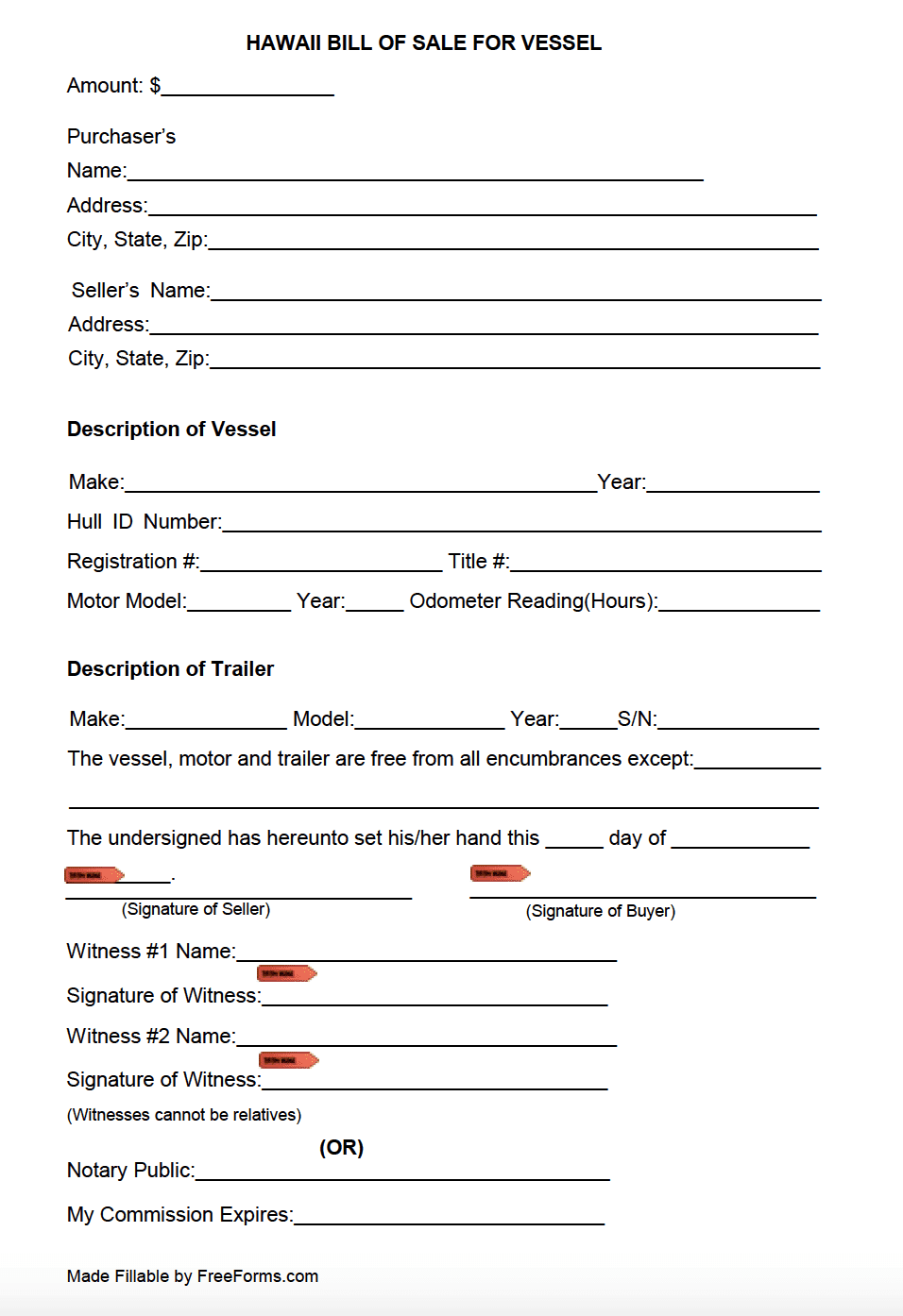 Downloads: 312

---
The Hawaii boat bill of sale form verifies within a contractual agreement essential information regarding the exchange of a boat for consideration of monetary worth. The information included in the form establishes the identity of the individuals and watercraft involved in the trade as well as the purchase price and date. This form is to be witnessed and endorsed by a notary and potential witnesses and to be authenticated by the subsequent signatures of the parties involved in the vessel transfer.
How to Register a Boat
The state of Hawaii maintains that all motorized vessels and sailboats larger than 8 feet in length must be registered by the state system. Lifeboats, government or US Coast Guard owned watercraft will be an exception to this rule. Any out-of-state vessel registered sufficiently in another state has the right to use the boat without mandated HI State registration for a total of 60 consecutive days or less. Upon relocation to Hawaii, you are obligated to register your boat in the first 60 days to avoid any fines. When purchasing a new boat while taking residency in the state, you have a total of 3o days to register.
To register your vessel visit your closest Division of Boating and Ocean Recreation location with the following documents in hand:
A fully filled-out Hawaii Application for Vessel Registration and Certificate of Number.
Substantial evidence of ownership of the vessel per the bill of sale, Manufacturer's Certificate of Origin, or an affidavit attesting to your legal ownership.
Proof of residence and identification with either a valid State ID or driver's license.
Payment for all related fees and taxes.
After registering the watercraft, you have one full year before it must be renewed. After the sale of a vessel, the purchaser is mandated to give notice within seven days via the Hawaii Vessel Notice of Sale form being sent in or handed in personally at your area DBOR office.
 How to Write
Step 1 – Download in Adobe PDF.
Step 2 – Input the purchase price.
Step 3 – Buyer/Seller Information – Record the essential data regarding both the seller and purchaser taking part in the exchange:
Name
Address
City
State
Zip Code
Step 4 – Description of Vessel – Detail the discernable information about the boat that is being transferred:
Make
Year
Hull ID Number
Registration Number
Title Number
Motor Model
Year (of Motor)
Odometer Reading (in hours)
Step 5 – Description of Trailer – If the sail of the vessel includes that of a trailer for the vessel as well, identify it in detail as follows:
Make
Model
Year
Serial Number
Step 6 – Make a notation only if the watercraft has a loan that has yet to be paid off or if there are any other claims on its title.
Step 7 – Sign and date the form.
Step 8 – Complete the form under the guidance of an authorized notary and/or witnesses to further validate the authenticity of the record.