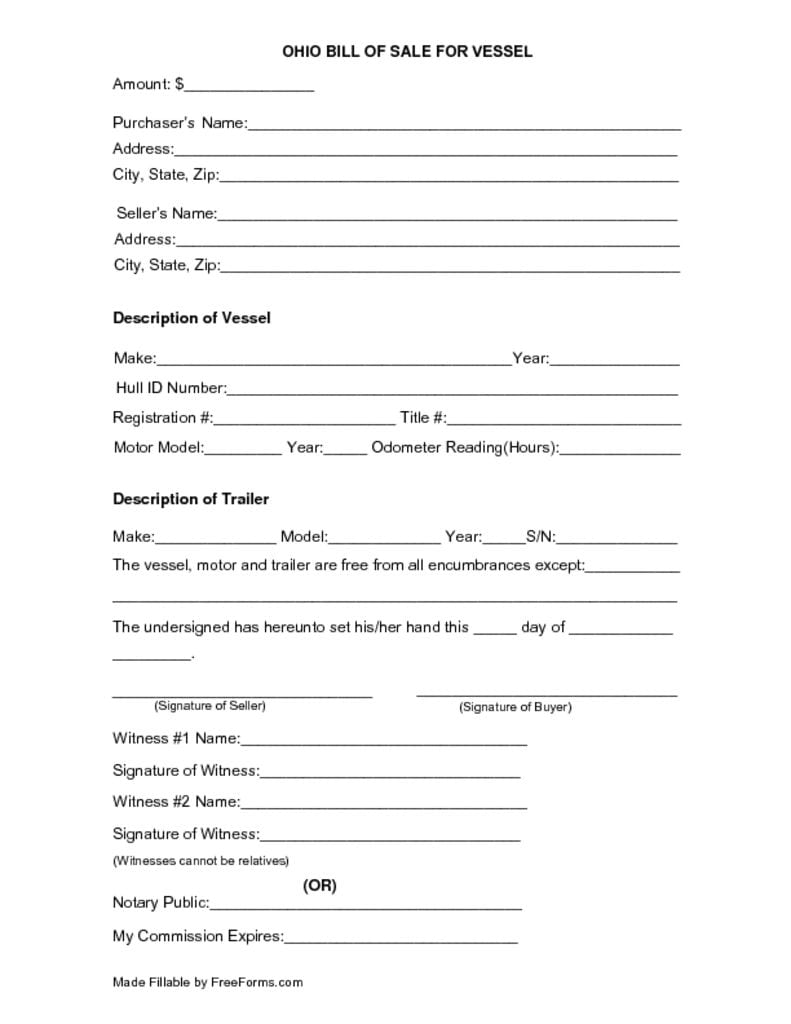 Downloads: 3,158

---
The Ohio boat bill of sale form constructs an accurate recorded depiction of the exchange of a vessel for a financial sum within a formal written agreement. The paperwork details the specifics involved in the transaction, including the full names of the buyer and seller along with the particulars of sale and vessel being sold. Although a bill of sale is not mandated in the state of Ohio for titling and registration purposes, it can assist in proof of ownership as well as aid in tax evaluation.
How to Register a Boat
The state of Ohio specifies that all vessels utilized for recreational use within the state must be registered with the governing jurisdiction. Although most boats, motorized and non-motorized, fall under this distinction (including personal watercraft, rowboats, canoes, kayaks, and inflatable boats), the vessels deemed exempt from this direction are as follows:
Individual flotation devices.
Surfboards.
Paddleboards.
Kiteboards.
Lifeboats.
Federally owned vessels.
State-owned vessels.
Vessels to be employed in Ohio waters for an amount of time lesser than 60 days with functioning registration from a different state or country.
Keep in mind, for smaller vessels not propelled by a sail or motor, a substitution in place of securing conventional registration and prominently displaying the registration decal numbers is to apply for alternative registration. This will furnish you with a small 3″ by 6″ sticker to affix to the watercraft instead of the larger identifying marks required for traditional vessel registration.
In addition to the obligation to register your vessel, some vessels are also required to have an assigned title as well. Any watercraft featuring a motor of 10-horsepower or higher or any vessel with a length of 14 feet or over must have a designated certificate of title. Boats that are exempt from this condition are:
Vessels that are to be utilized in Ohio for less than 60 days with functioning registration from another state or country.
Kayaks
Canoes
Lifeboats
Boats held in possession by any U.S. governing agency.
Watercraft with a permanent motor exhibiting a horsepower of 10-horsepower or less.
To complete the title and registration process, collect the following records for submission by mail, at an authorized agent location or the Ohio Division of Parks and Watercraft main office:
 How to Complete the Form
Step 1 – First, you will want to download the corresponding Adobe PDF.
Step 2 – Indicate the full purchase price of the watercraft.
Step 3 – Buyer/Seller Information – Enter all applicable information about the buyer and seller of the vessel:
Name
Address
City
State
Zip Code
Step 4 – Description of Vessel – Identify the boat involved in the sale by providing the following information:
Make
Year
Hull ID Number
Registration Number
Title Number
Motor Model
Year (of Motor)
Odometer Reading (in hours)
Step 5 – Description of Trailer – Stipulate whether or not a trailer comes along with the sale of the boat:
Make
Model
Year
Serial Number
Step 6 – If there are any active encumbrances on the vessel, make sure to notate in the assigned blank space.
Step 7 – Provide signatures from the buyer and seller, along with a sale date to commemorate the transfer.
Step 8 – To allow for further validation, it is recommended that you sign the document under the supervision of a licensed notary official. The final section of the form is afforded for this purpose.