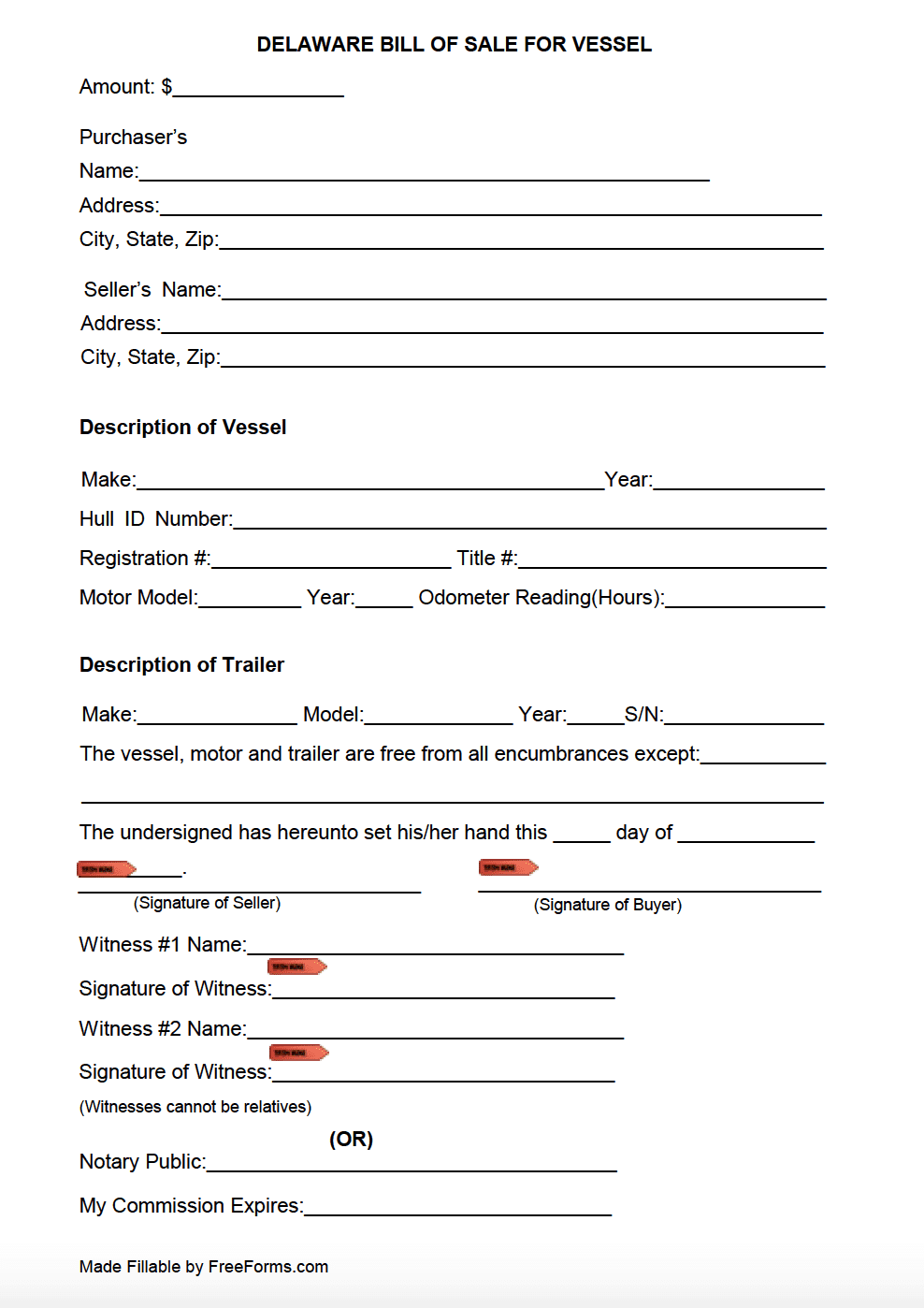 Downloads: 1,343

---
The Delaware boat bill of sale form is an original paper record that commemorates the sale of a vessel from one individual to another for an agreed upon dollar amount. It stipulates facts involved in the transaction about the seller, buyer, watercraft, and purchase price. Endorsing the document solidifies the exchange and testifies to the verification of the accord. The document can be utilized to prove ownership as well as evidence of payment clarification for tax purposes.
How to Register a Boat
Residents that wish to make use of a boat propelled by a motor on a Delaware waterway must register the vessel within 60 days of acquiring it. For those that are not residents of the state, you are allotted a total of 60 days before you are required to register as long as the watercraft is appropriately registered in another state. In the case that you choose to deploy a boat in the state for a period of fewer than 60 days, you will be mandated to fill out a Non-resident Tidal Access Boat Ramp Certificate Application and mail it along with a $35 payment to the indicated address on the form. Keep in mind that the 60 day period applies to the utilization of the boat as well as storage or docking within the state.
To register your vessel, in person, make an appearance at your nearest Delaware Boat License Agent with the specified substantiated materials:
A Delaware Boat Registration Application, thoroughly filled-out and endorsed.
A Manufacturer's Certificate of Origin (MCO) or a completed bill of sale (including the Hull ID Number), along with the previous vessel title, signed by the seller, and/or registration.
A lien release if obligated to transfer title if necessary.
Proper payment for fees applicable to registration.
 How to Write
Step 1 – Download in Adobe PDF.
Step 2 – Submit the purchase price in dollars in the appropriate space.
Step 3 – Buyer/Seller Information – Complete the information relating to the buyer and the seller, respectively:
Name
Address
City
State
Zip Code
Step 4 – Description of Vessel – Detail the necessary boat information required in the next section of the form as follows:
Make
Year
Hull ID Number
Registration Number
Title Number
Motor Model
Year (of Motor)
Odometer Reading (in hours)
Step 5 – Description of Trailer – Include trailer information should one be involved in your particular sale/purchase:
Make
Model
Year
Serial Number
Step 6 – Mention any loan that may still be outstanding or any other associated claim on the vessel itself.
Step 7 – Finalize the attested preceding information with signatures from the buyer and seller in the provided spaces along with the date the document was signed.
Step 8 – It is recommended that you sign the form with the buyer in the presence of a verified notary public as well as a witness or two to further the proof of the contract's legitimacy down the line.