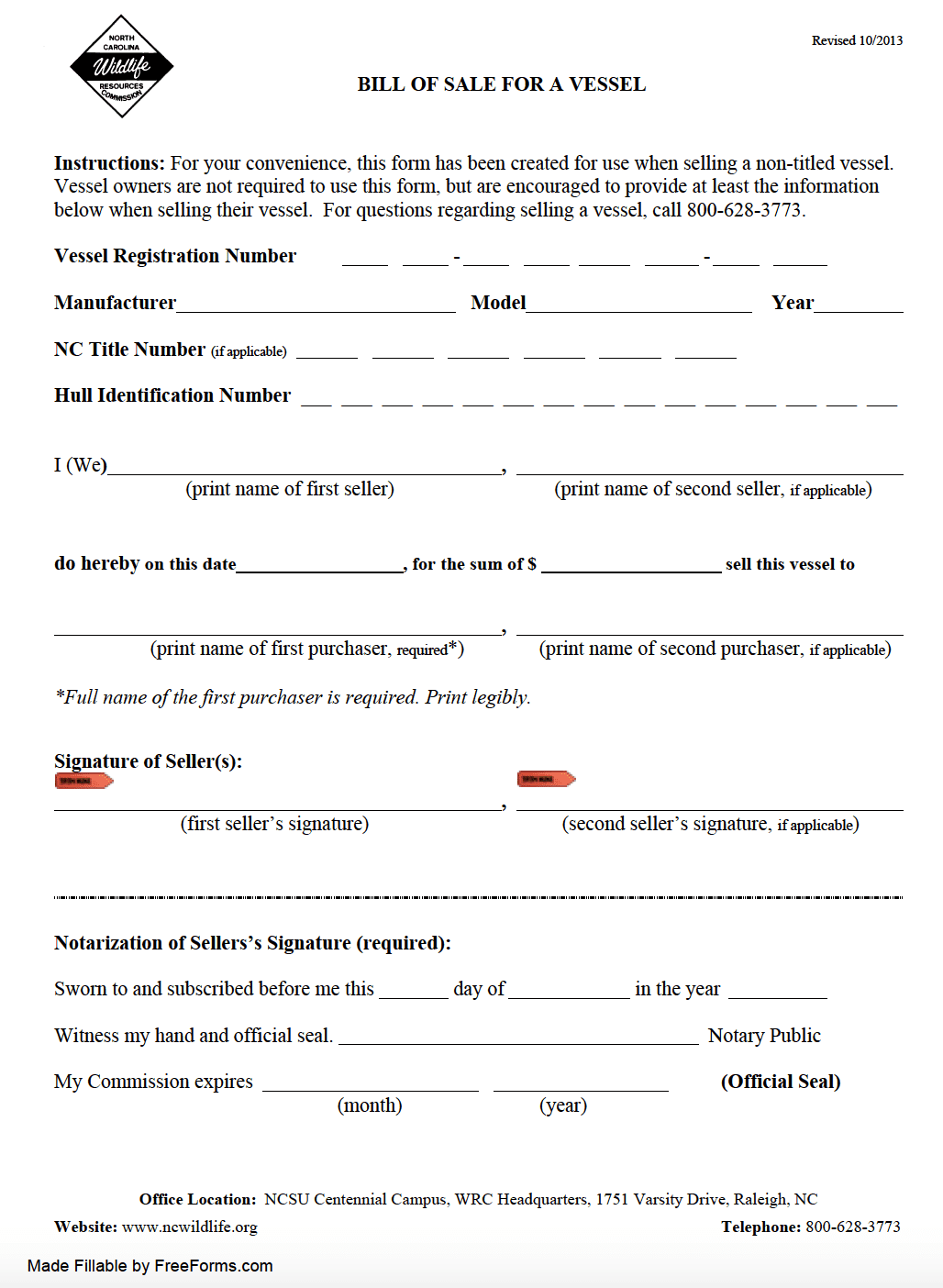 Downloads: 690

---
The North Carolina boat bill of sale form is an essential legal document for recording the exchange of a boat for an allocated monetary amount. This key contractual element standardizes the process and indicates the terms of the sale as well as particulars of the involved individuals and vessel, in binding language. The agreement is then executed in the presence of an authorized official to further prove its validity and understanding of the circumstances at the time of sale.
How to Register a Boat
To appropriately meet requirements to employ a vessel within the state of North Carolina, a boat must be registered with the administrative authorities. All boats propelled by motor or any sailboat with a length of 14 feet or more must meet this obligation with the exclusion of the following:
Vessels registered in an alternate state or country to be used for fewer than 90 consecutive days.
Emergency lifeboats.
Any boat to be utilized solely on a private pond.
To further complete the registration and titling process, appear in person at a nearby North Carolina Resources Commission office with the following prepared documentation:
A filled-out North Carolina Vessel Registration and Title Application.
Satisfactory evidence of ownership via one of the following documents:

A manufacturer's certificate of origin.
A vessel sale's receipt.
An officially notarized bill of sale.
An accurately reassigned vessel title.
Previous vessel registration.

Photo identification.
Sufficient funds to compensate for associated fees and taxes.
Alternatively, if you wish to apply by mail, place the aforementioned specified materials in an envelope with adequate postage to:
North Carolina Wildlife Resources Commission
Transaction Management
1709 Mail Service Center
Raleigh, NC 27699
 How to Complete the Form
Step 1 – First click on the link to download the Adobe PDF.
Step 2 – Vessel Information – Fill in the following information concerning the boat being sold:
Vessel Registration Number
Manufacturer
Model
Year
North Carolina Title Number
Hull Identification Number
Step 3 – Include the full name(s) of the seller(s) of the vessel in the provided blank space(s).
Step 4 – Submit the date of sale along with the total purchase amount in dollars in the next to spaces, respectively.
Step 5 – Enter the full name(s) of the purchaser(s) of the boat in the allocated line(s).
Step 6 – Once under the guidance of a professional notary, you may then signal the endorsement of the seller(s) to bind the agreement.
Step 7 – The final portion of the form is given to accommodate the signature of the notary, commission expiration, and the official stamp to validate witnessing the act of endorsement.