---
Updated on June 19th, 2023
The Kansas lease agreement presents a recorded commitment to employ the use of a particular property in exchange for a determined financial compensation. Once the application and background checks have been carried out, negotiation of terms and endorsement of the contract can be implemented to solidify the agreement. The included information in the accompanying paperwork lists the names and addresses of the landlord and tenant and narrows down conditions of use, length of the term, and payment schedule.
Rental Application
– A handout to ascertain information on a potential tenant as an inquiry into their history and financial capacity to support the associated rental payments. The paper form allows a landlord to qualify based on a background check to corroborate the merit of the individual.
Lease Agreements By Type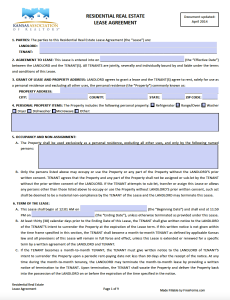 Kansas Association of Realtors Residential Lease Agreement – A supplemental document generally used by an authorized Realtor to conduct the rental of a residential dwelling for a designated period.
Download: PDF
---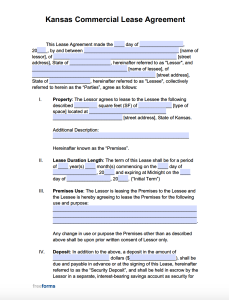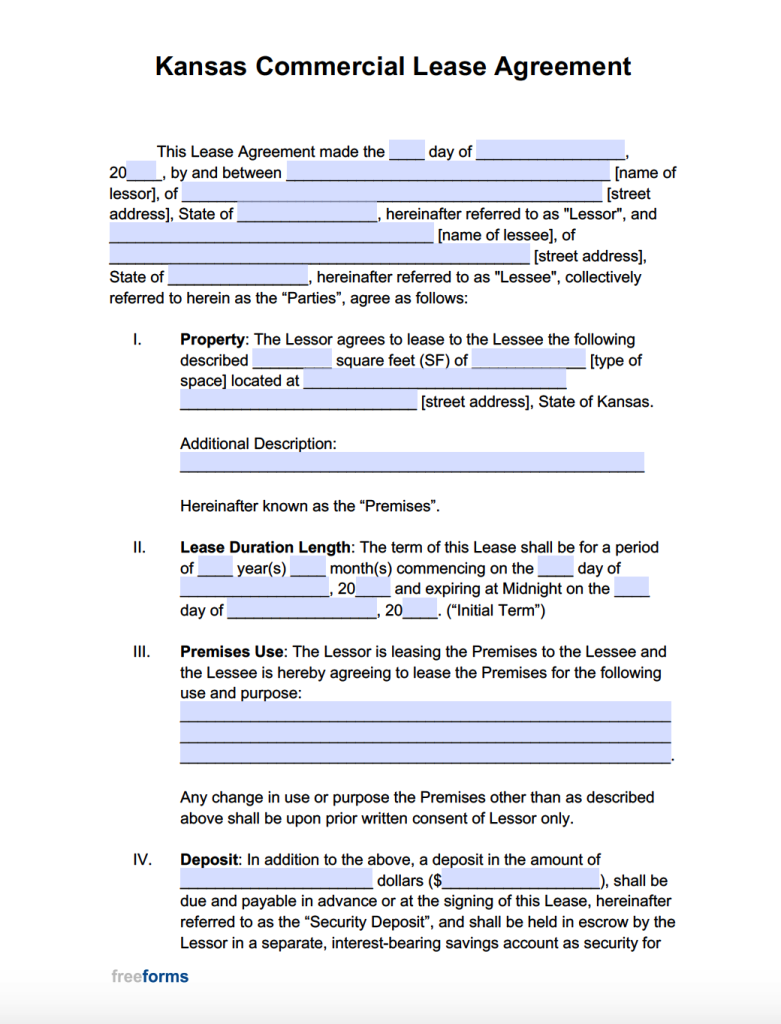 Commercial Lease Agreement – Extends a written bond to occupy a unit for company use during a designated period.
Download: PDF, Word (.docx)
---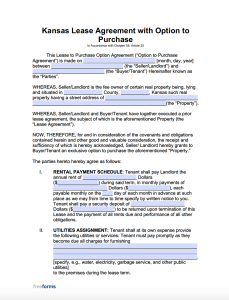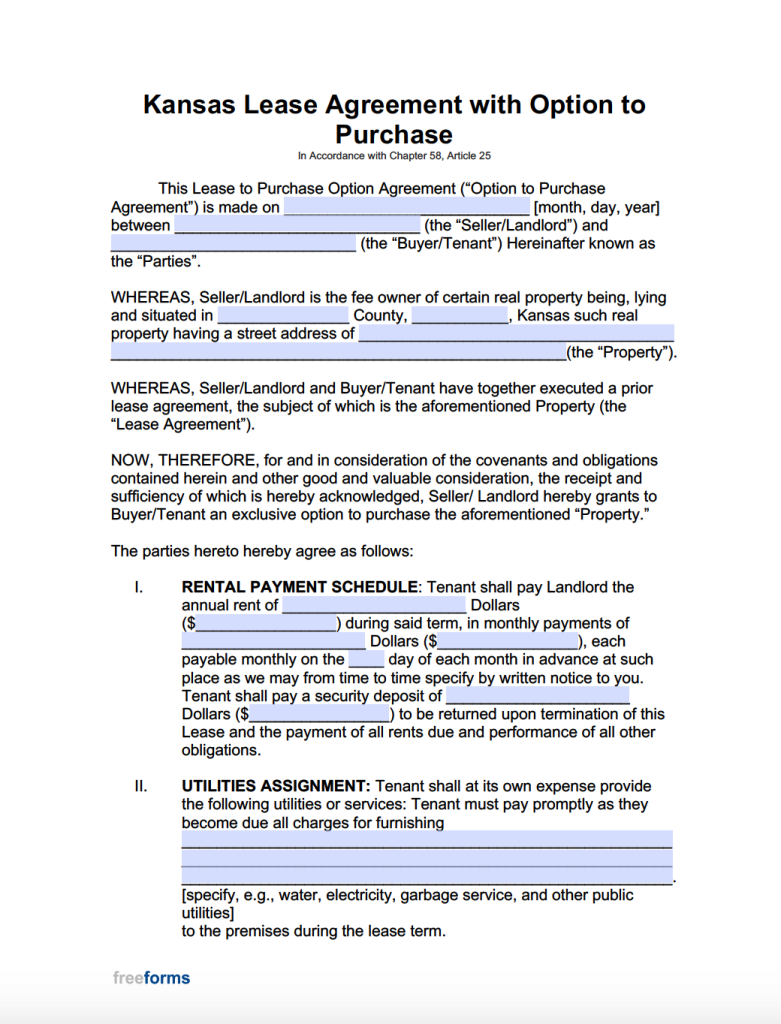 Lease to Own Agreement – Dispenses an accord to rent a property for a specified duration with an option clause offering the first right of refusal to purchase upon completion of the term.
Download: PDF, Word (.docx)
---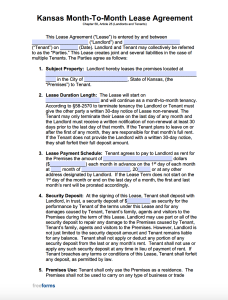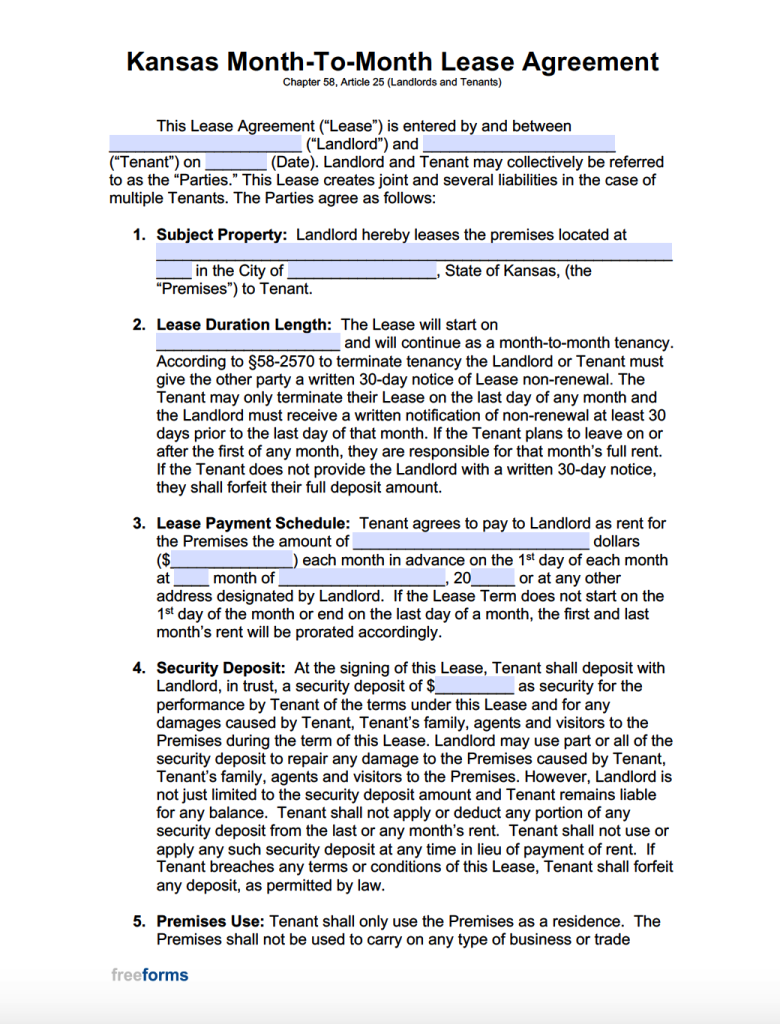 Month-to-Month Lease – Produces a commitment to rent real estate for a stated time that can be canceled by either party with advanced express notification of thirty (30) days.
Download: PDF, Word (.docx)
---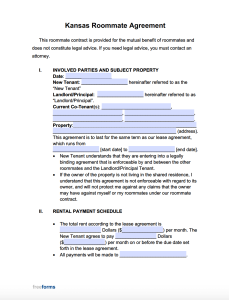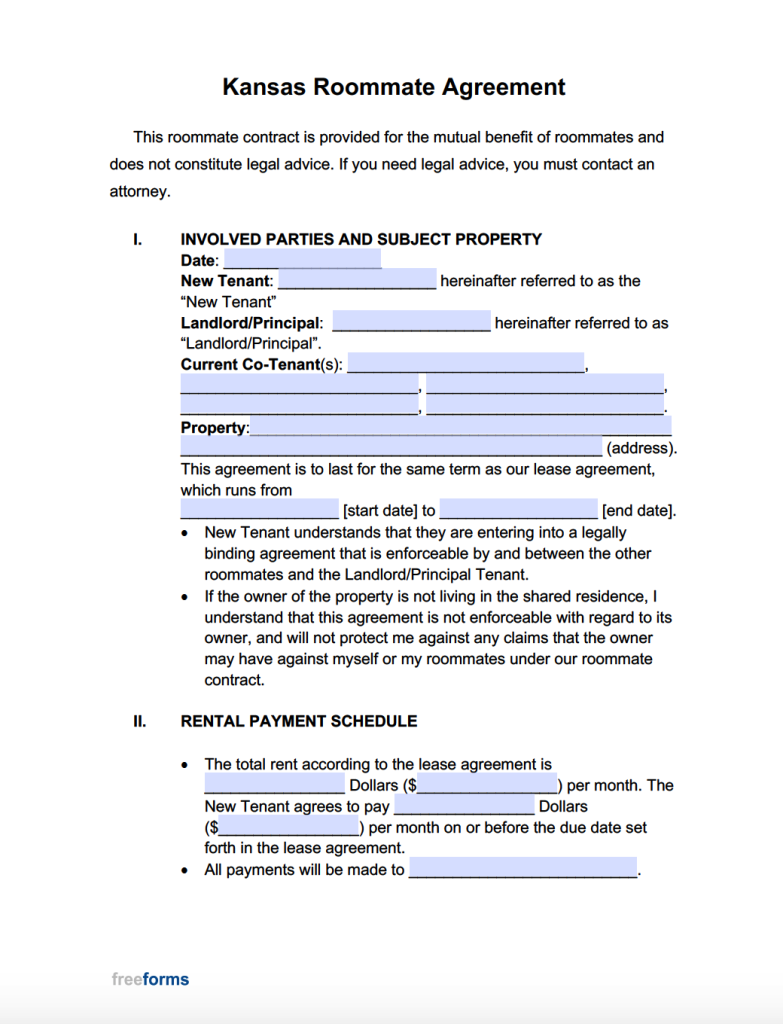 Roommate Agreement – Regulates the concession to use space in a home in exchange for payment.
Download: PDF, Word (.docx)
---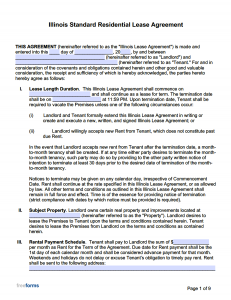 Standard Lease Agreement – Provides an authenticating document to create a binding covenant to rent a residential space.
Download: PDF, Word (.docx)
---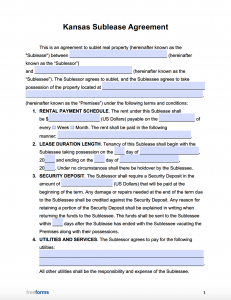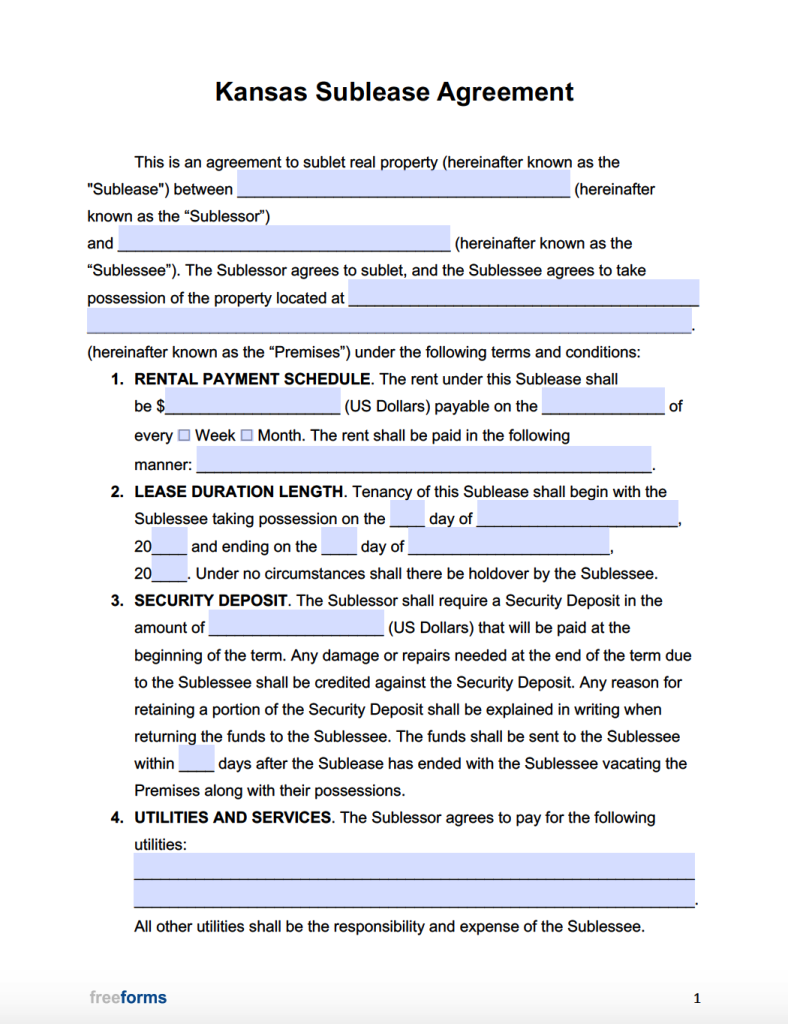 Sublease Agreement – Provides documentation of the commitment to rent a dwelling from a tenant that is actively leasing.
Download: PDF, Word (.docx)
Landlord-Tenant Laws
The Kansas Statutes Annotated – Chapter 25: Landlords and Tenants can be further revised to view all relevant laws about situations involving a lessor and lessee of engaging in the rental real property.
Required Landlord Disclosures
Identification of the Landlord or Authorized Personel (§ 58-2551) – Information regarding the name(s) and address(es) of the owner of the property, managing agents, or those authorized to act of the owner's behalf must be revealed to the tenant within the leasing documentation before signing an agreement.
Move-In Checklist (§ 58-2548) – Kansas law states that when a leasing tenant occupies the rental unit, the landlord or managing official must survey the building along with the tenant to inspect its condition. Inspection must be completed within the first five (5) days of the move-in date.
Lead-Based Paint (42 U.S. Code § 4852d) – Federal regulation requires that homes erected before 1979 include additional information about the dangers associated with coming into contact with lead-based paint. Literature and a disclosure form must be provided for the renting individual to learn about the exposure risks and concerns.
When is Rent Late?
The state does not signify an approved grace period allowing for rent to be paid past the due date. Kansas Statutes impose that rent is to be paid at the beginning of the month or as confirmed in the lease agreement (§ 58-2545).
Late Fees
For a late fee to apply, it must be explicitly described in the leasing contract, including when and how much is to be paid. There is no law capping the amount a landlord can charge as a late fee for rental payments received after the stipulated due date (§ 58-2545).
NSF Checks
A check turned in as payment for a monthly rent that is rejected and returned for insufficient funding can warrant a fee of up to $30. The policy for a returned check is required to be specified in the leasing agreement to be requested (§ 60-2610).
Security Deposit Maximum
The security amount that can be demanded by a lessor for a furnished property cannot exceed a total of one and a half months' rent. The maximum that can be requested for unfurnished rentals cannot be more than the sum of one months' rent. An additional optional deposit may be allowed to secure the property should a tenant have a pet, and the lessor asks for a separate fee (§ 58-2550).
Security Deposit Return
Reimbursement of a security deposit is mandated to be returned to the tenant within fourteen (14) days of realizing deductions for any necessary repairs but within thirty (30) days of contract termination. If the tenant does not request the security deposit and provide a forwarding address, the amount is to be remitted to the last known address with thirty (30) days after lease end (§ 58-2550).
Landlord's Entry
Reasonable advance notice is obligated for landlord entry to take place during the regular business hours for any maintenance or repair needs. It is suggested that at least twenty-four (24) hours is granted to the tenant before gaining access to a unit (§ 58-2557).