---
Updated on June 19th, 2023
The Louisiana lease agreement produces a precise accounting of the transaction bestowing right of use of a property in exchange for monetary compensation. The document lists the necessary information on the tenant, landlord, leasing period, payment specifics, property, and subject terms. It is customary for an owner or management company to accept an application for tenancy prior to signing an agreement to run background checks and consider applicant qualifications.
Rental Application
– When searching for a candidate to occupy a leased unit, it is vital that an owner authenticate prospective tenants before signing a lease. The process can be facilitated by presenting a form for the applicant to fill out with the essential information to make an informed decision.
Lease Agreements By Type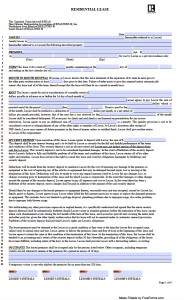 Louisiana Association of Realtors Residential Lease Agreement – The approved form produced by the associations of the greater New Orleans, Northshore, and Saints Board areas is an official document to record residential leasing transactions. The document contains all necessary provisions required to ensure proper corroboration of the event upon endorsement.
Download: PDF
---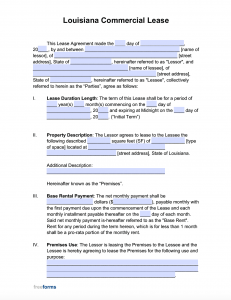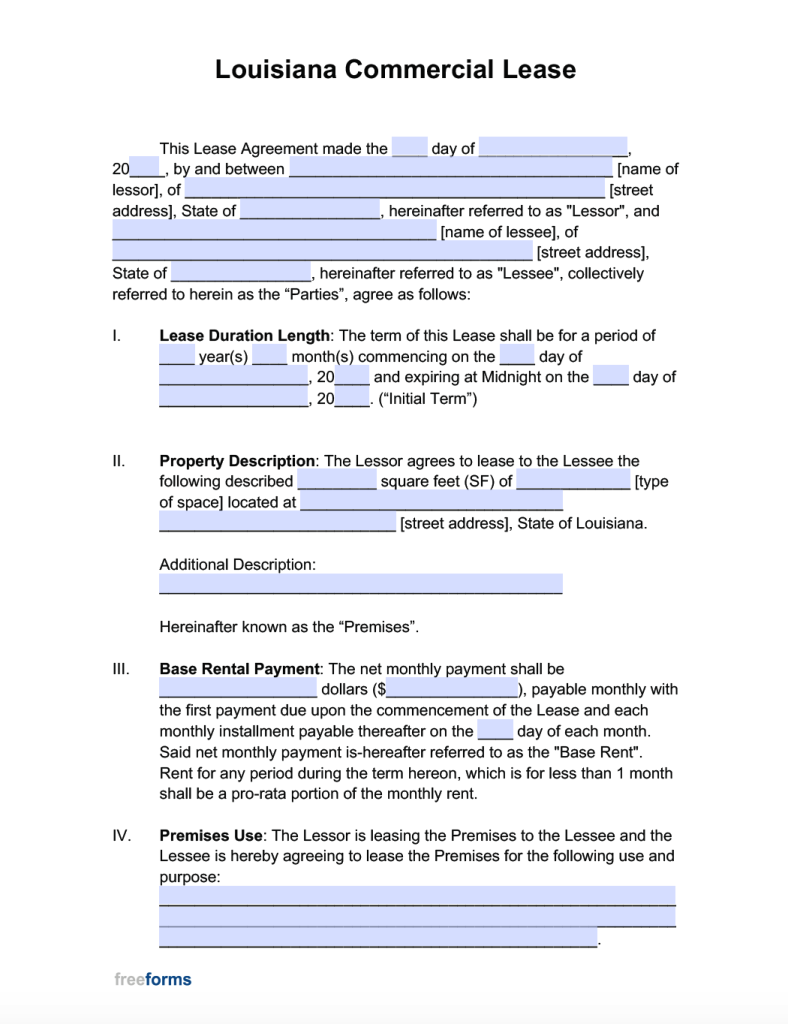 Commercial Lease Agreement – Supplies a document to secure information and conditions to transfer the right of use of commercial space to a designated business or independent contractor.
Download: PDF, Word (.docx)
---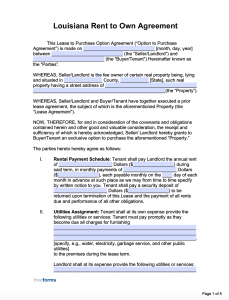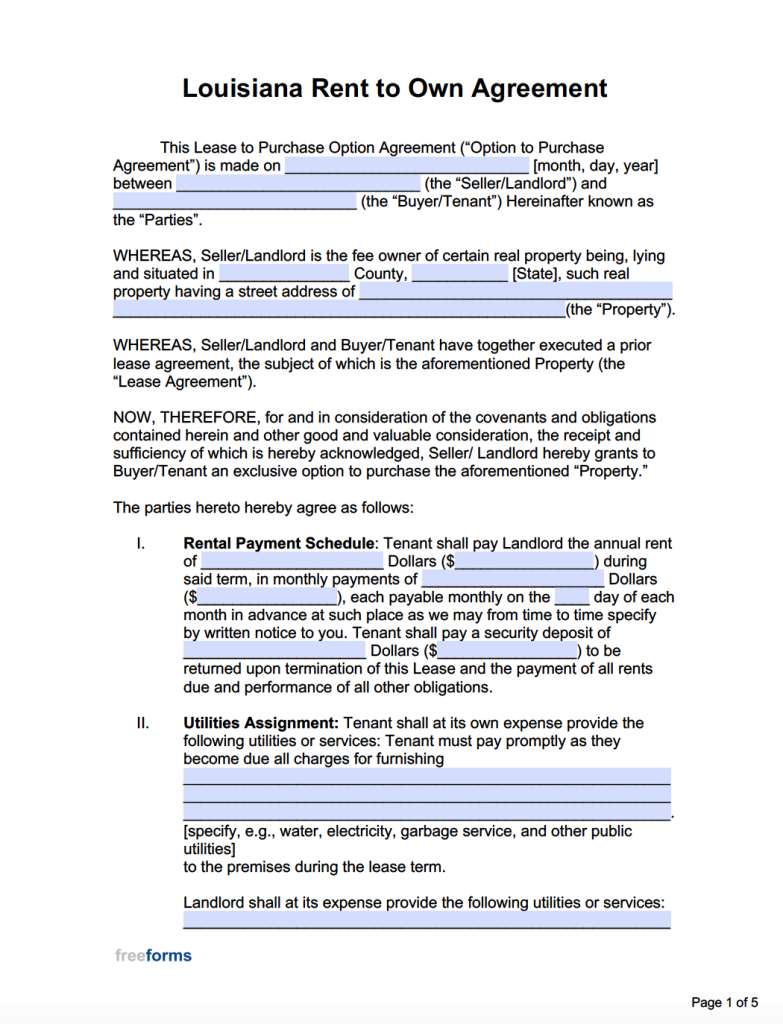 Lease to Own Agreement – Presents a standard rental contract for a property with a supplementary clause presenting an option to purchase at the termination of the agreement.
Download: PDF, Word (.docx)
---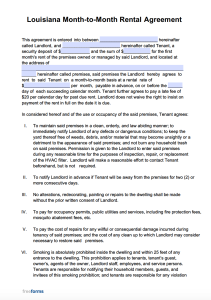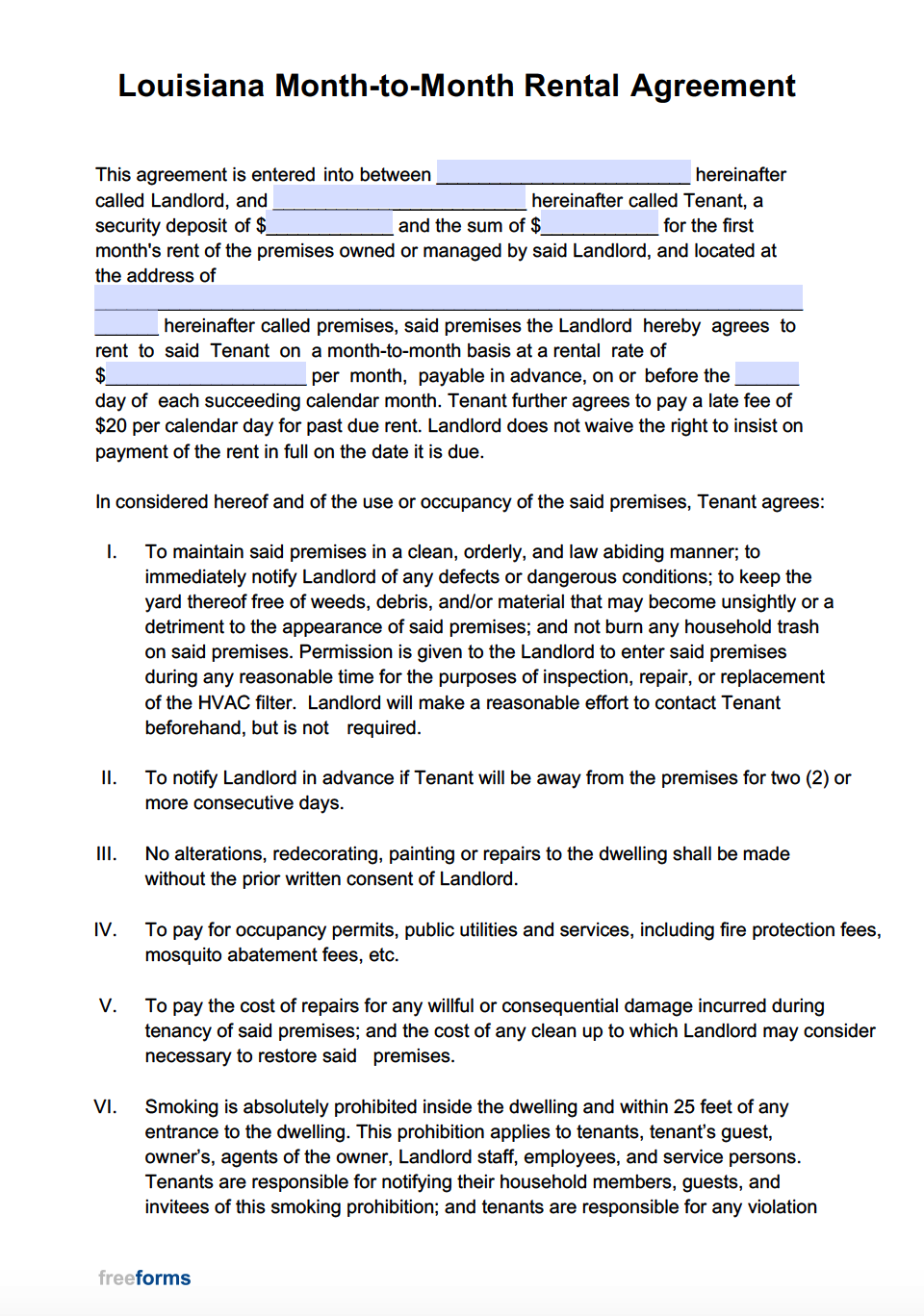 Month-to-Month Lease – Generates a written register reporting pertinent information of a commitment to utilize a real estate property for a designated period and compensation. The added perk included in the month-to-month lease is that either party can resign from the obligation by informing the other with at least ten (10) days before terminating (Civil Code § 2728).
Download: PDF, Word (.docx)
---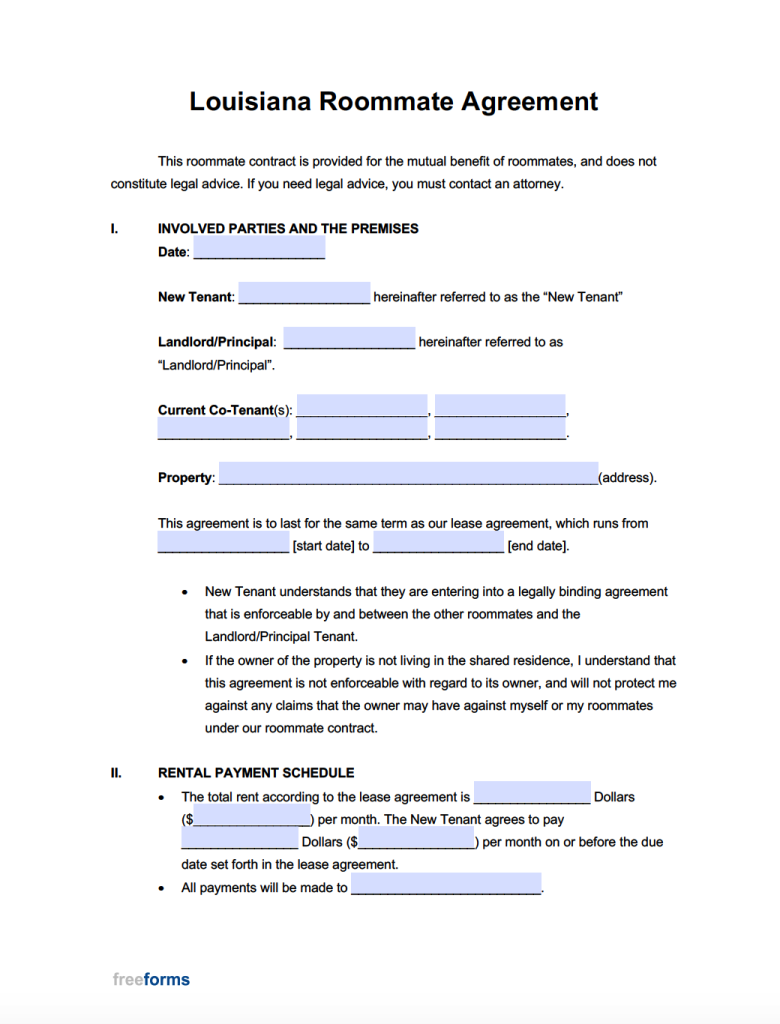 Roommate Agreement – Allows an intended user to dwell in residence and take advantage of shared space in exchange for a monthly payment.
Download: PDF, Word (.docx)
---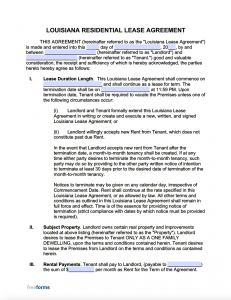 Standard Lease Agreement – Describes the conditions and responsibilities attributed to the leasing of a residential dwelling.
Download: PDF, Word (.docx)
---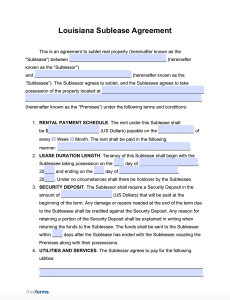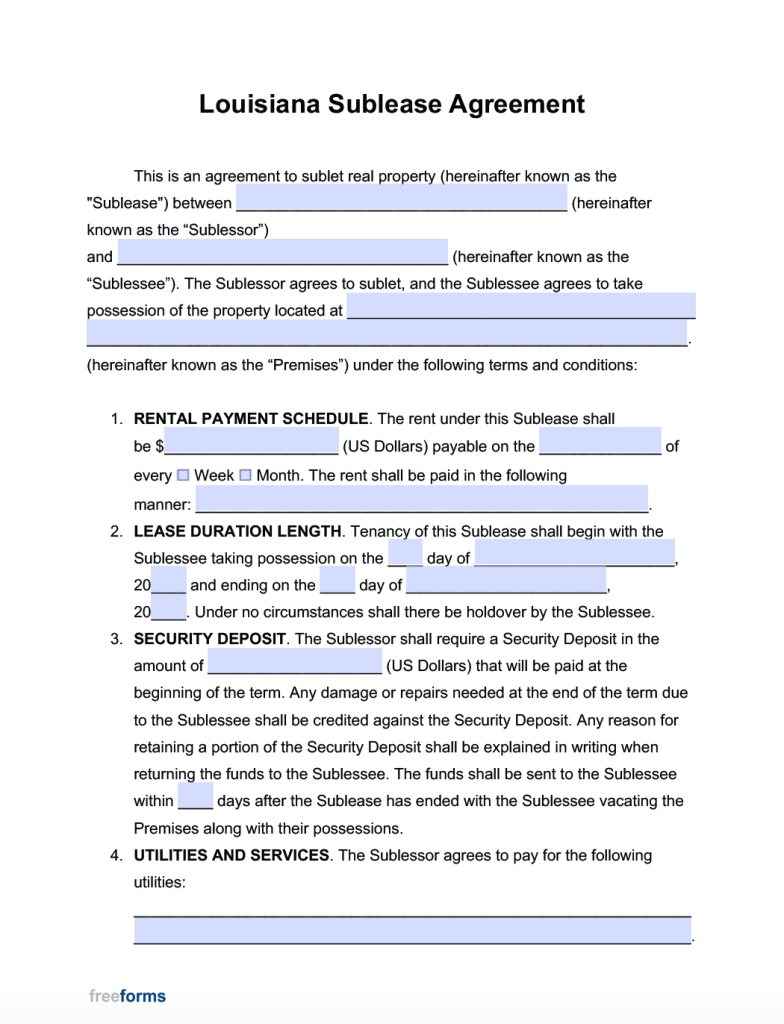 Sublease Agreement – Yields a contract for an individual to take over the responsibility of renting a property from a tenant for a predetermined amount and duration.
Download: PDF, Word (.docx)
Landlord-Tenant Laws
For questions concerning the legislature included in the Louisiana Revised Statutes § 9:3200 – § 9:3261 on Landlord/Tenant relations, you can visit the expounded code provided within the link above.
Required Landlord Disclosures
Although many states set disclosures that must be incorporated into a standard legal agreement, the state of Louisana does not pointedly mandate the specific publication of one on the state level. The federal organization known as the Environmental Protection Agency does obligate disclosure relevant to Lead-Based Paint precations be revealed to the tenant for houses built before 1979. The descriptive acknowledgment of the potential for exposure and informative supplemental brochure is to be distributed to probable tenants before entering into a valid leasing contract (42 U.S. Code § 4852d).
When is Rent Late?
The rent is determined due as specified by the terms agreed to within the leasing agreement. A definitive grace period for late payment of the rental premium is not explicitly covered in state statutes on leasing arrangements.
Late Fees
There is no clear-cut maximum allowable amount that a landlord can charge as a fee on payments that are received past the due date. As long as the condition is defined in the lease agreement, a late fee can be levied upon a tenant for late remittance.
NSF Checks
When a payment is issued by check, and the associated account has less than the submitted check, a fee may be assessed for each instance. The cost for each occurrence will be $15, plus any fees charged by the financial institution. (§ 14:71).
Security Deposit Maximum
The state of Louisiana does not regulate limitation on the sum amount that an owner can request as a security deposit.
Security Deposit Return
The security deposit is required to be recovered to the tenant within a month of the lease-end. For cases compelling a portion of the deposit to pay for repairs or cleaning, a transaction record must be furnished for the tenant in addition to the remainder of the deposit (§ 9:3251).
Landlord's Entry
There is no law concerning a minimum amount of time that a landlord should grant a tenant in order to enter the premises for maintenance reasons. Offering advanced notification of the need for entry is customary by giving notice of at least twenty-four (24) hours ahead of time.