---
Updated on June 19th, 2023
The Minnesota lease agreement earmarks an in-depth report detailing the circumstances concerning the lease of a particular piece of real estate. Once the potential tenant has passed a background check with the provided information via leasing application, a lease agreement can be drafted with the negotiated terms. The contract will further define all relevant provisions, payments, duration, and security deposit amount.
Rental Application
– This downloadable questionnaire helps in the assessment of the qualifications of potential leasing prospects. Gathering intel on possible occupants can aid in narrowing the search to move toward signing a lease agreement contract.
Lease Agreements By Type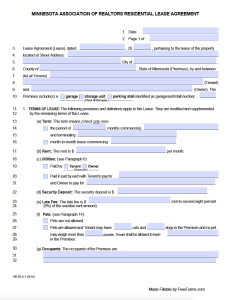 Minnesota Association of Realtors Residential Lease Agreement – The professional Realtor form is made available to create a detailed account of the rental of a unit of real estate. This specialized document entails the filing of all pertinent details surrounding the lease transaction.
Download: PDF
---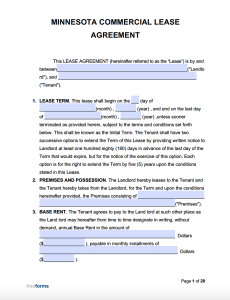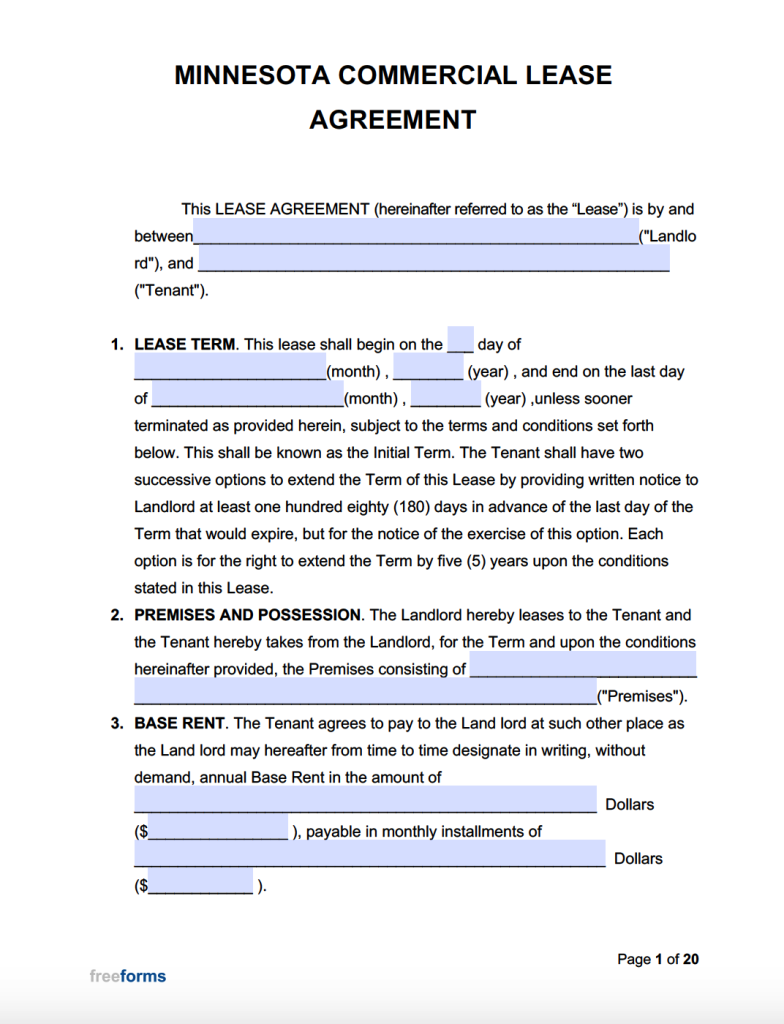 Commercial Lease Agreement – Devotes a written account to record the lease of a premises for business purposes.
Download: PDF, Word (.docx)
---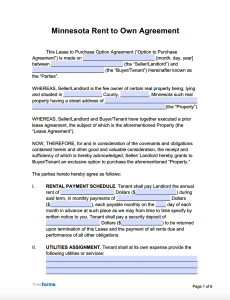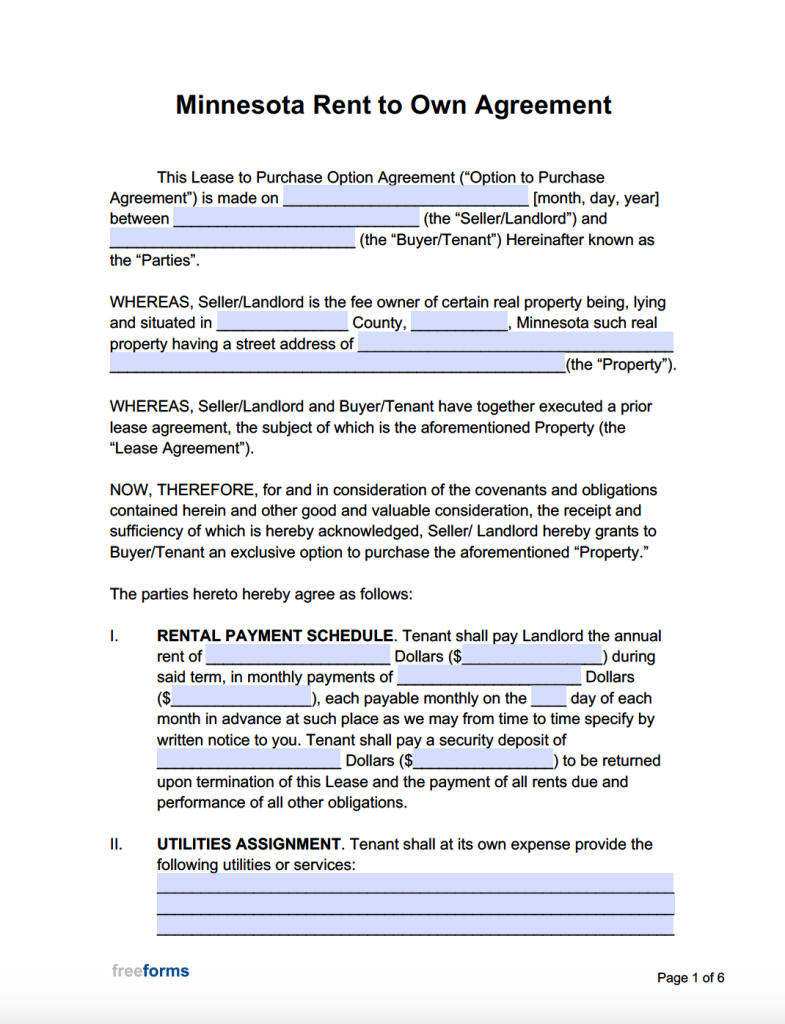 Lease to Own Agreement – Codifies a description for the arrangement to rent a residence with an optional clause extending the first right of refusal to buy to the tenant once the term of the tenancy has ended.
Download: PDF, Word (.docx)
---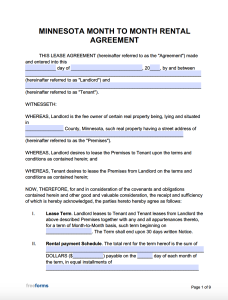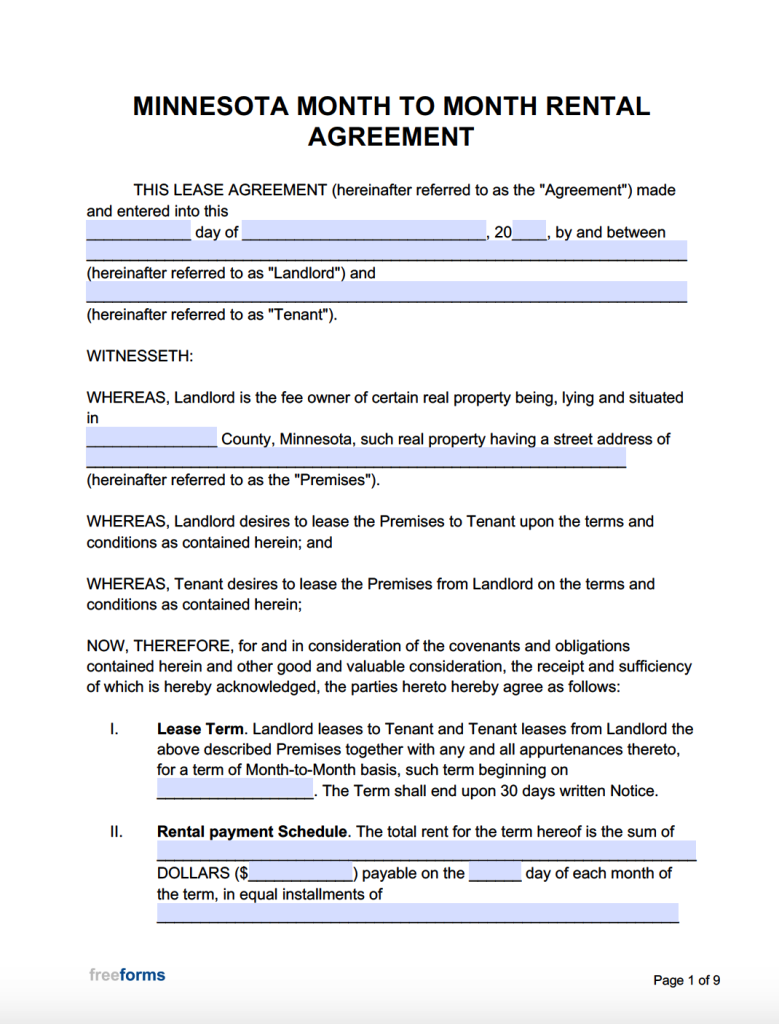 Month-to-Month Lease – Documents a lease agreement for a proposed duration with an opportunity for lessor or lessee to cancel with advance notice of at least thirty (30) days.
Download: PDF, Word (.docx)
---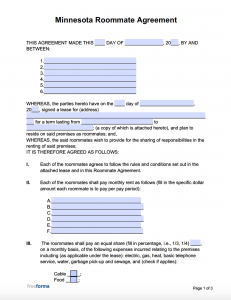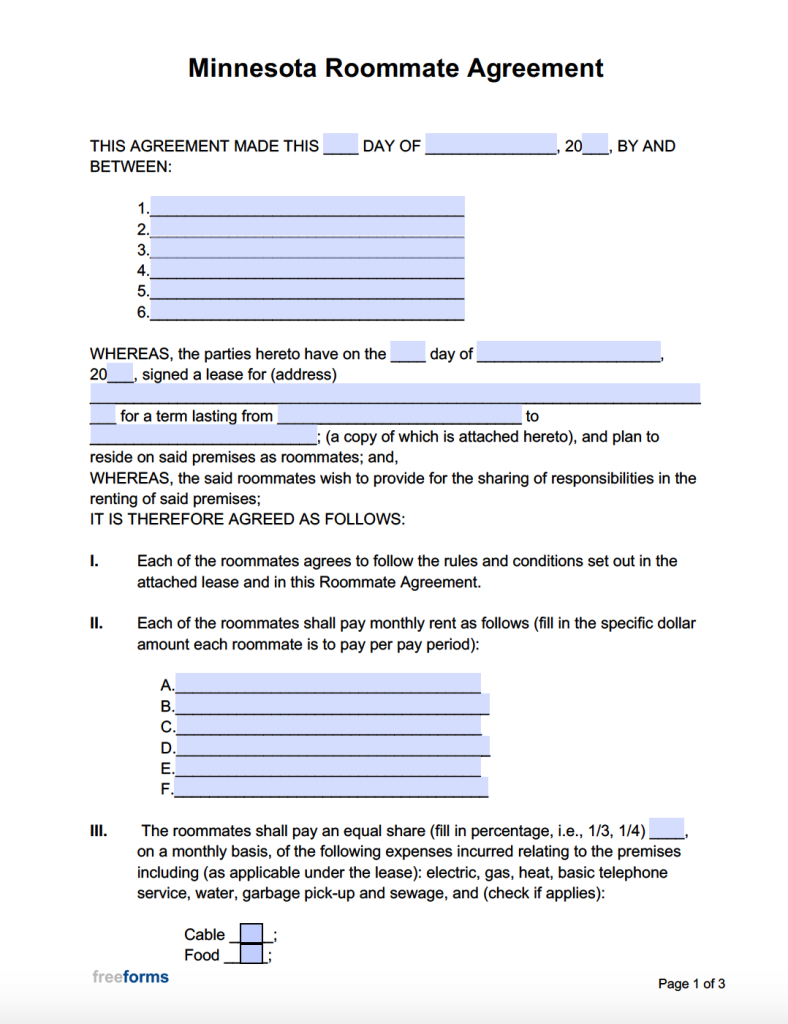 Roommate Agreement – Regulates a rental contract allowing for an individual to reside in a home shared with one or more persons for a fixed premium and time amount.
Download: PDF, Word (.docx)
---
Standard Lease Agreement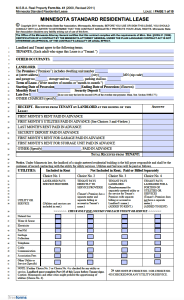 – Broadcasts the distinguishing information included in the bond to rent a piece of property in exchange for monthly financial compensation.
Download: PDF, Word (.docx)
---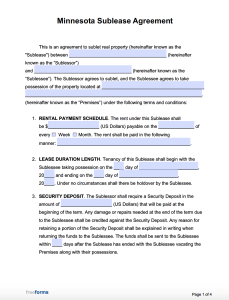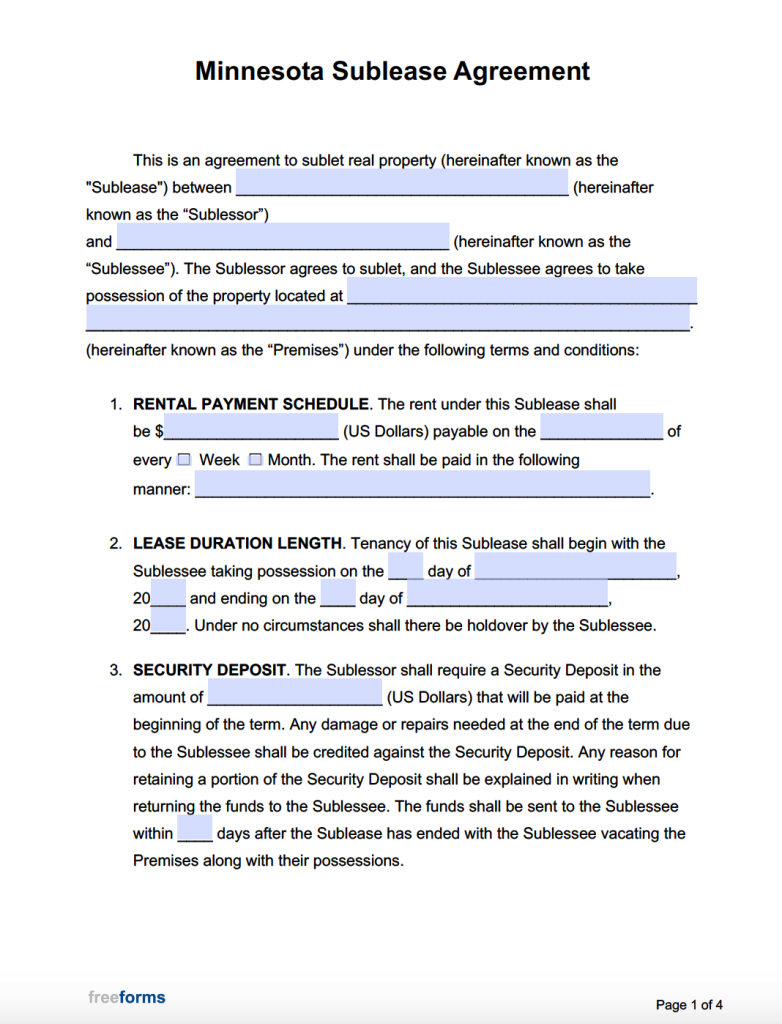 Sublease Agreement – Enables an alternate tenant to take over a lease for an agreed amount of time and price.
Download: PDF, Word (.docx)
Landlord-Tenant Laws
Supporting material for any additional inquiry for statutes associated with landlord-tenant law can be located at Minnesota Statutes Chapter 504B on Landlord and Tenant Relations.
Required Landlord Disclosures
Identification of the Landlord or Authorized Personel (§ 504B.181) – As described in the state statutes, the names and addresses of all owners and managing individuals for the property must be made available to the tenant upon lease signing.
Accessibility to Attorney General's Handbook (§ 504B.181) – It is mandated that it be posted within the leased building, the availability of the Handbook on Landlord and Tenant Rights and Responsibilities. A copy can be supplied to any tenant upon request to the landlord or property manager.
Included Covenant Reference Language (§ 504B.171) – Every Lease agreement must by law cite the following passage within the legal document:
Landlord and tenant promise that neither will unlawfully allow within the premises, common areas or curtilage of the premises (property boundaries): controlled substances, prostitution or prostitution-related activity; stolen property or property obtained by robbery; or an act of domestic violence, as defined by MN Statute Section 504B.206 (1)(e), against a tenant, licensee, or any authorized occupant. They further promise that the aforementioned areas will not be used by themselves or anyone acting under their control to manufacture, sell, give away, barter, deliver, exchange, distribute, purchase, or possess a controlled substance in violation of any criminal provision of Chapter 152.
Lead-Based Paint (42 U.S. Code § 4852d) – The Environmental Protection Agency holds landlords to the standard of providing information on the hazardous effects of lead-paint for tenants to occupy homes built before 1979. A prepared disclosure form and informational packet are to be handed out during the contract endorsement stage.
Notice of Foreclosure Proceedings Associated with the Property (§ 504B.151) – Should an owner become aware that a property is to undergo foreclosure, the information must be passed along to any prospective tenant. Any new lease to be granted after acknowledgment of the intent to foreclose must be executed only after written disclosure stating the status of the property is relayed to the lessee.
Notification of Condemnation or Unresolved Inspection Order (§ 504B.195) – Any health or building code violation received or notice of condemnation to the property must be disclosed to current or possible future tenants. It is required that the information be transmitted in writing to active occupants within seventy-two (72) hours of issued citation. Potential tenants must be informed of the same information before signing an agreement.
When is Rent Late?
The state of Minnesota has not instituted an allowable period in which payments administered past the allocated due date are protected from established late charges. Examine your lease documentation for any associated clause stating management policy regarding late fees before executing the agreement.
Late Fees
For a late fee to be demanded by a landlord, it must be accounted for within the written leasing paperwork. An imposed late fee can total no more than 8% of the monthly rental payment amount (§ 504B.177).
NSF Checks
State regulation does not have a designated stance on the amount that can be charged as a fee on returned checks. Examine the lease agreement to determine the identified costs associated with your lease.
Security Deposit Maximum
The amount an owner can request as a security deposit does not have a limitation for properties located in Minnesota. The amount submitted is required to be repaid along with a 1% interest per year on the sum of the deposit (§ 504B.178).
Security Deposit Return
Once the term of a leasing period has expired, the landlord is obligated to reimburse security deposit payments within 21 days of term-end. In cases where the property is condemned and the tenant forced to vacate, the security deposit must be delivered no more than five (5) days after the condemnation of the building (§ 504B.178).
Landlord's Entry
For the owner or managing officials to gain access to a tenant-occupied dwelling, proper notification must be allocated to the tenant. A "reasonable" amount of advanced notice must be given for entry required for business, repair, or maintenance purposes. It is suggested that tenants be advised at least twenty-four (24) hours ahead of time before requesting to enter the domicile (§ 504B.211).