---
Updated on June 19th, 2023
The New Jersey lease agreement originates the details of a property rental arrangement between an owner and a tenant. Traditionally, a prospective tenant is required to fill out an application to be surveyed by the lessor. When the landlord accepts the application, a lease agreement can be fine-tuned and signed to signify a commitment by both parties.
Rental Application
– Prior to leasing to a tenant, it is recommended that landlords and managers responsible for the task of occupying a premises to first issue a copy of this form to the potential lessee for verification reasons.
Lease Agreements By Type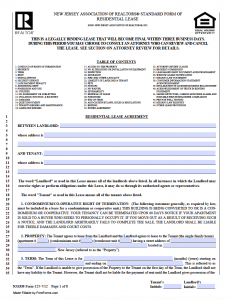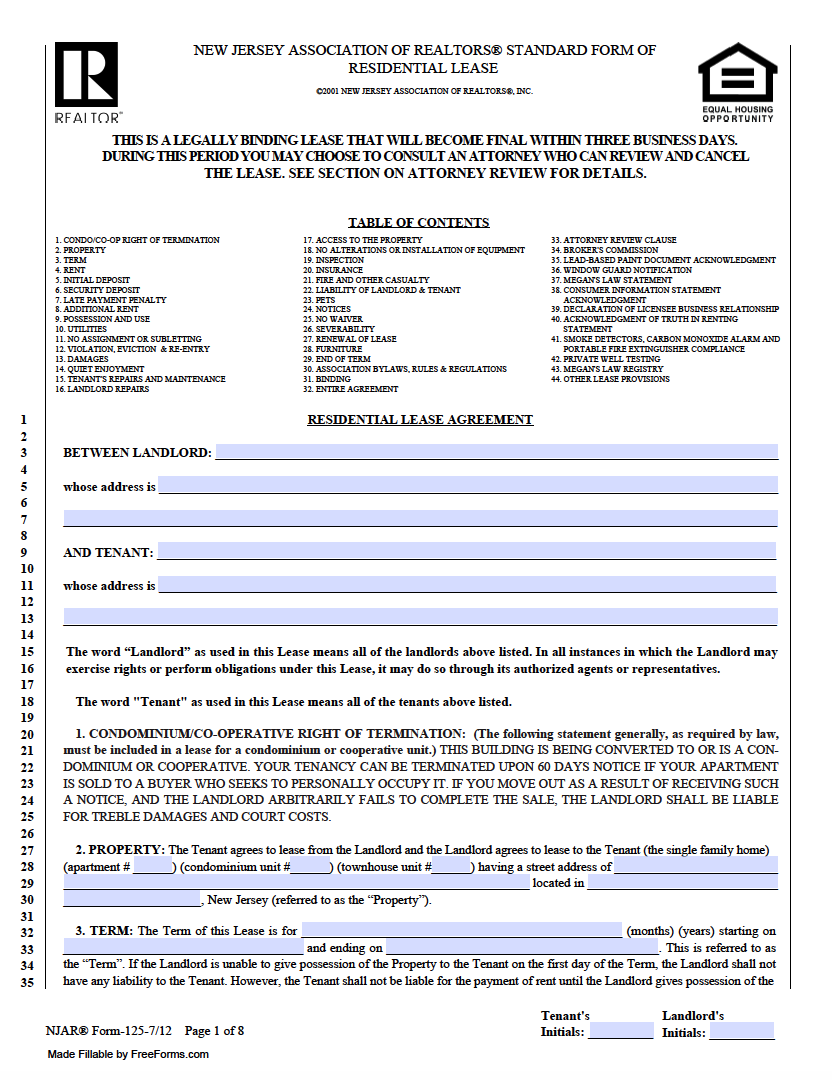 Association of Realtors Version – New Jersey's realtor group has prepared their own version of the residential lease agreement that can be exercised for rental properties within the state.
Download: PDF
---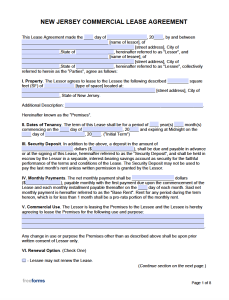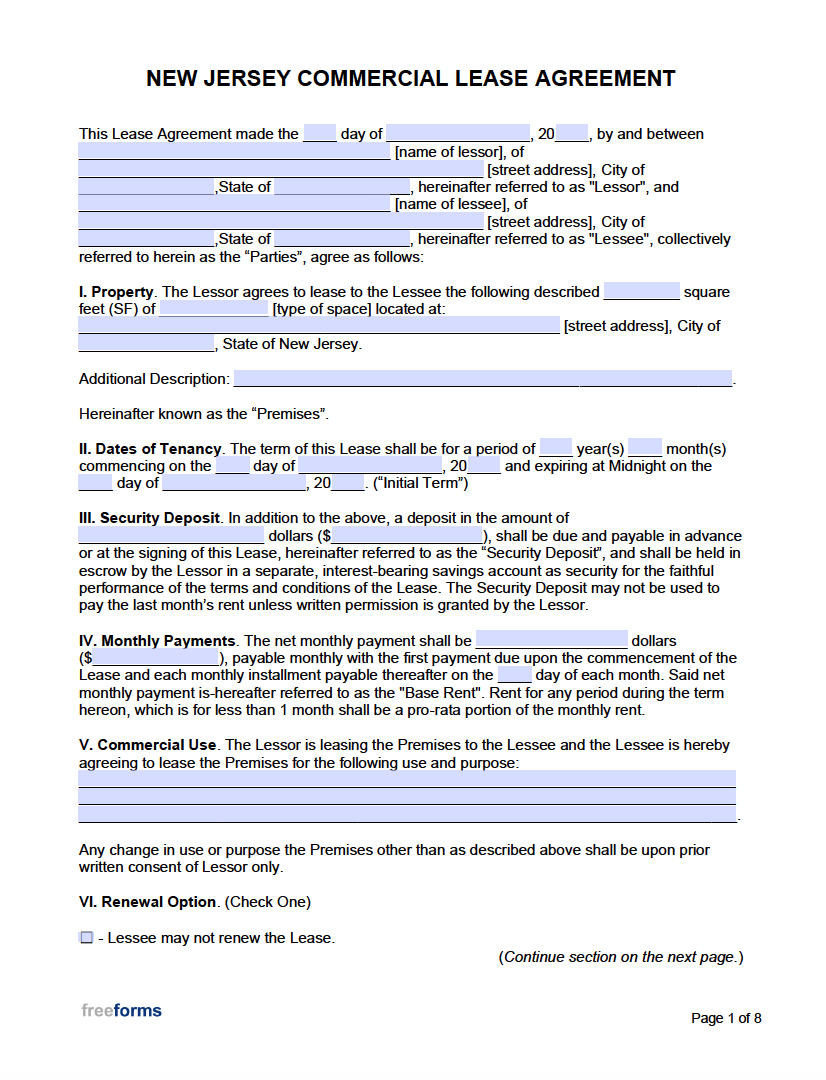 Commercial Lease Agreement – Conceives a detailed depiction involving the temporary use of real property by a company.
Download: PDF, Word (.docx)
---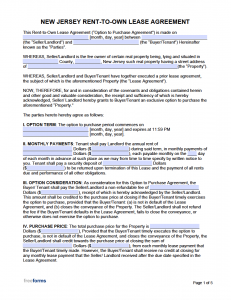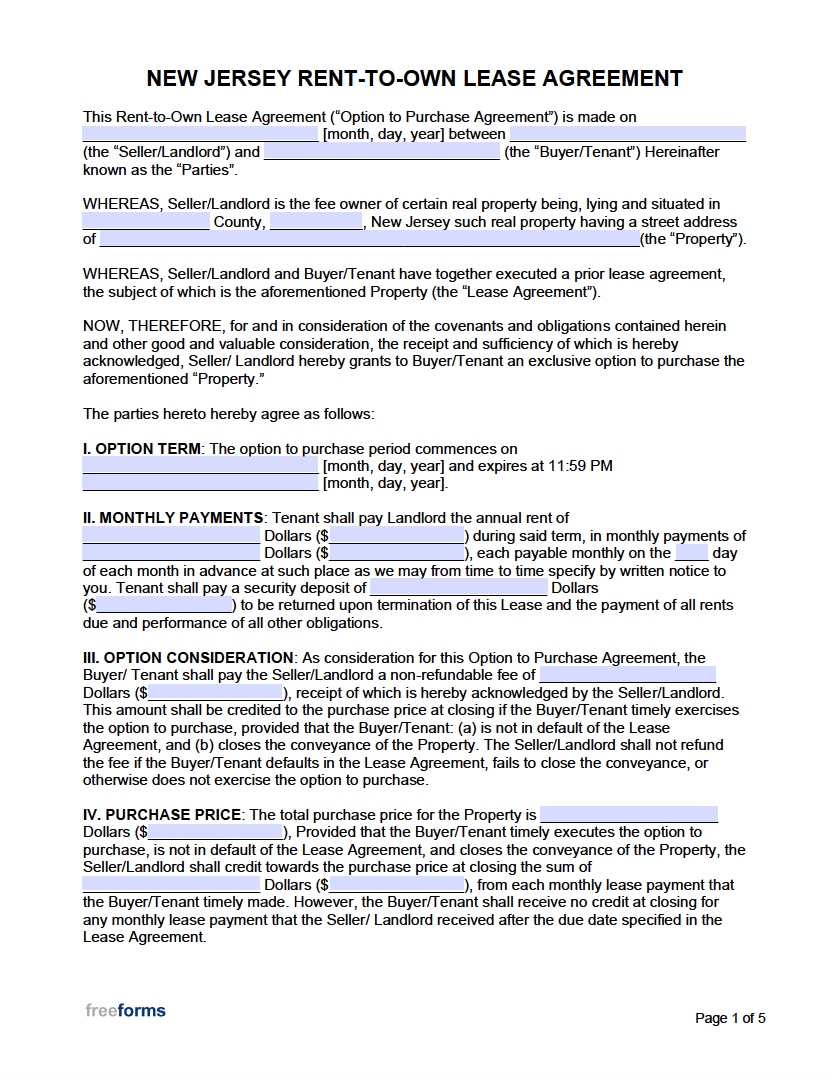 Lease to Own Agreement – Orchestrates a written account pertaining to the rental of a home for a duration with an extended invitation to buy once the lease term is up.
Download: PDF, Word (.docx)
---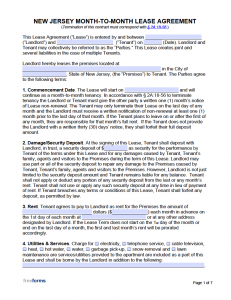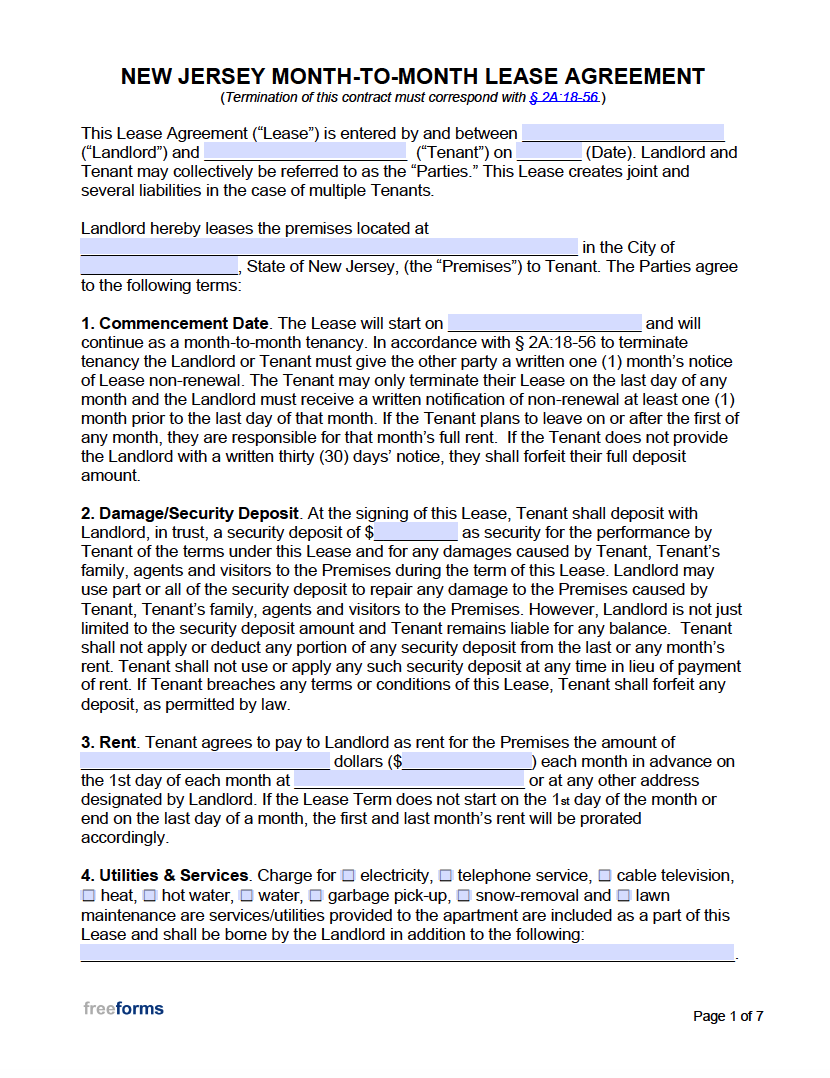 Month-to-Month Lease – Documents the elaborateness of the provision to lease a dwelling for a specified period. The month-to-month agreement also allows the lessor or lessee to prematurely terminate the contract when providing thirty (30) days of communicating notification.
Download: PDF, Word (.docx)
---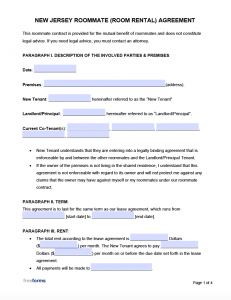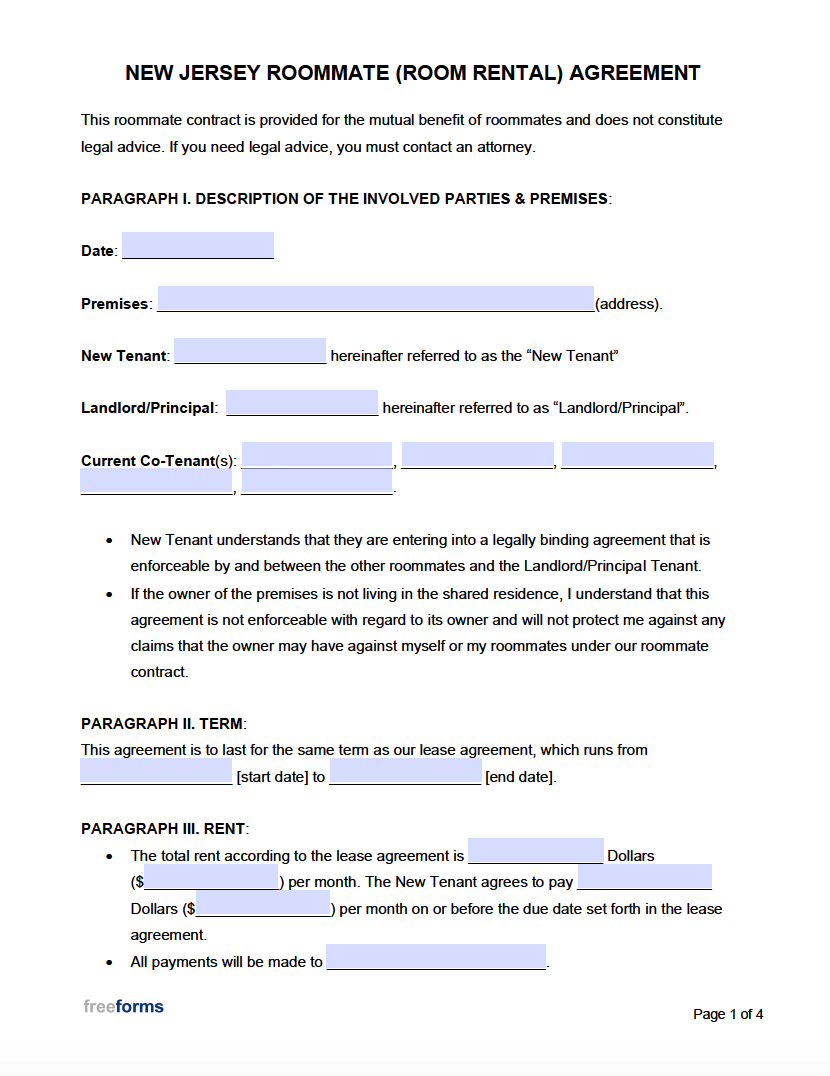 Roommate Agreement – Devises a standard lease for an individual to reside in a household with both shared and private space.
Download: PDF, Word (.docx)
---
Standard Lease Agreement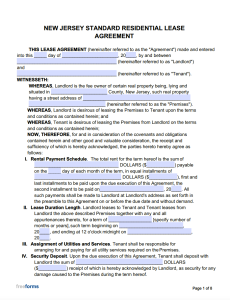 – Issues a written registration of the particulars involved in the leasing of a residential unit.
Download: PDF, Word (.docx)
---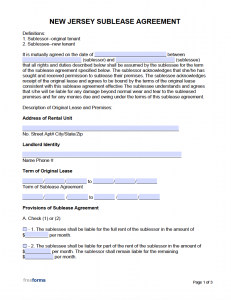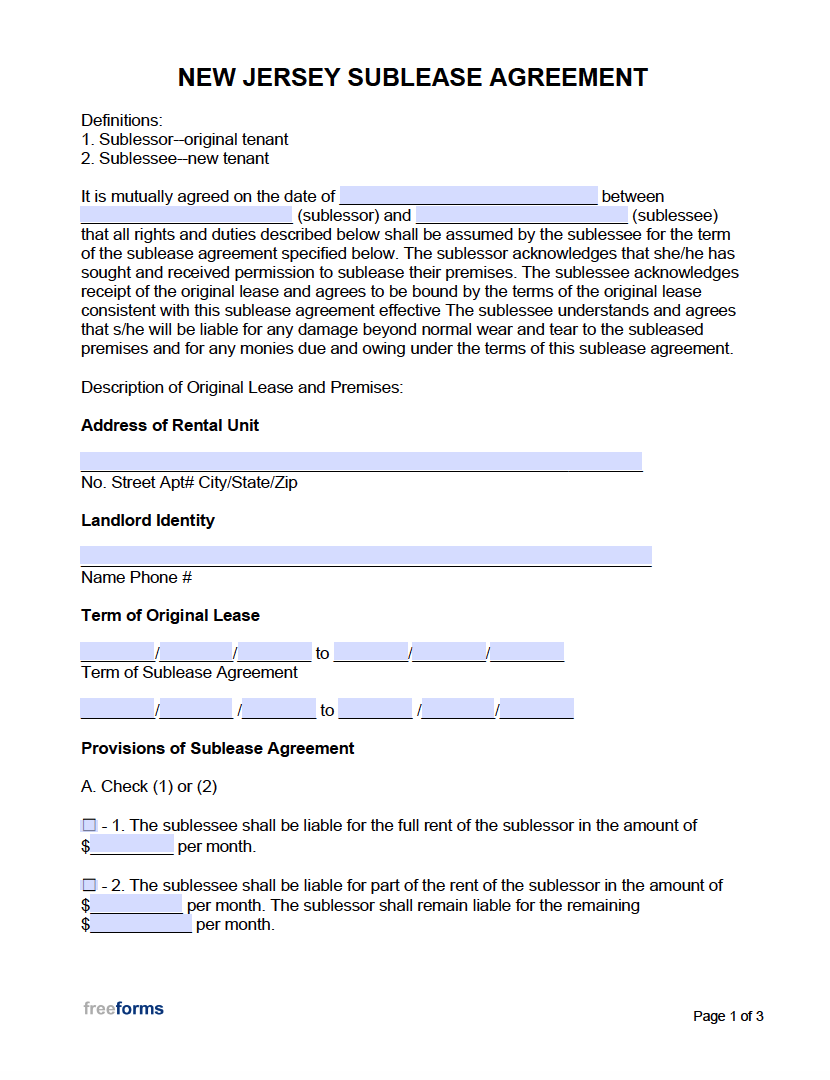 Sublease Agreement – Sets up an arrangement for a person to take over the responsibility of a lease for a specified time and price.
Download: PDF, Word (.docx)
Landlord-Tenant Laws
Additional instruction related to regulation and procedures concerning lessor/lessee relations can be obtained by examining the State of New Jersey Department of Community Affairs Landlord-Tenant Information or Tenant's Rights in New Jersey Manual.
Required Landlord Disclosures
Identification of the Landlord or Authorized Personel (§ 46-8-27 — 46-8-37) – Landlord identity law specifies that owner-occupied properties containing more than two units, or a property unoccupied by the owner must obtain a certificate of registration with the governing authorities. The certificate must indicate the names and addresses of identifying owners, limited partners, management personnel, janitorial staff, and oil delivery agents if applicable. A copy of the applied certificate must be supplied to the tenant within thirty (30) days of lease commencement.
Truth in Renting Act Information (§ 46-8-45) – A statement of the Department of Community Affairs Truth in Renting Act Information is to be given out at the time of lease endorsement.
Window Guard Notification (§ 5-10-27) – Homes to be leased to tenants with children age ten (10) or younger will obligate the landlord to provide and install window guards. All windows that can be opened and that are not designed to be utilized as access to a fire escape must be secured with permanent guards. It is required that prospective tenants either complete the provided New Jersey Window Guard Notification Form or include the following language in bold text in the lease agreement:
"Window Guard Notification:

The owner (landlord) is required by law to provide, install and maintain window guards in the apartment if a child or children 10 years of age or younger is, or will be, living in the apartment or is, or will be, regularly present there for a substantial period of time if the tenant gives the owner (landlord) a written request that the window guards be installed. The owner (landlord) is also required, upon the written request of the tenant, to provide, install and maintain window guards in the hallways to which persons in the tenant's unit have access without having to go out of the building. If the building is a condominium, cooperative or mutual housing building, the owner (landlord) of the apartment is responsible for installing and maintaining window guards in the apartment and the association is responsible for installing and maintaining window guards in hallway windows. Window guards are only required to be provided in first-floor windows where the window sill is more than six feet above grade or there are other hazardous conditions that make installation of window guards necessary to protect the safety of children."
Crime Insurance Information (§ 46-8-39) – It is mandated that within thirty (30) days of occupancy, a tenant must be informed of the option to apply for Crime Insurance. The information must also be furnished as to where the tenant can apply for the insurance.
Lead-Based Paint (42 U.S. Code § 4852d) – The possibility of coming into contact with lead-based paint in homes constructed before 1979 is to be revealed to the tenant in the leasing documentation. Distribution of a pamphlet on the dangers and symptoms associated with exposure and acknowledgment endorsement paperwork is to be carried out before lease execution.
Flood Zone (§ 46-8-50) – Residential properties that are positioned within an area designated as a "flood zone" require additional disclosure to the tenant.
When is Rent Late?
A grace period of five (5) business days is permitted solely for senior citizens receiving social security disbursements/pensions, individuals receiving disability income or Work First New Jersey benefits. Those individuals not included in this category are not granted the state-approved grace period and will be required to remit payments as described by the lease agreement (§ 2A-42-6).
Late Fees
Any late fee schedule compelled by a property owner must be stated in detail within the leasing contract. A written schedule listing rates, due dates, and grace periods must be specified and agreed to with corroborating signatures for fees to be effectively pursuable. The brochure on the Truth in Renting Act further explains the complexities concerning regulation on late fees.
NSF Checks
Fees to be charged by an owner for returned checks must be stated in the leasing document to be requested. Should a returned check not be compensated within 35 days, the landlord can effectively charge a fee of between $100 and triple the amount of the original check. The fee amount cannot exceed $500. (§ 2A-32A-1)
Security Deposit Maximum
A landlord cannot request an amount more than the equivalent of one and one-half month's rental payment as a security deposit. This does not apply to owner-occupied residences of consisting of two or three units (§ 46-8-21.2)
Security Deposit Return
The owner is legally bound to repay the amount of the security deposit plus any accrued interest to the tenant within thirty (30) days of lease termination. When damage is caused to the unit by the tenant, resulting expenses are to be listed and sent along with the remainder of the deposit within the same thirty (30) day window (§ 46-8-21.1).
Landlord's Entry
The landlord is obligated to request the tenant's permission in order to enter a domicile for repair on inspection purposes unless it is an emergency. The NJ Department of Community Affairs Right of Entry Information memorandum details the legalities surrounding landlord entry and explains tenant's rights concerning access to the unit.