---
Updated on July 24th, 2021
A residential rental application is typically required by landlords/real estate owners who are looking for eligible renters to lease their property. The form requests certain personal information about the candidate's identity, rental history, and current employment status. After a number of interested applicants submit this document to the individual/management company in charge of processing applications, they will select the most qualified person to occupy the premises for an agreed-upon term. Anyone who applies may be subject to an "application fee" for the purpose of running a background check (prices may vary depending on the services used for the vetting).
Acceptance of Application – If the applicant is approved to rent the property, the next step will call for the completion of a lease agreement to record the terms of the arrangement between the lessor and lessee.
By State
By Type (7)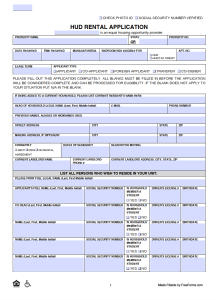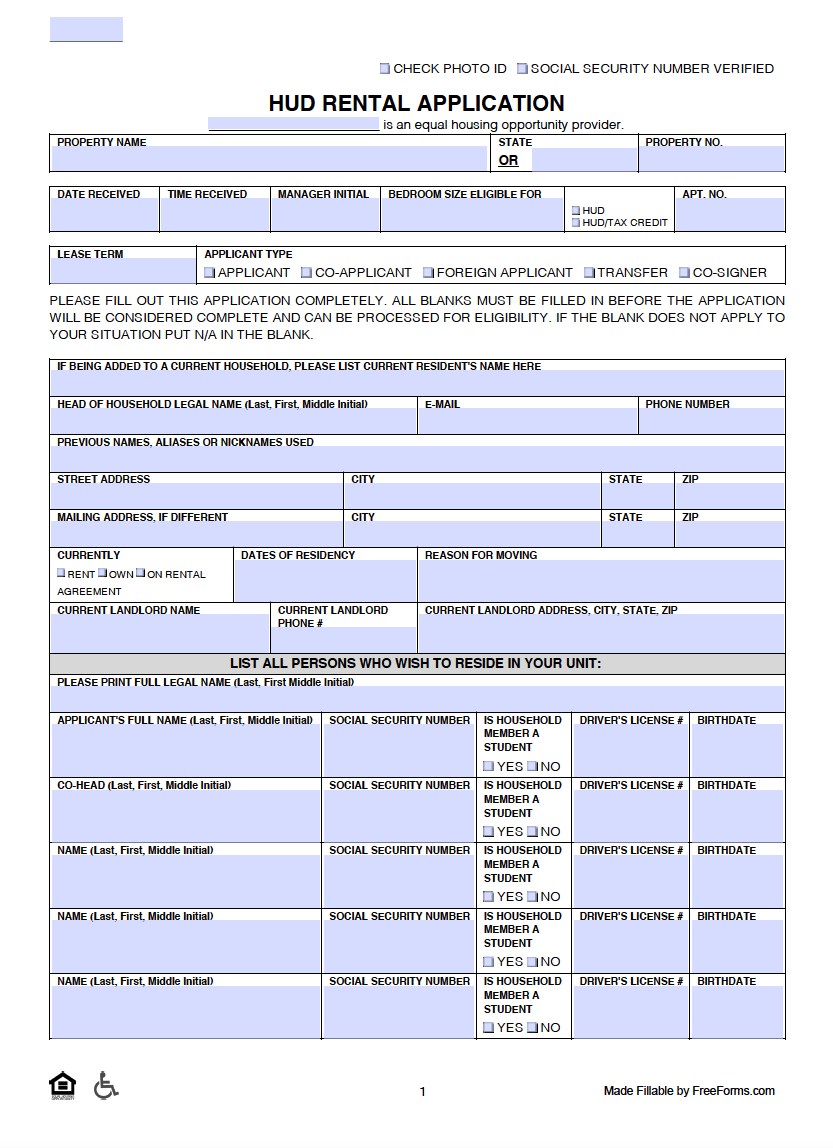 HUD Rental Application – This is commonly presented by landlords to individuals looking to secure the rental of low-income housing.
Download: Adobe PDF
---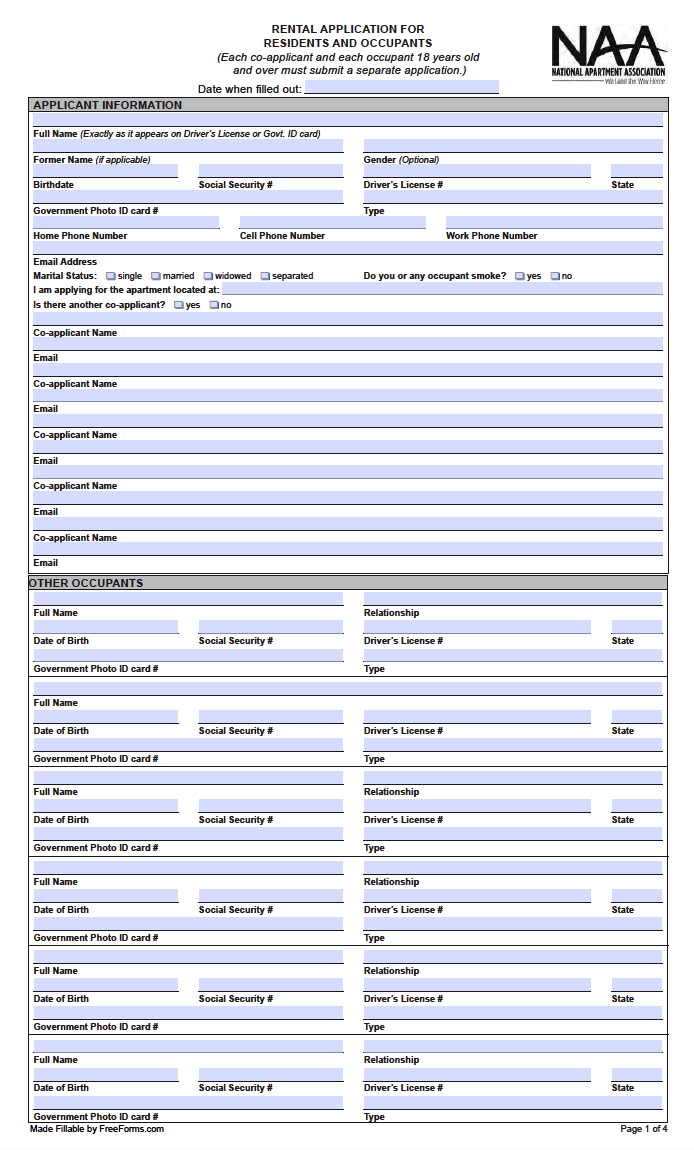 National Apartment Association Version – The NAA supplies those interested in vetting a new occupant with the aforementioned screening tool.
Download: Adobe PDF
---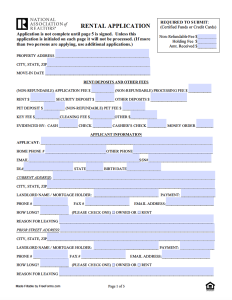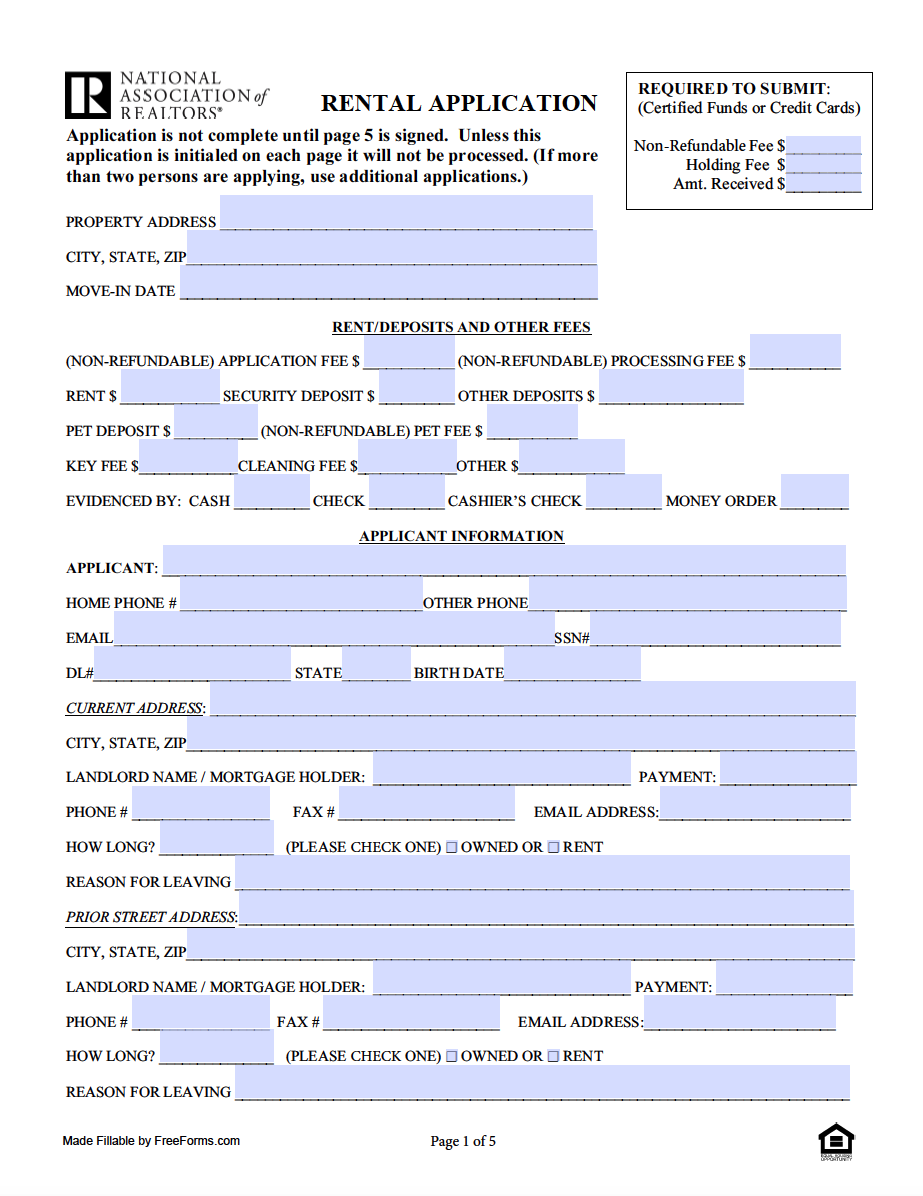 National Association of Realtors Version – Real estate professionals all around the U.S. utilize the resources provided by the NAR including their version of the rental application.
Download: Adobe PDF
---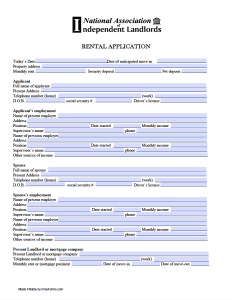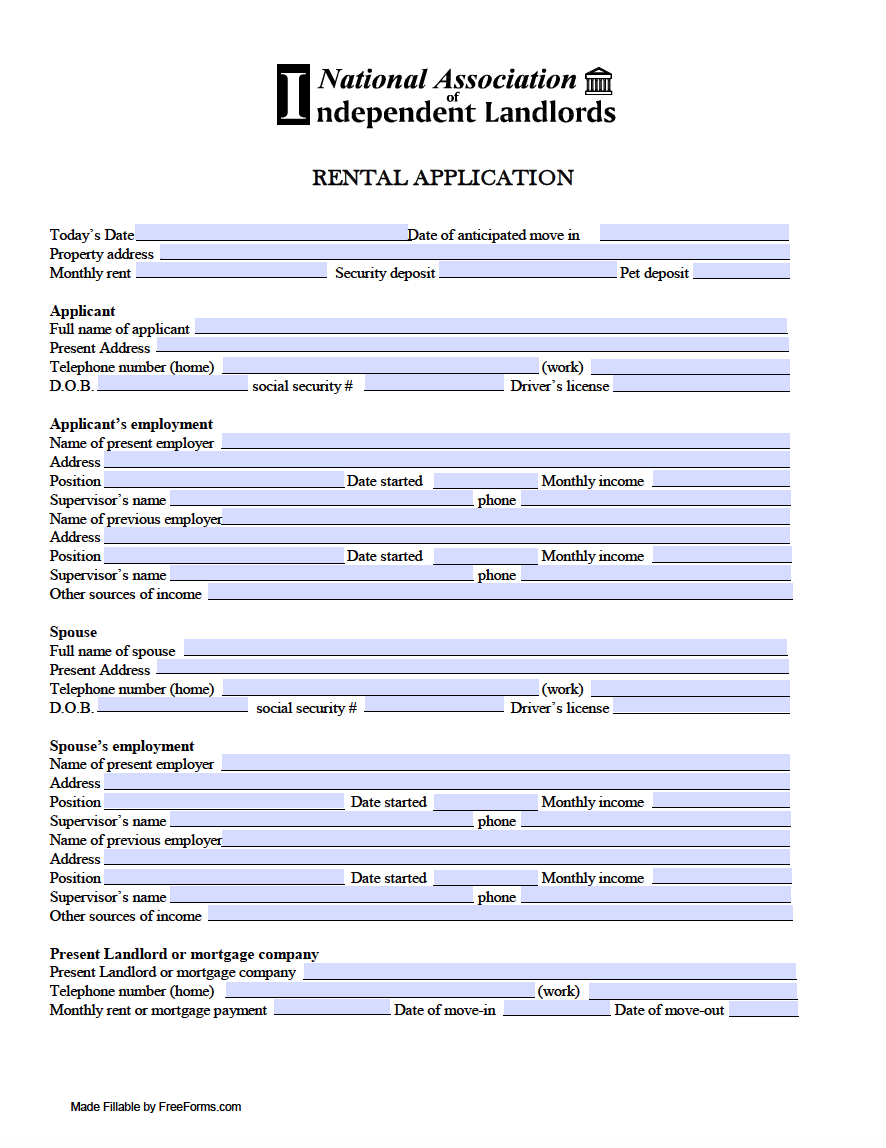 National Association of Independent Landlords Version – This organization that caters to the many landlords around the country offers individuals a comprehensive version of the preliminary document.
Download: Adobe PDF
---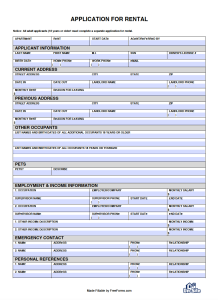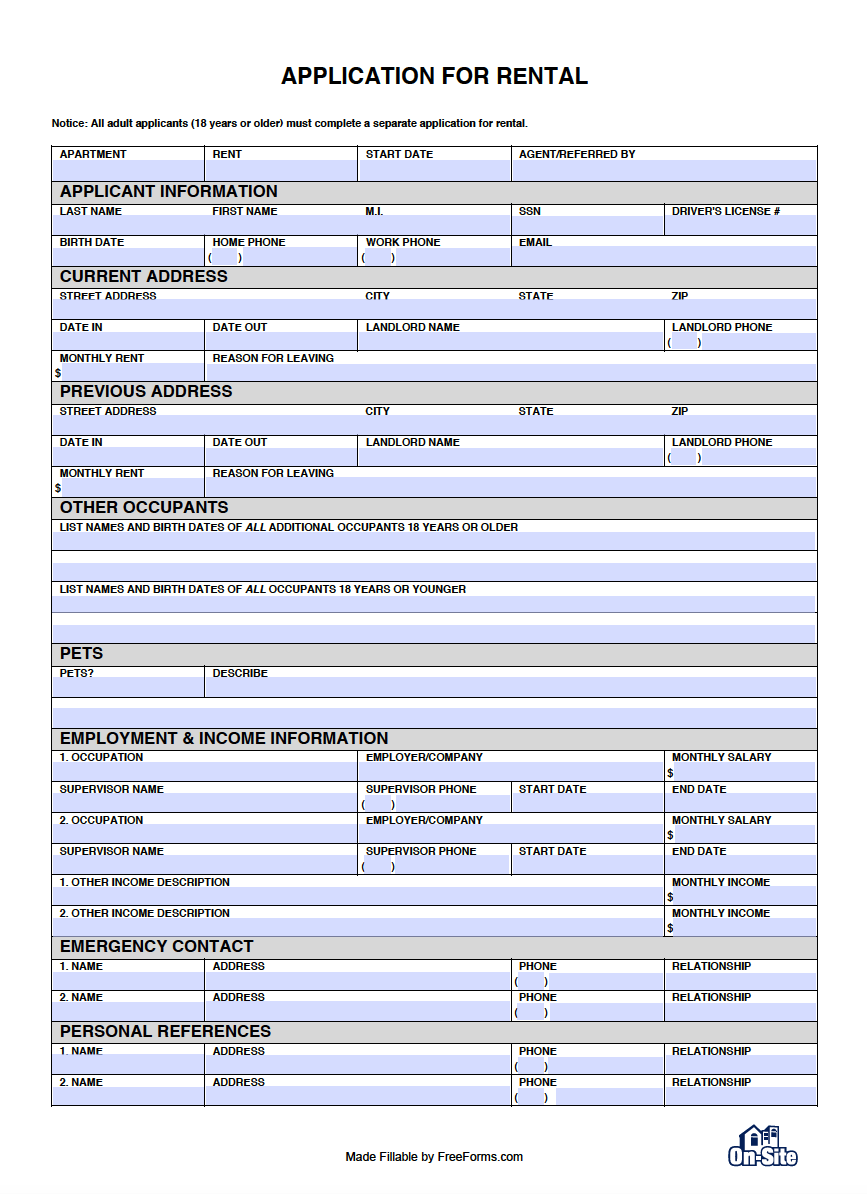 On-Site Rental Application – The California-based real estate company, On-Site.com, provides its own take on the widely-used rental form.
Download: Adobe PDF
---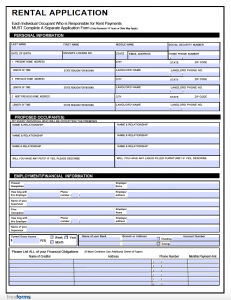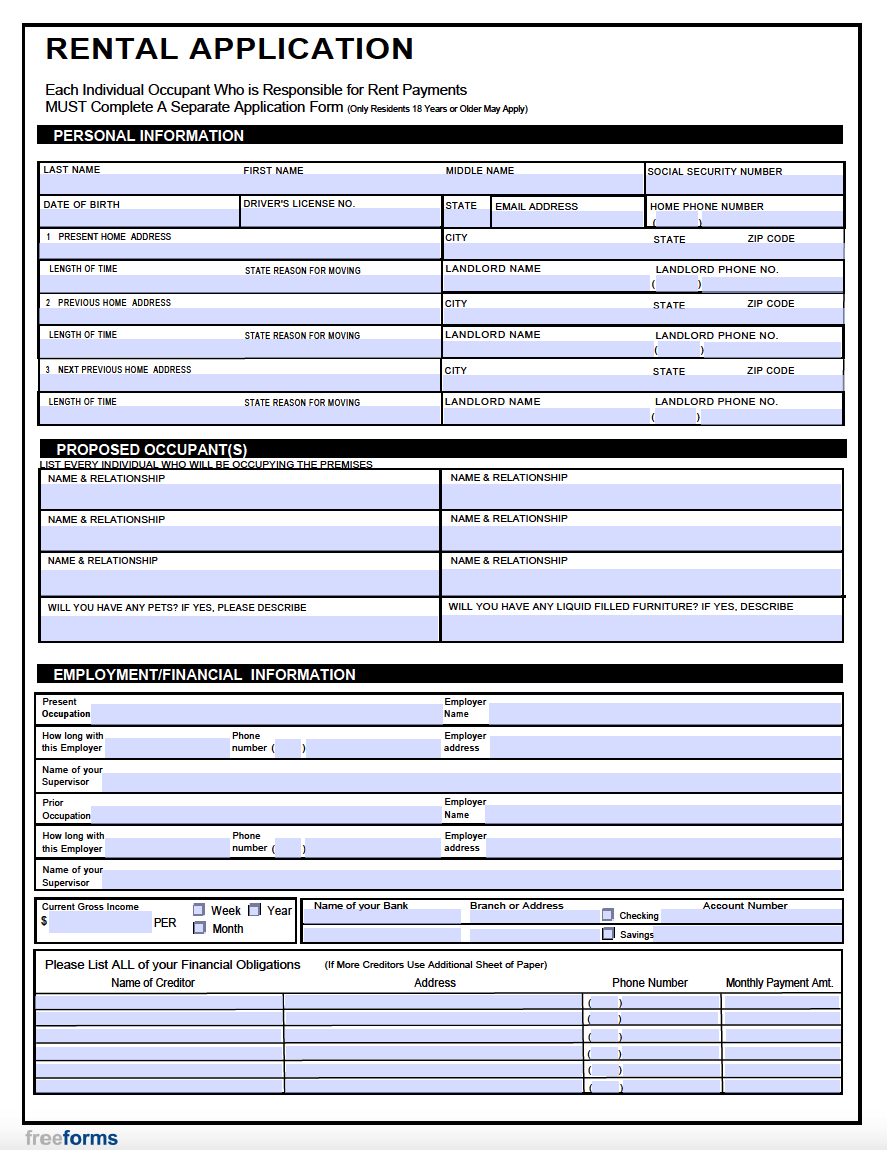 Simple (Basic) Rental Application – This document only contains the most basic and straightforward information needed to investigate someone's past and current position.
Download: Adobe PDF
---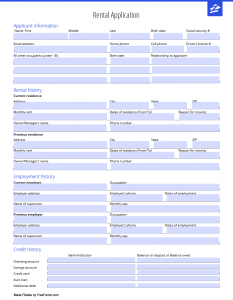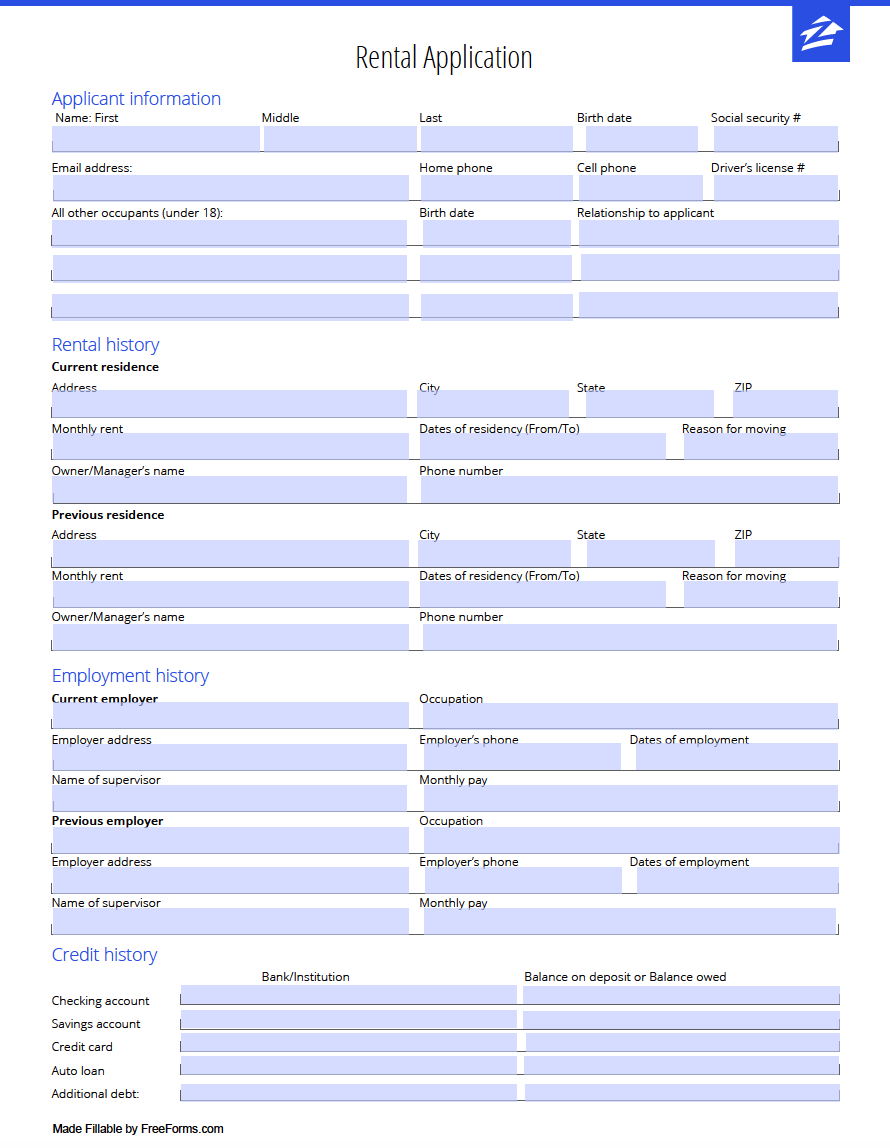 Zillow Rental Application – Considered one of the top rental websites, Zillow offers a printable rental application to anyone looking to carry out a tenant background check.
Download: Adobe PDF
What Is a Rental Application?
A rental application is an integral part of leasing real estate to another individual. When we have a home on the market for rent, we will encounter an assortment of individuals looking to occupy the premises, assuming that the property is in somewhat of a demand. The important thing to realize is that not all the people that come to view the residence will be qualified to rent. There are certain indicators that can help dictate one's ability to successfully make payments and carry out a cordial tenancy, these being:
Credit Score
Current Income Stream
Past Rental Experiences
Eviction Records
Criminal Background
Verifying these factors of one's life can mean the difference between entering into a contract with a trustworthy lessee that holds their end of the bargain or getting involved in an unfavorable tenancy where you may have to go through the process of eviction.
How Long Does It Take to Process a Rental Application?
This is one of the most frequently asked questions from tenants and property owners. The truth is that it varies depending on numerous factors, such as the screening service used, the landlord's priorities, and the tenant's capacity to provide accurate information. With that being said, the average time span is between 24 – 72 hours. Landlords should act in a professional manner and have the application processed as soon as possible as to not keep the individual in limbo.
What Are Rental Application Fees For?
A rental application fee is a sum of money needed to cover the expenses of screening a tenant. When a landlord collects the form, they will typically then send the data to the third (3rd) party screening company to run the information in their database. In return, the screening company will charge the landlord for the services provided. So, it is important to note that the landlord is not making money off this transaction, rather they are just trying to compensate for the expenditure associated with the background check.
How to Screen a Prospective Tenant
Those who decide to oversee their own property rather than hiring the services of a management company will need to know how to effectively screen potential renters. In this section, we will go over the particulars of the screening process to ensure that you acquire the best tenant possible to reside within your property. Follow the steps below:
Step 1 – Offering the Rental Application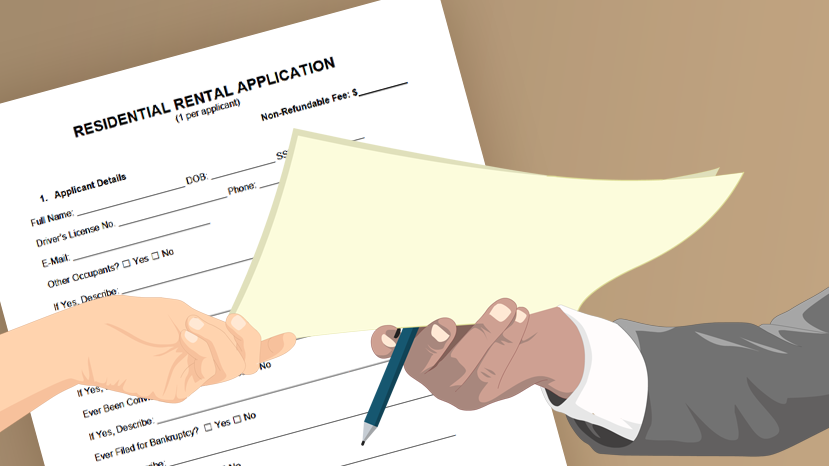 When a rental unit is on the market, various parties will request to see the property in person. It is essential for the landlord to have multiple copies of the rental application on hand to distribute to anybody conveying an interest in leasing the residence.
Step 2 – Receiving Submissions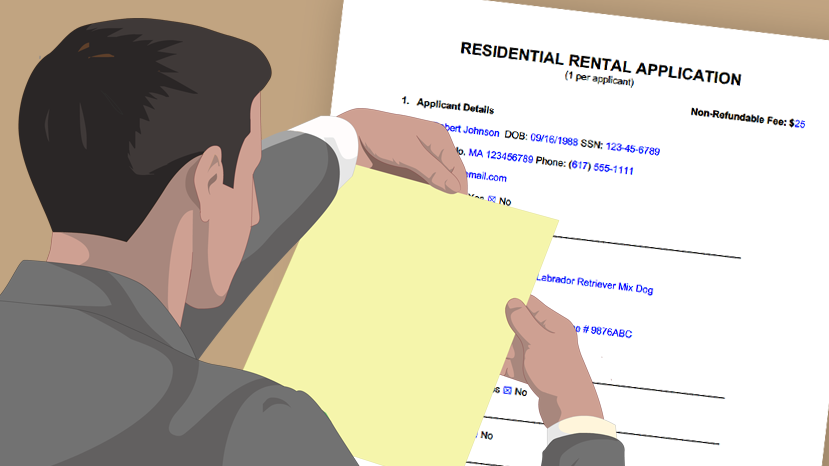 As time goes on, you should be presented with completed applications in person, through email, or by delivery (presuming that your unit is priced reasonably and relatively desired). Each application received should be processed on a first-come-first-serve basis, so it is crucial that you maintain the order in which they were given.
Step 3 – Choosing a Screening Service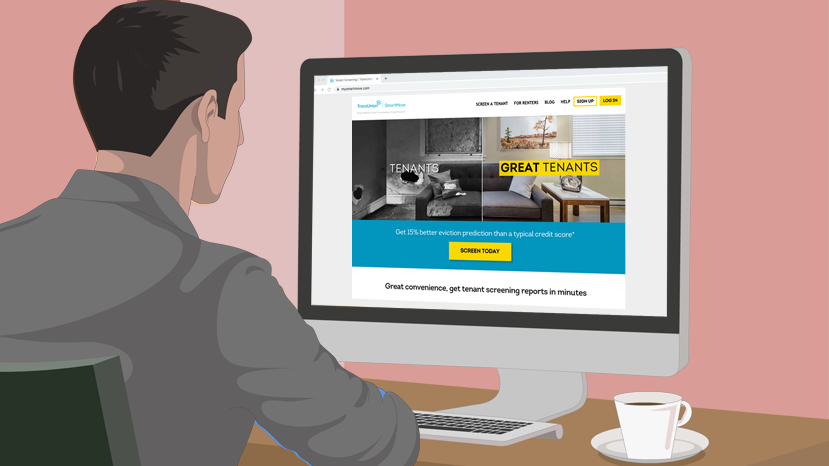 New landlords wondering how to actually process the information provided in a rental application should understand that this is typically executed by a third (3rd) party screening company. The property holder will need to collect the form, upload the data to the service provider's database, and pay a fee for the cost of analyzing the information. Some of the top online screening services for landlords include:
(The following steps will typically be covered within your screening package, but it is still important to understand how these things work.)
Step 4 – Checking the Applicant's Credit Score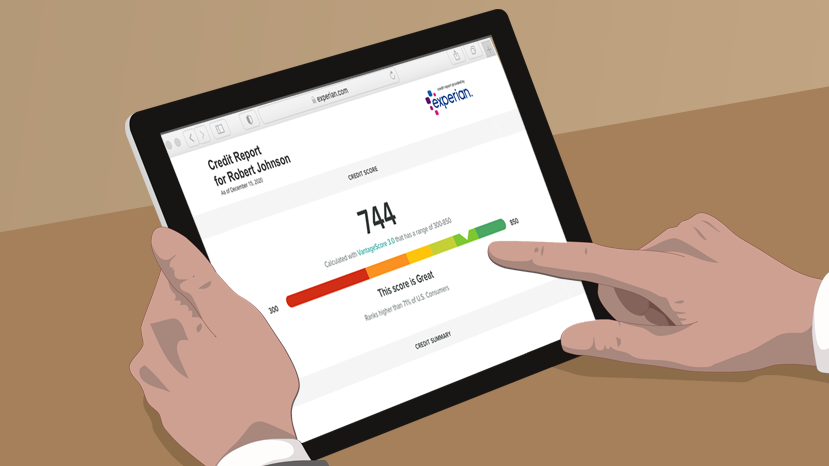 One of the most notable indicators of someone's ability to pay rent is their credit score. The calculation of this score is based on the individual's debt, payment history, oldest line of credit, number of accounts, and types of credit. Any deficiencies in these areas can negatively affect their score and indicate that they are not eligible to rent. It is advised that you do not rent to anyone with a credit score lower than 620. Listed below are the top three (3) consumer credit reporting agencies:
Step 5 – Verifying Employment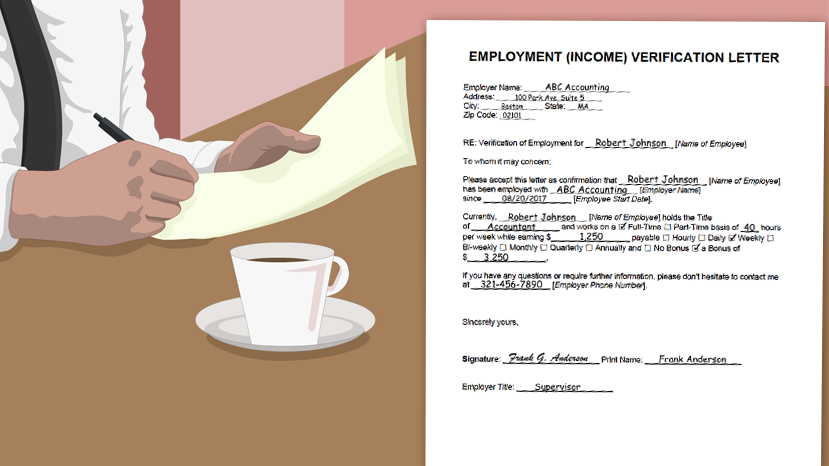 The landlord should make sure that the person they select has a steady job. Not only should they be working regularly, but the periodic lease payments should only be around 30% or less than the total amount of income the applicant generates each month. This figure is a rule of thumb for many property owners who want to ensure that their tenant has sufficient means to provide the payments accordingly. Apart from the data collected through the rental application, landlords may request the following:
Employment (Income) Verification Letter – A notice containing information regarding a prospective tenant's occupation, such as the amount of compensation received on a regular basis, their role in the company, and the name & contact information of their supervisor. After the data is provided, their boss should then confirm the information by endorsing the form.
Pay Stubs – You may ask for at least six (6) weeks of pay stubs from the individual's payroll company.
Bank Statement – If the applicant's company that they work for does not offer pay stubs, or they are an independent contractor, you may insist on them providing you with a bank statement in order to confirm that they have sufficient funds to keep up with the lease payments.
Step 6 – Reviewing Their Rental History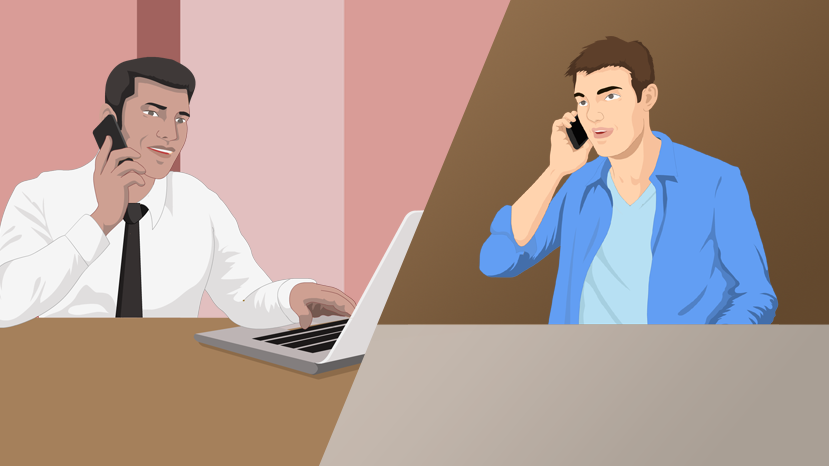 A good way of predicting how an applicant will behave during the tenancy is to examine their past rental history. The application for occupancy requests that they provide details regarding their current living arrangement and previous ones before. Among the details will be each rental's location, cost of rent, and term length. This will be followed up with the contact info of all the past landlords. Individuals that are evaluating the applicant should consider executing the following:
Contacting the Landlord References – Reach out to verify the information that the applicant has provided as well as to inquire about the individual's conduct as a tenant, i.e., ask if they paid rent on time, violated any conditions of the lease, were disruptive to other tenants, caused damage, etc.
Eviction Records – Instead of paying a fee for a screening service to check whether or not a tenant has been evicted, property holders can search their local court's database for public eviction records. The location of this information will vary from state-to-state, but the NCSC's website allows you to select your state to find out more details on where to access the court documents.
(Note: Although the rental application certifies the landlord's right to verify any of the information provided by the applicant, the Tenant Information Release Form is more specific to the owner's permission to access details regarding the tenant's past rentals.)
Step 7 – Running a Criminal Background Check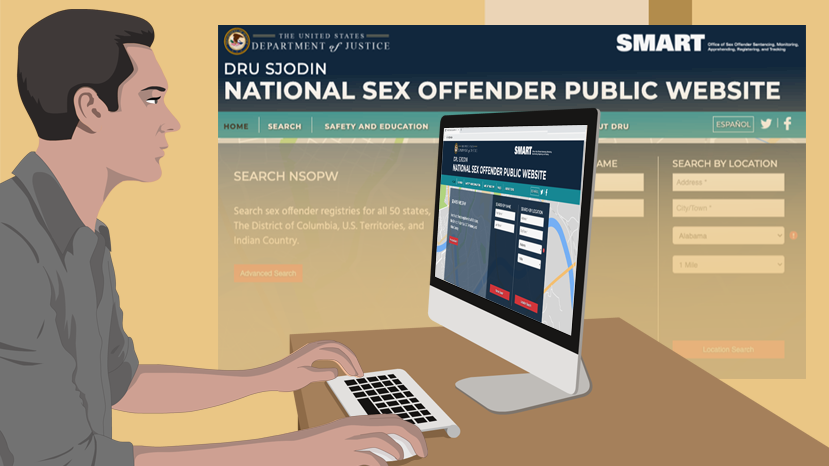 Some people may wonder if it is illegal to discriminate against renters who have a criminal background. Unless it is a HUD property, the answer is no. It is perfectly fine to try to mitigate the risk of procuring a bad tenant by eliminating those with unlawful tendencies. Property owners should look into an applicant's past to see if they were involved in any criminal activity. Investigating this aspect of one's life not only protects you from potential unpaid bills or other damages but also safeguards any neighboring occupants. Individuals trying to rent out their residence should:
Perform a Criminal Background Check – This can be accomplished with the screening services that were previously mentioned. With that being said, it wouldn't hurt to do your own independent research. Landlords may search the tenant's name in Google, various social media networks, and the national sex offender database.
Examine the Crime – Some infractions may call for the rejection of the rental application more than others. There are factors that should be taken into account regarding the violation, such as the status of a conviction, degree of severity, date of arrest, and the number of offenses.
Applicants with minor misdemeanors should be considered more than someone with a felony charge. With that being said, it is up to your discretion at the end of the day as to whether you think someone is fit to reside within your dwelling.
Step 8 – Additional Inquiries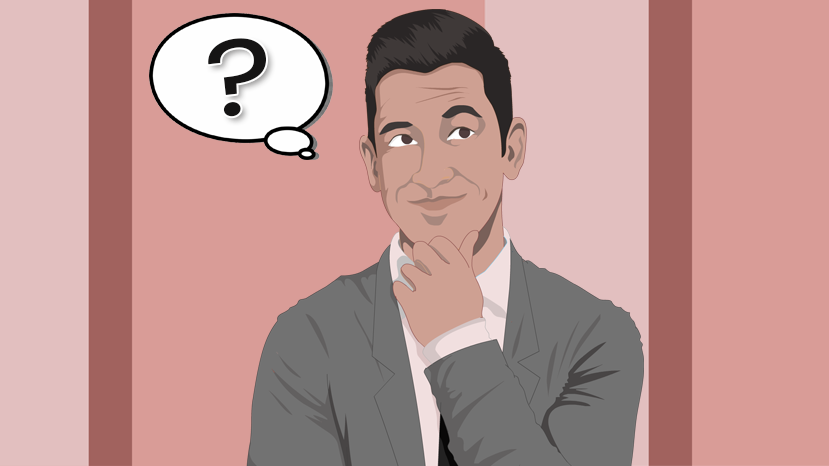 After covering the major components of an individual's background, there may be some further details that you should find out about the applicant. These being:
Pets – Do they have any pets that they will be bringing to the new property. If you allow pets on the premises, it is important to acquire a description of the animal in order to confirm if it is suitable to dwell within the property. Specifics such as the type of animal, breed, size, and color all should be specified within the rental application. This can be used to determine the cost associated with the pet being present on the premises.
Emergency Contacts – The applicant should provide the phone number of an emergency contact in case a dire situation is to ever occur involving the tenant.
Vehicle Info – The landlord should be aware of any vehicles that the tenant plans on containing within the boundaries of the property. This would include the make, model, color, year, & license plate number.
Referral Information – For those wondering how an applicant found their available property, they can request which source directing them to the rental unit, e.g., a certain website, person, newspaper ad, etc.
Step 9 – Accepting or Denying the Applicant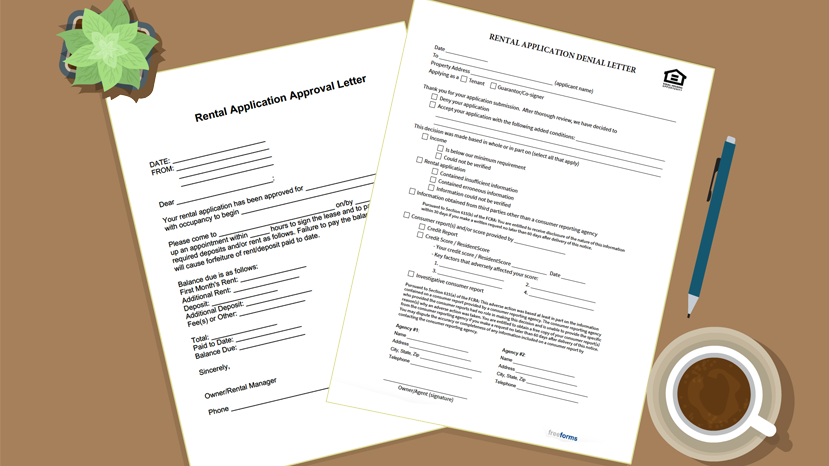 After receiving the final results of the screening process, it will be time to make your decision as to whether you are going to agree to the tenancy or not. To formally notify a tenant of their acceptance or rejection to lease a specific dwelling, owners/landlords may deliver one of the following:
Approval Letter – A notification letter disclosing that the candidate was approved to rent the available unit. This will also come with a list of all the obligatory fees & balances that must be paid upon entering into the rental contract. (Also available in Microsoft Word)
Denial Letter – Applicants have the legal right to be notified of the reasons why they were denied, this can be accomplished using this form.
Frequently Asked Questions (FAQ)
What Are Valid Reasons to Deny a Rental Application?
There are various reasons why a landlord or management company may refuse to lease to someone based on the content of their rental application. When a refusal occurs, the individual responsible for screening the tenant is legally obliged to convey the purpose of the decision. Some of the more common reasons why an applicant can be denied include:
Bad Credit
Insufficient Income
Unsatisfactory References
Criminal Offenses
Previous Evictions
Owning Pets
Should I Call About My Rental Application?
When somebody is on the hunt for a new property to live in, they will want to know as soon as possible whether or not they are qualified to rent the unit they apply for. If you have handed in a rental application for a desired property, you should wait at least 48 hours before phoning the owner or management company. After the aforementioned period of time, you may contact them to see if you met the requirements or not.
Why Does the Rental Application Ask for a Bank Account Number?
It is not unheard nowadays for a rental application to require the tenant's bank account number. Some parties may feel uncomfortable giving out this information, in which case, they may ask to skip this requirement or look for another property that doesn't demand this action. The reason some landlords wish to acquire this info is to confirm that you indeed have an active bank account. Also, having this number is kind of like a backup plan should the occupant not pay certain bills. The landlord will not be able to access the account with the number, but it could be presented in court to ensure that any funds within the account will be paid towards the money owed (should the judicial system rule in their favor).
What Do I Bring for a Rental Application?
The best thing an eager tenant can do when going to view an available property is to come prepared. Make sure that you bring any items that can speed up the process of securing the rental. This means that you should have the following materials and information readily available upon visiting the unit:
Two (2) Forms of ID
Proof of Income (pay stubs, bank statement, verification letter)
References (personal, professional, previous landlords)
Vehicle Details (specs, license plate number, insurance info)
Past Addresses
Former & Current Job Descriptions
Payment (for screening costs)
Can a Rental Application Ask for a Social Security Number?
Yes, in fact, it is one of the key elements needed to run a proper background check on a potential renter. If you are an individual looking for housing but are not comfortable giving someone your SSN, you may run the risk of limiting your options. But, with that said, there may be some positive news for the future. As the world is advancing, many landlords are utilizing the services of online screening companies. Many of these companies make it so that the tenant can provide their information independently without disclosing the information to the landlord. Once they have supplied the needed details, the landlord will receive only the results of the background check.
What Is a Credit Reference for a Rental Application?
When applying to occupy a rental property, the term "credit reference" may appear on the application. A credit reference is when a lender confirms that a borrower has followed through with their obligations in regard to making payments. Now, if a person doesn't have enough credit history for a report (e.g., they are from another country), they may be able to use another type of credit reference to appease the landlord. Other types of credit references:
Bank Letter – A correspondence from the applicant's financial institution confirming that they are capable to pay rent.
Letter of Support – If the tenant has someone supporting them monetarily, then they can provide a written statement conveying the details of their arrangement.
Proof of Consistent Payments – If an individual has a lack of credit history, then they could gather any recurring bills that they have paid as evidence of their capacity to pay.
(Applicants who are having trouble passing the rental application process due to their credit situation may want to consider finding someone to co-sign the lease.)
How to Decline a Rental Application?
First, it is important that you are denying them the privilege to occupy the residence for justifiable reasons. This means that you can not discriminate against somebody for any of the purposes established within the Fair Housing Act (42 U.S. Code § 3604). If you feel that your motive is appropriate, you should perform the following actions:
Contact the Rejected Party Immediately – Try to contact the applicant as soon as you receive the results, either by phone or through email. This way, you are not wasting any more of their time that could be used looking for another rental.
Denial Letter – Some tenants will request an explanation for why they were rejected. As a landlord, you are required, by law, to specify why they were not eligible to procure the rental. Send them a completed copy of this form to list the factors attributed to their non-approval.
Is a Rental Application Legally Binding?
No, it is merely a preliminary measure taken before entering into a lease agreement (which is a binding contract). Although there is no binding effect, there are still some legal implications attached to the document. Users of this form are required to:
Provide Accurate Information – If a tenant provides false details within the application and is granted tenancy under false pretenses, the landlord may be entitled to take them to court for fraudulent information.
Clarify the Reasons for Rejection – The landlord is required, by law, to explain why they decided to refuse the tenancy. If an applicant feels they were denied for unlawful reasons, they can sue the owner under the guidelines of the Fair Housing Act (42 U.S. Code § 3604).
How Can I Make My Rental Application Stand Out?
Apart from having good credit, quality references, no criminal record, and proof of a solid income stream, there is not much else that you can do to separate yourself from the crowd. But, if you really want an extra edge on the other applicants, you can carry out some of the additional measures:
Cover Letter for Rental Application – Attach a cover letter to the front of the application that tells them a little bit more about yourself. Giving a friendly personal touch could possibly go a long way.
Sell Yourself – When you meet with the landlord to see the property or to turn in your rental application, make sure that you are dressed nicely and exude a positive attitude. Try to make small talk where you can briefly tell them a little more about yourself and possibly bond over a common interest.
Are Rental Application Fees Legal?
Yes, although some states stipulate a maximum amount that can be charged. The main reason why application fees are required is that it costs money to perform a background check on the applicant, therefore, they are used to compensate for the screening expenses.
Can I Withdraw My Rental Application?
Of course, there is no legal obligation to follow through with the rental of a property before signing a lease. A rental application is just the initial step taken to see if you are qualified to take possession of the dwelling.
Sample Residential Rental Application Form
Download: Adobe PDF, MS Word (.docx)