---
Updated on June 19th, 2023
The Pennsylvania lease agreement introduces the facts in a contractual form on the renting of a piece of real estate for a determined dollar amount. In a typical transaction, a potential tenant will complete an application and undergo a standard background and credit check before signing. Upon selection by the landlord or rental agency, a contractual obligation will be entered into upon the endorsements for each involved individual.
Rental Application
– Presented at the time a prospective tenant shows interest in leasing a property in an effort to accumulate information that can help decide if the applicant is fit to rent the premises.
Lease Agreements By Type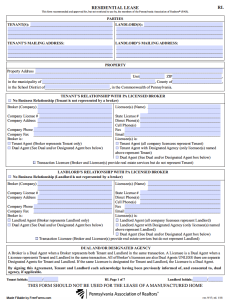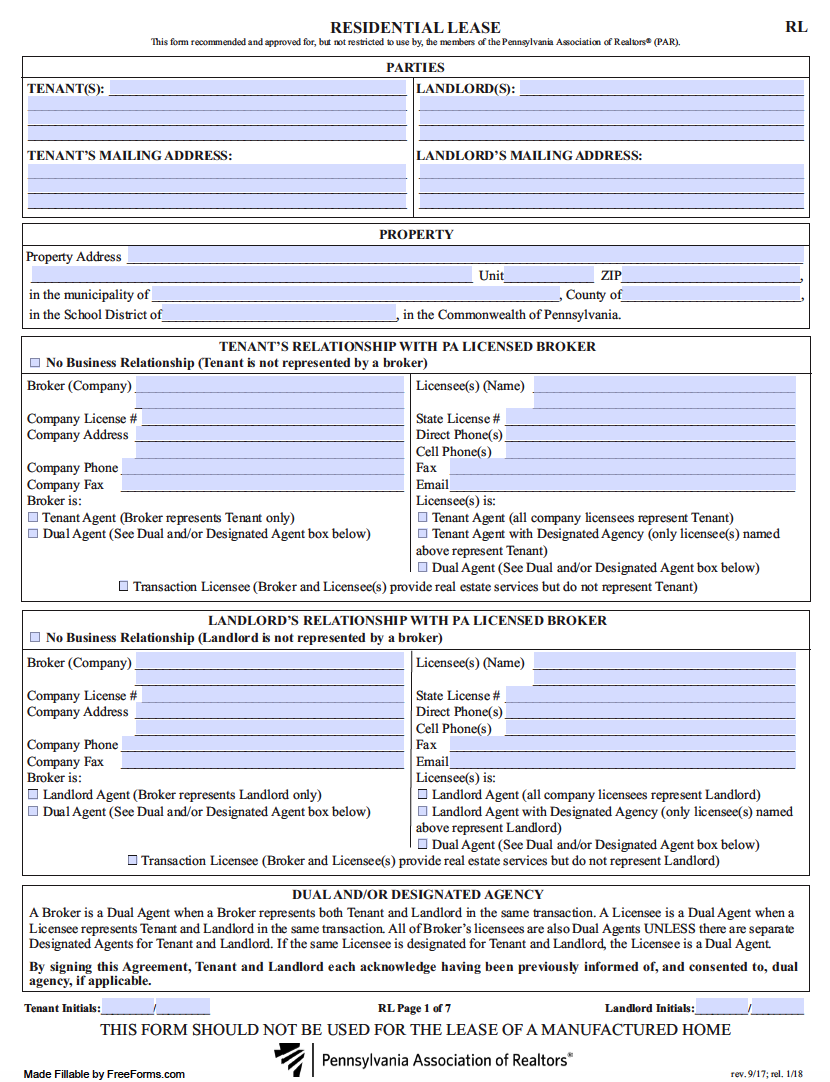 Association of Realtors Version – The PAR has created a fully functional residential lease agreement that can be carried out by the state's residents.
Download: PDF
---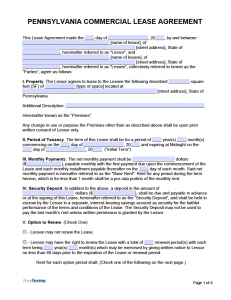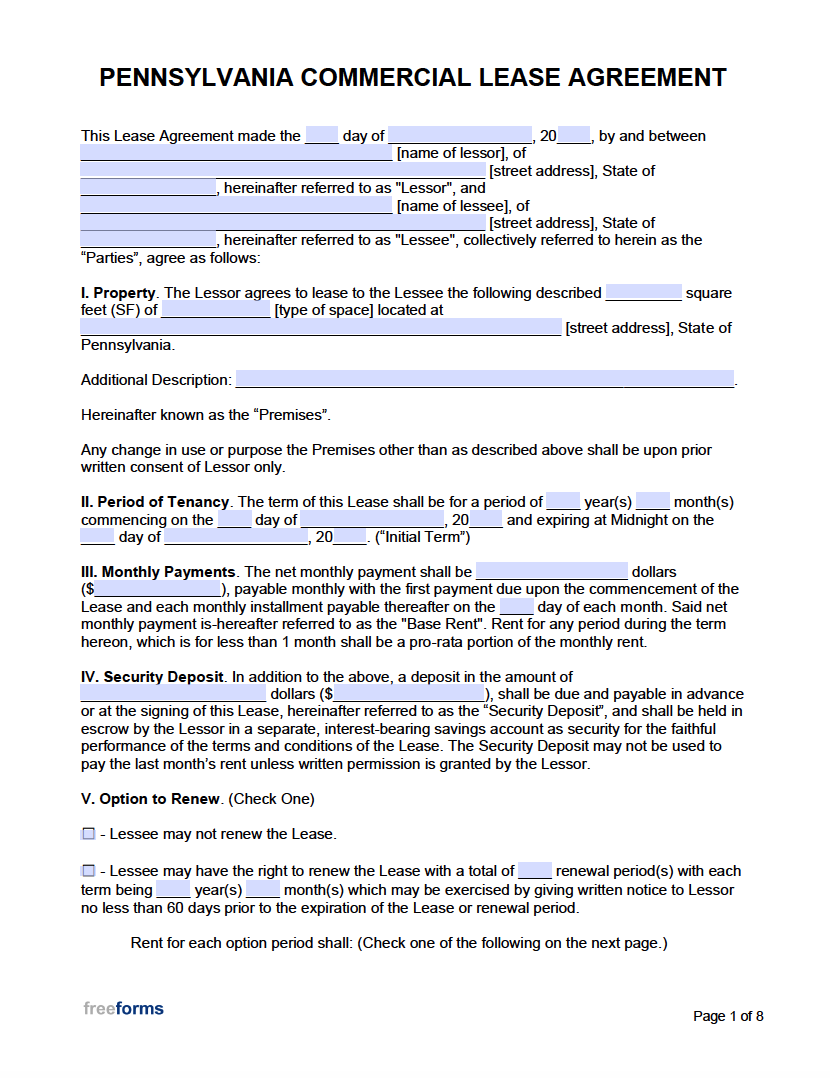 Commercial Lease Agreement – Affirms the real estate leasing deal involving a business wishing to rent a particular space for a determined time and rate.
Download: PDF, Word (.docx)
---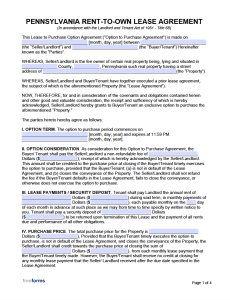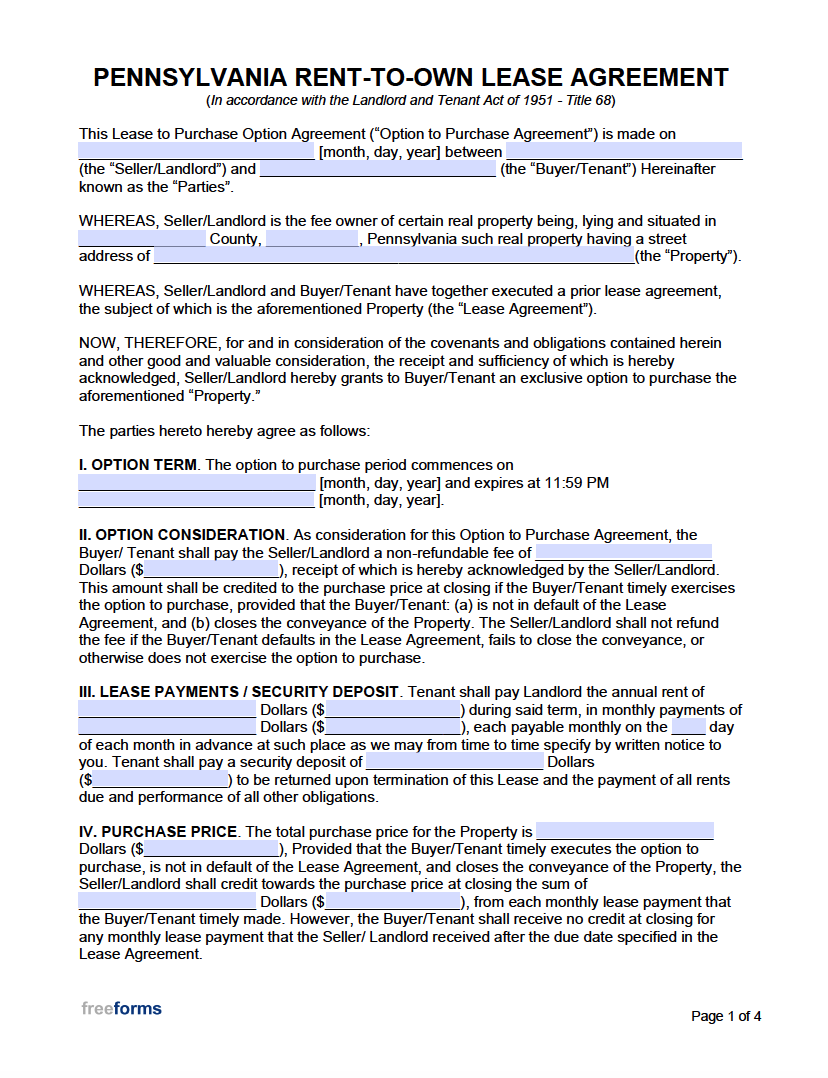 Lease to Own Agreement – Summarizes a leasing agreement with an optional prospect to purchase once the lease term has ended.
Download: PDF, Word (.docx)
---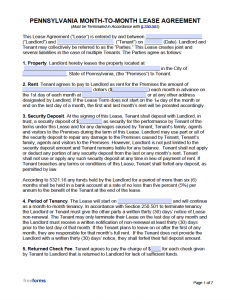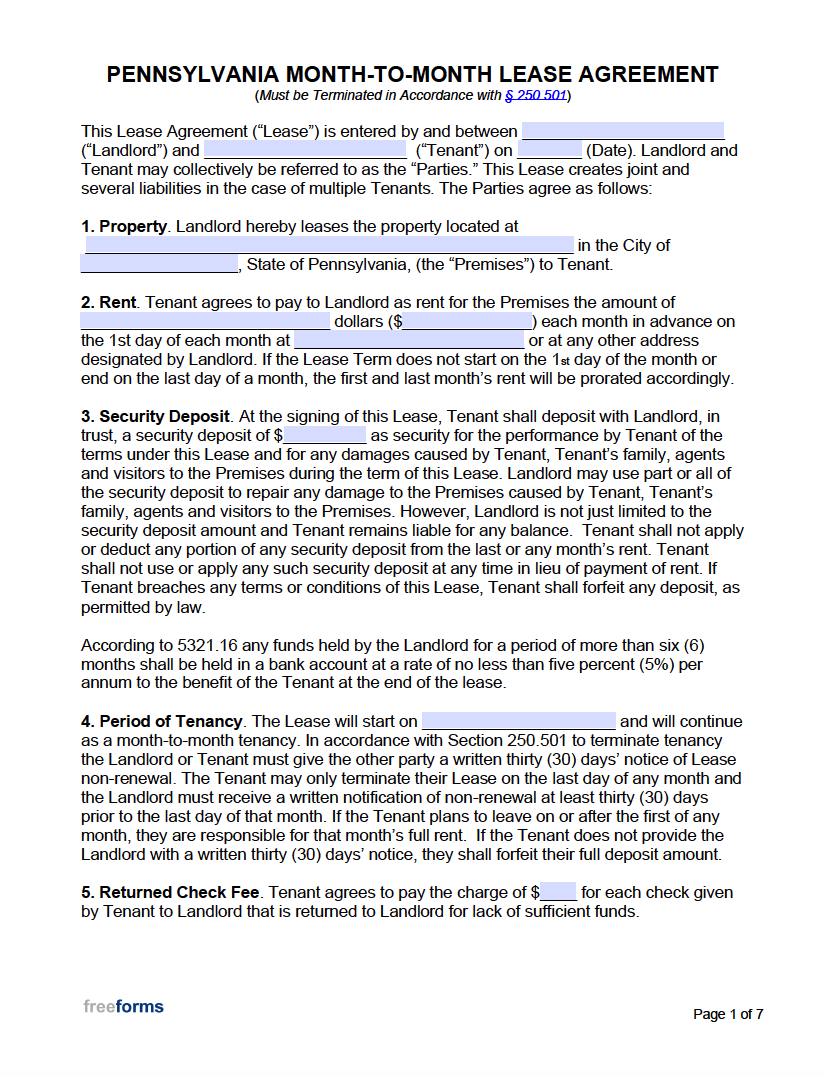 Month-to-Month Lease – Exercises a written account of the exchange of money to utilize a dwelling for a period of time, with an option to end prematurely by alerting the other party thirty (30) days prior.
Download: PDF, Word (.docx)
---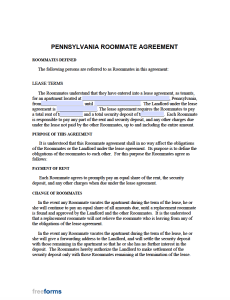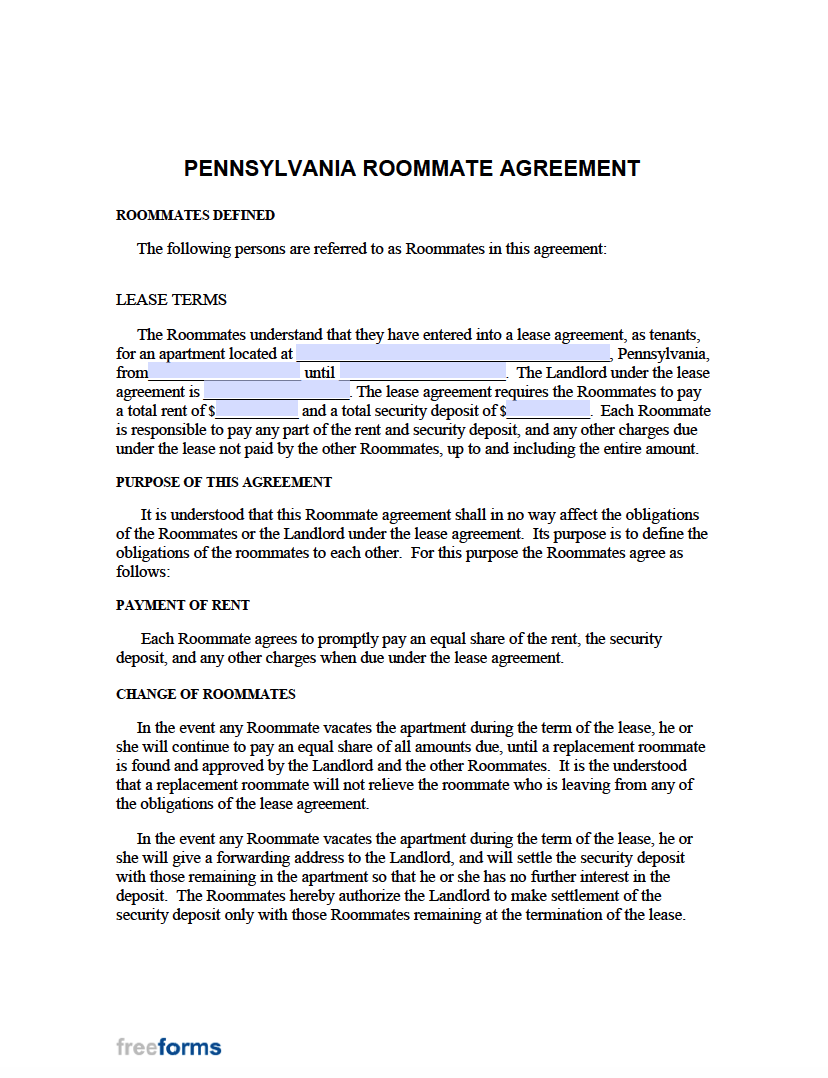 Roommate Agreement – Provides a contract for an individual to rent a portion of a home for a specified duration of time.
Download: PDF
---
Standard Lease Agreement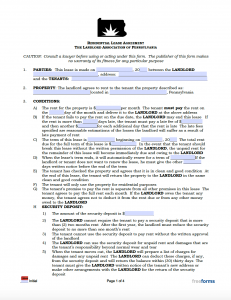 – Aids in the recording of a transaction to lease a domicile for a typical one-year period.
Download: PDF, Word (.docx)
---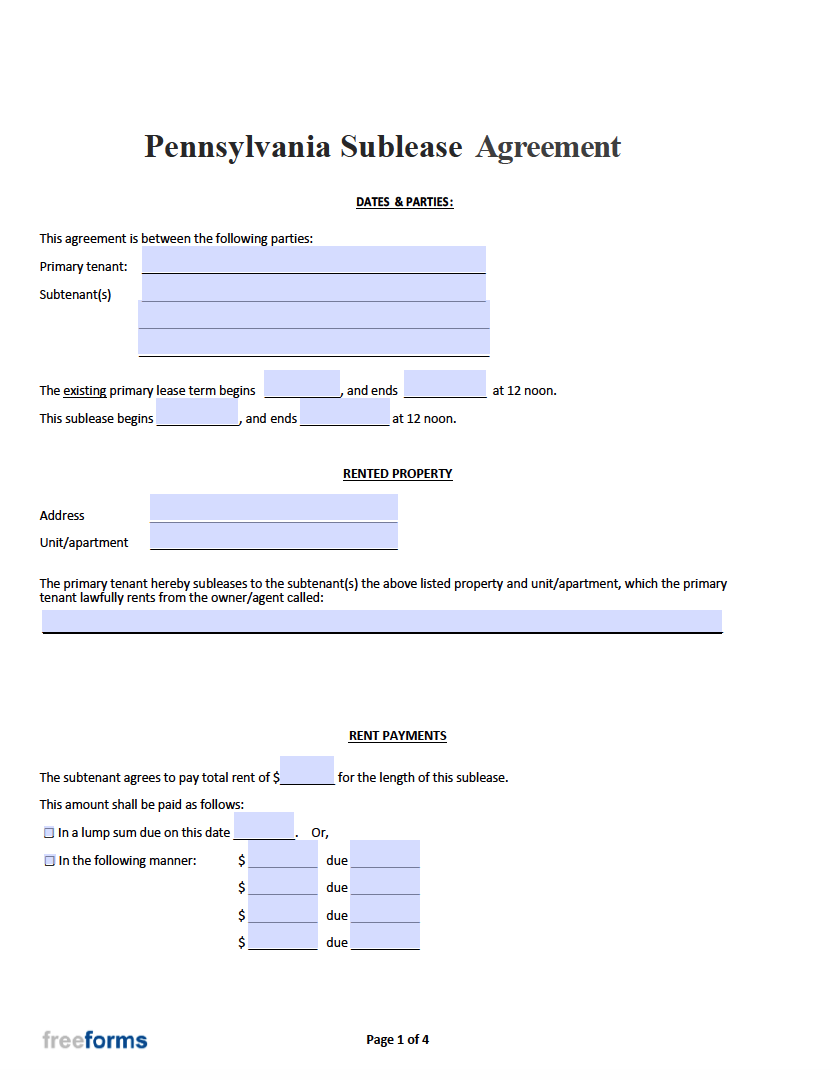 Sublease Agreement – Outlines the accord between a tenant and sub-tenant to rent a dwelling that is currently being leased.
Download: PDF
Additional Forms
Advance Payment Addenda to Rental Application – Employed when a party that is interested in renting a property offers a deposit to be held by a broker upon submitting a rental application.
Change in Lease Terms Addendum – If the landlord and tenant agree to alter certain terms of the current lease agreement, they may execute this document to indicate which new terms will be added/changed.
Pet Addendum – Tenants who own pets can complete this form in order to identify the animal that will be living on the premises and also to describe the terms arranged with the lessor.
Rental Application for Landlord Agents – When a landlord's agent is in charge of renting out the property, they can distribute this document to potential lessees as opposed to the general rental application (encompasses the Consumer Notice for Tenants).
Landlord-Tenant Laws
Ordinances and procedure regarding the dealings between lessor and lessee involved in the leasing of real property are explained at length within The Landlord and Tenant Act of 1951.
Required Landlord Disclosures
Capacity for Landlord to Distrain for Rent (The Tenant Act of 1951 § 20.302) – The owner of the property has the right to seize the personal property of the tenant in response to a late rental payment. To legally take action, the landlord can only do so with five (5) days written notice before exercising the right to do so. There is further regulation to this provision, mandating that certain items be exempt from seizure as well as no collection of possessions to take place between 7 am and 7 pm on a Sunday.
Consumer Notice for Tenants (§ 35.336) – If the licensee showing the premises has an interest in the property, e.g. they are the owner, work for the owner, or are currently involved in a property management or exclusive listing agreement, then they are required to disclose this information at the time of their first encounter with the prospective renter.
Lead-Based Paint (42 U.S. Code § 4852d) – According to federal regulation, educational information on the issues presented by lead-composed paints are to be distributed to the lessees of homes constructed before 1979. The government pamphlet and disclosure form are to be handed out and signed by all tenants to inform of dangers surrounding the hazardous material before occupancy.
When is Rent Late?
Governance concerning late rent or acceptable grace period is not stipulated within Pennsylvania Consolidated Statutes or other state legislature. It is suggested to consider the due date stated in the leasing arrangement as the latest day on which to submit payment.
Late Fees
There is no law forbidding fee charges on late rent or limitation on the amount to be charged by a landlord. To effectively request compensation for late rental payments, it is recommended to include information on fee amounts and procedure within the lease agreement.
NSF Checks
The owner or authorized agent has the right to request a separate fee for each instance that a rental payment check is returned upon deposit. The maximum allowable amount to be charged is $50, and only under the circumstances that the consequence for a returned check is either displayed prominently on the property or indicated in the leasing contract (§ 18.4105e).
Security Deposit Maximum
State law dictates that the most a lessor can ask for as a security deposit cannot exceed two months of rental payments. The amount requested must be in affirmed in the written rental documentation (§ 68.250.511).
Security Deposit Return
A landlord has a total of thirty (30) days to return any amount held in escrow as security for any property damages after the end of the lease duration. Should there be any defects to the structure of the space caused by the tenant, or remaining items to be disposed of at lessors' expense, an accounting of fees must be delivered to the tenant. All costs incurred by the owner must then be deducted from escrow amount and returned via check to the lessee within the same thirty (30) day time period, along with the list of deductions (§ 68.250.512).
Landlord's Entry
The Pennsylvania State Code does not designate a fixed amount of time in advance to contact an occupant before attempting to enter the domicile. The customary amount of time a landlord should allow for notification is observed as twenty-four (24) hours or more.