---
Updated on January 13th, 2021
The South Dakota lease agreement indicates the vital information related to the renting of a property for a negotiated sum of money within a fixed duration. The written transcript summarizes the provisions of the contract and specifies the rights of the lessor and lessee. Should any of the conditions not be met during the lease term, it could result in a breach of contract.
Rental Application – This form helps landlords and property managers better evaluate prospective tenants by asking them a series of questions specific to their current job status, credit history, and past housing arrangements.
Lease Agreements By Type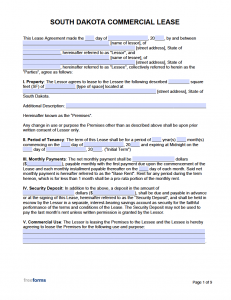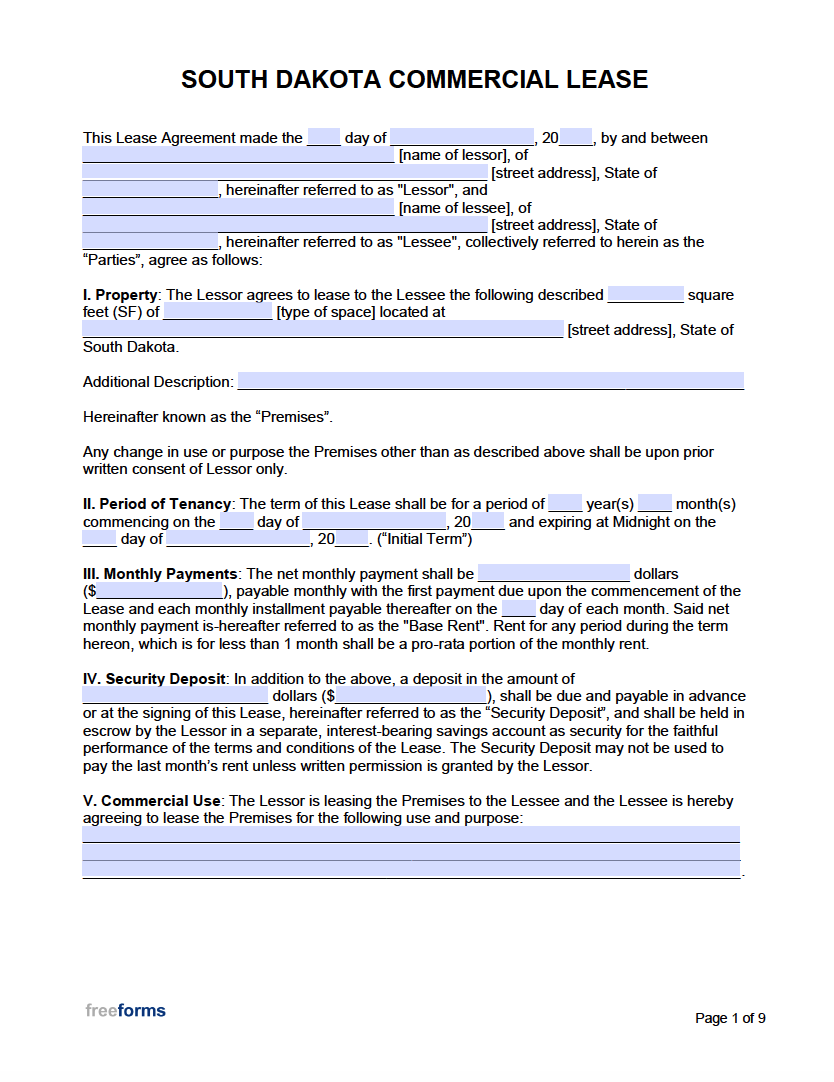 Commercial Lease Agreement – Qualifies details and conditions of a real estate rental contract explicitly for business use.
Download: Adobe PDF, MS Word (.docx)
---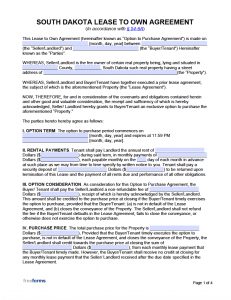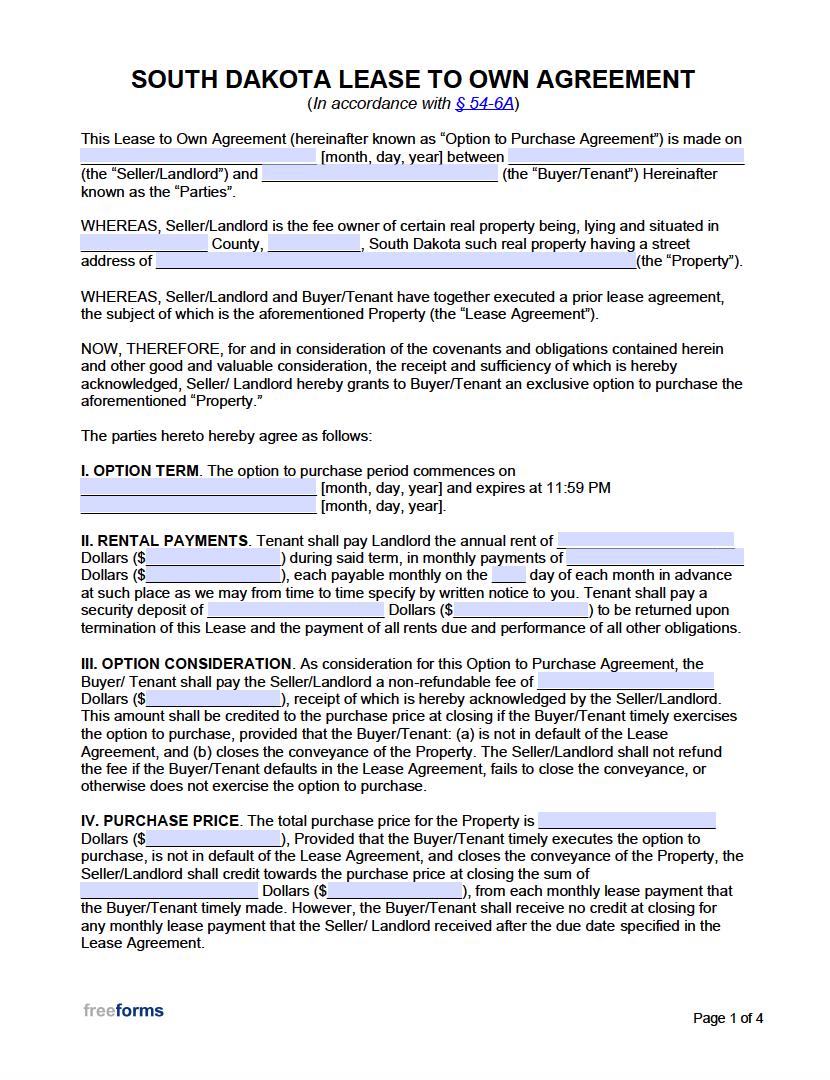 Lease to Own Agreement – Outlines a leasing arrangement for a lessee to additionally be allowed an option to buy at the end of the rental period.
Download: Adobe PDF, MS Word (.docx)
---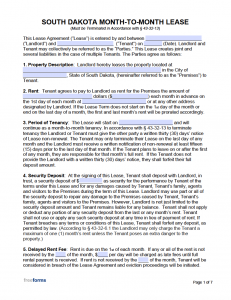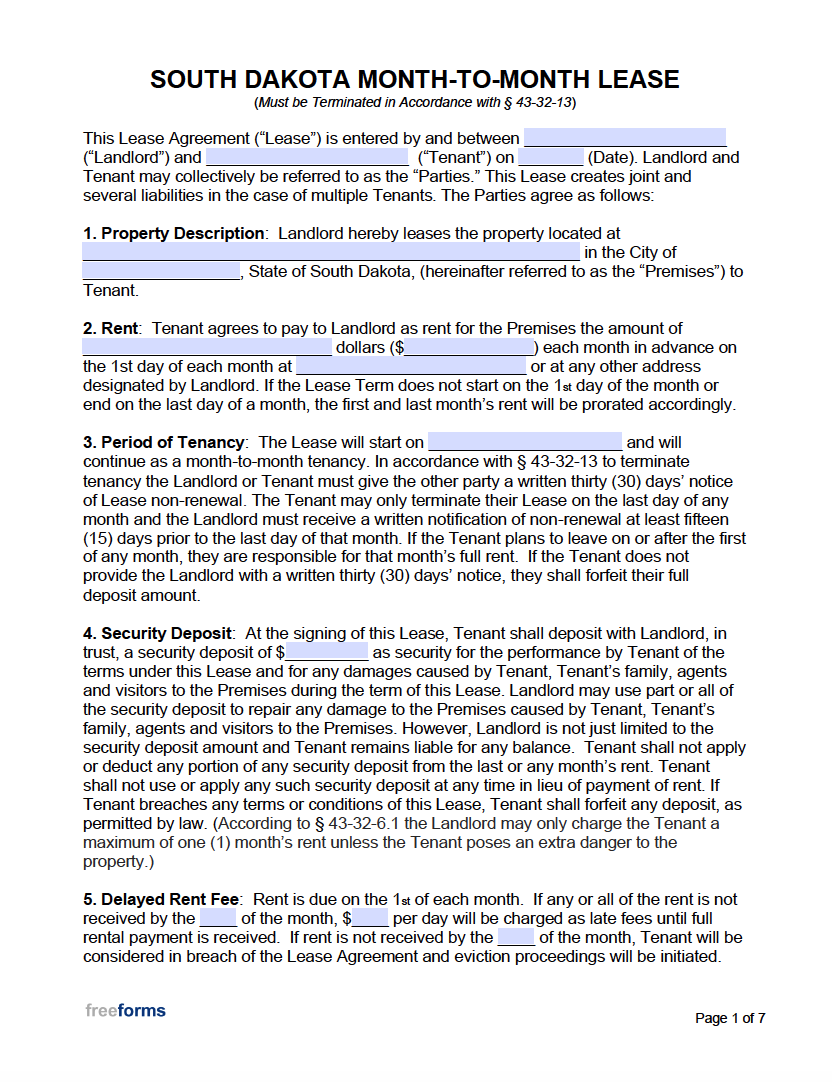 Month-to-Month Lease – Creates a standard lease agreement with stipulated payment, terms, and duration, with a preference to opt-out of the remaining time with advanced thirty (30) day notice.
Download: Adobe PDF, MS Word (.docx)
---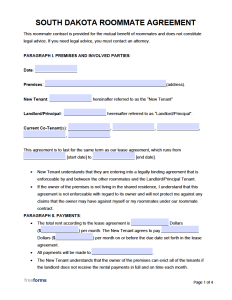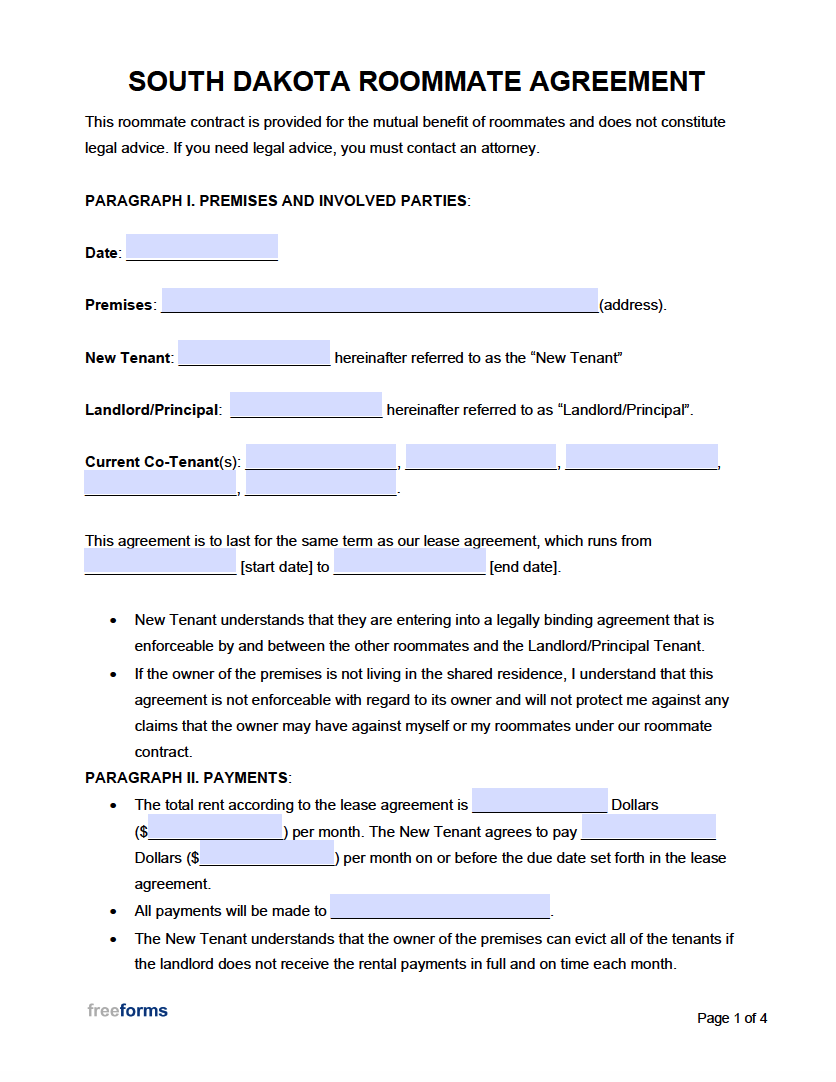 Roommate Agreement – Covers the technicalities of the bond between a tenant and another party to reside in residence with private and shared living areas.
Download: Adobe PDF, MS Word (.docx)
---
Standard Lease Agreement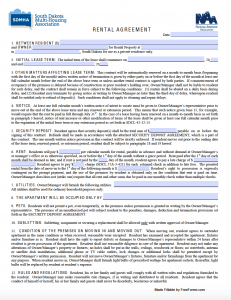 – Elaborates on the accepted provisions associated with the official leasing of a residential unit.
Download: Adobe PDF
---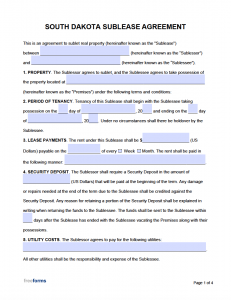 Sublease Agreement – Summarizes the covenants and terms involved in a rental scenario where a tenant lets a piece of real estate to an alternate individual.
Download: Adobe PDF, MS Word (.docx)
Additional Forms
Agency Agreement for Lessee – When a prospective tenant or lessee enlists the services of a real estate agency, they may use this document to record the terms of the relationship (may also be used for purchasing parties).
Agency Agreement for Lessor – If a lessor decides to hire an agent to help lease their property, this contract can be implemented for the purpose of specifying the terms of the arrangement (applicable to property sellers as well).
Agreement to Manage and Lease Real Estate – Owners/Landlords looking to employ an individual or entity to oversee and lease their property should execute this agreement to chronicle the details of the pact made between both parties.
Real Estate Relationships Disclosure – Individuals who decide to hire a real estate professional should complete this document and deliver it to the other party for the purpose of disclosing that they have representation.
Landlord-Tenant Laws
A generalized account of the rules and regulations about leasing precedents and the procedure can be perused in the South Dakota Codified Laws § 43-32 – Lease of Real Property.
Required Landlord Disclosures
Lead-Based Paint (42 U.S. Code § 4852d) – Residential real estate constructed in 1978 or earlier will demand an additional disclosure statement for the tenant to be aware of endorse. The statement will additionally be supplemented by a government pamphlet listing the issues associated with the dangers of lead-based paint and exposure symptoms.
Manufacturing of Methamphetamines on Premises (§ 43-32-30) – It is required by law that if the landlord of property knows a rental unit has been utilized for the production of Methamphetamines, the new tenant must be informed of this information. If the manufacturing of the controlled substance was conducted in a multi-unit building, the tenant must only be notified if it is for the particular unit they are poised to rent.
When is Rent Late?
State statutes declare that residential rental premiums are to be paid at the end of the month (§ 43-32-12). The regulations do not positively identify a grace period for the collection of late rental payments.
Late Fees
In order to lawfully charge and receive a late rent fee, the State of South Dakota obligates a landlord to define a late fee schedule within the lease agreement.
NSF Checks
To rightfully require a tenant to compensate for a returned check, notice of fee must be communicated within the lease, written disclosure, or posted prominently in the building. The fee is to be no higher than $40 for each event that check is returned for insufficient funds ( § 57A-3-421). 
Security Deposit Maximum
The upper limit an owner can require a tenant to pay a security deposit is equal to one month's rent. In the case that special circumstances demand a higher amount, it can be allowed in a lease should a tenant and landlord come to a compromise in mutual agreement (§ 43-32-6.1).
Security Deposit Return
The landlord is mandated to compensate the tenant with the full amount of the security deposit within two weeks of the termination of the leasing duration when provided with a forwarding address to remit the payment. If there are damages outside of the customary wear and tear, subtractions from the total deposit amount can be made to pay for losses. A list of property issues can be requested by a tenant if necessary and must be sent by the landlord within forty-five (45) days (§ 43-32-24).
Landlord's Entry
South Dakota law is very specific about how a landlord must inform a tenant of the need to enter a tenant's domicile. It is demanded the landlord or rental agency provide an express request, listing the reason why the entry is necessary and the date(s) they wish to enter (must be during acceptable business hours). The tenant is then granted the possibility to reschedule for an alternate day should they desire to do so (§ 43-32-32).