---
Updated on April 17th, 2023
The Oklahoma lease agreement sets up a drafted register of the information associated with the commitment to use a piece of property for a determined period and dollar amount. There is usually a process requiring a possible tenant to apply to lease, and upon acceptance by the lessor or leasing agent, an agreement can be drawn up. Upon execution of the document, both parties must follow the regulatory language outlined in the terms to avoid a potential breach of contract.
Rental Application
– Submitted by possible tenants for the purpose of them disclosing information that can help determine if they are a suitable candidate.
Lease Agreements By Type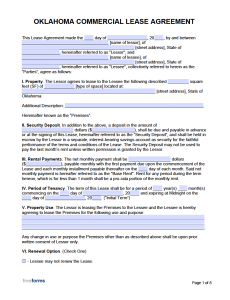 Commercial Lease Agreement – Entails the details of an arrangement to allow the use of a building for business purpose in exchange for a monthly or yearly dollar amount.
Download: Adobe PDF, MS Word (.docx)
---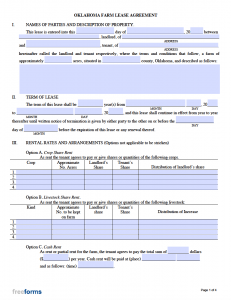 Farm Lease Agreement – A rental contract that specifically caters to the leasing of farmland.
Download: Adobe PDF
---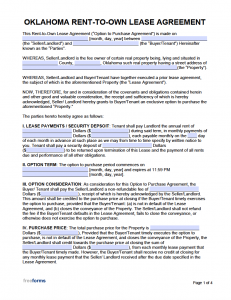 Lease to Own Agreement – Defines the conditions of a contract to rent a particular residential quarter and additionally have first right of refusal to buy once the lease term ends.
Download: Adobe PDF, MS Word (.docx)
---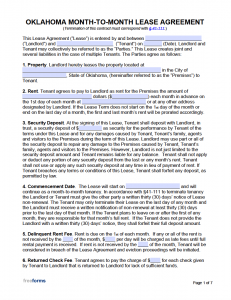 Month-to-Month Lease – Indicates the specifics of a rental agreement with a fixed duration and payment plan that can be opted-out of at any time with stipulation of giving thirty (30) days notice before vacating.
Download: Adobe PDF, MS Word (.docx)
---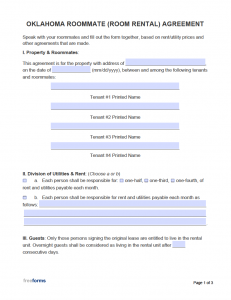 Roommate Agreement – Creates an arrangement to reside in a domicile with private and communal areas for a predetermined time and pricing organization.
Download: Adobe PDF, MS Word (.docx)
---
Standard Lease Agreement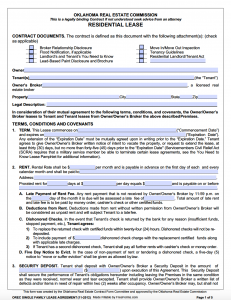 – Asserts a claim to lease a dwelling for a signified time and monetary compensation.
Download: Adobe PDF, MS Word (.docx)
---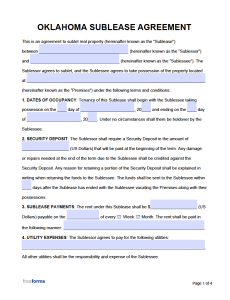 Sublease Agreement – Individualizes a lease where a tenant is to sublease to a subtenant for a particular rental sum and duration.
Download: Adobe PDF, MS Word (.docx)
Additional Forms
Keys and Re-Keying Addendum – As a tenant approaches the move-in date of their rental property, the parties can implement this document to specify who is required to meet with the locksmith and pay for the new set of keys.
Pet Addendum – Lessees who are pet owners will typically be obligated to complete this form concerning any animals that will be present within the boundaries of the property.
Receipt of Property Management Funds – Tenants should receive a finalized copy of this form for their records after paying the initial fees connected to the leasing process.
Residential Exclusive Property Management & Right to Lease Agreement – Landlords looking to appoint an agent to handle the leasing/management of their rental property should execute this instrument to establish a contractual arrangement.
Residential Lease Supplement – This document can be attached to the original lease agreement for the goal of adding supplementary terms & conditions to the exchange.
Tenancy Guidelines Contract – Lessors may include this contract with the lease agreement to further establish the necessary rules and responsibilities applicable to the lessee.
Landlord-Tenant Laws
A thorough inspection of the state laws surrounding the relationship of a landlord and tenant, obligations and rights can be conducted by viewing The Oklahoma Landlord and Tenant Act – Title 41. (The Oklahoma Real Estate Commission also offers a comprehensive pamphlet for property owners and tenants titled "You Need to Know!".)
Required Landlord Disclosures
Disclosure to Landlord or Tenant of Brokerage Duties, Responsibilities, and Services (§ 858-355.1(C)) – If a real estate agent/broker represents both parties involved in a transaction for a rental property, they are compelled, by law, to disclose this information to all clients partaking in the exchange.
Identification of the Landlord or Authorized Personel (§ 41.116) – The owner, manager, as well as those commissioned to act in place of the owner,  must be represented in the rental agreement. The names and contact information must be included in the contract as well.
Lead-Based Paint (42 U.S. Code § 4852d) – Any domicile that was erected in the year 1978 or prior will mandate additional circulation of educative information on the seriousness of exposure to lead-composed paint materials. A disclosure form will need to be submitted to indicate the dangers associated with the paint.
Flood Hazard Notification Form (§ 41.113a) – Should the landlord have any knowledge of flooding to the property within five (5) years of its recent history, it is mandated to be disclosed. In addition, the provided document is obligated to be completed and signed by all tenants planning to reside on the premises.
Manufacture of Methamphetamine on Premises (§ 41.118c) – If the rental dwelling is known to have ever been utilized in connection with the production of Methamphetamines, it must be acknowledged in the leasing document. The exception to the requirement is that if a professional inspection resulting in the conclusion that less than 0.1 micrograms per 100 square centimeters of surface constituents have been contaminated, disclosure is not necessary.
When is Rent Late?
Rental late fee allocated periods of grace are not addressed within the legal statutes of the state of Oklahoma.
Late Fees
There is no clear regulation on the state level associated with late fee limitation. Refer to the lease agreement to verify any disclosed late charges, and confirmed amount of days triggering an infraction.
NSF Checks
The state of Oklahoma does not specify rules related to charges on bounced checks. Should a check be returned due to inadequate account funding, a landlord can demand a monetary penalty only in the case that it is contained within the leasing paperwork.
Security Deposit Maximum
Limit on the amount an owner can require as a deposit should the residence be damaged by a tenant is not pinpointed within state statutes.
Security Deposit Return
Once a lease period has ended, and the tenant relinquished possession of the property, the tenant will then need to request the return of the security deposit in writing. Once completed and sent, the landlord will be allowed forty-five (45) days to reimburse the lessee. If the tenant does not demand the amount be returned in writing within six (6) months of the lease termination, the deposit will become the property of the lessor (§ 41.115b).
Landlord's Entry
For the owner or authorized agents to receive admittance to the residence for maintenance and/or repairs, a prerequisite of at least twenty-four (24) hours notice to the tenant is required. Once notification is given to the occupant, appointment to enter can only be carried out during reasonable hours of a given day (§ 41.128).