---
The Florida Real Estate Power of Attorney is applied when an individual would like to have another person act in their place for dealings involving real property. In other words, if an individual decides they want to sell their home but are not sure if they will be around for the entire process, they can delegate certain powers to an agent using this document to carry out any required actions in their name. This written instrument essentially offers a broad sweeping power that can be limited or extended by entering the details within the "Special Instructions" area of the form. Apart from the appointment of powers, this POA will require the:
Names & addresses of the principal, agent, and successor agent (if applicable).
Address of the property involved in the transaction.
Term of the authority granted (will it be durable or non-durable).
Signatures of the principal, agent, two (2) witnesses, notary public, & preparer of the document (if any).
Laws
Statute – § 709.2201
Definition – § 709.2102(9)
Signing Requirements – Acknowledgment of Two (2) Witnesses and Notary Public (§ 709.2105(2))
Related Forms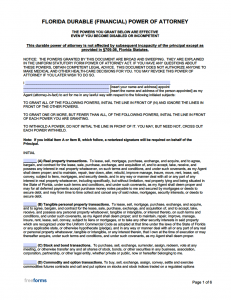 Durable (Financial) Power of Attorney
Download: Adobe PDF, MS Word (.docx)
---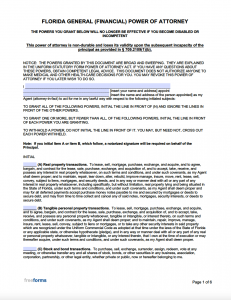 General (Financial) Power of Attorney
Download: Adobe PDF, MS Word (.docx)
---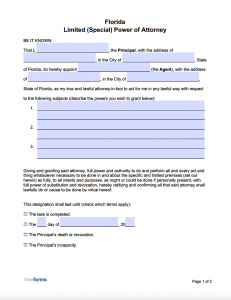 Limited (Special) Power of Attorney
Download: Adobe PDF, MS Word (.docx)
---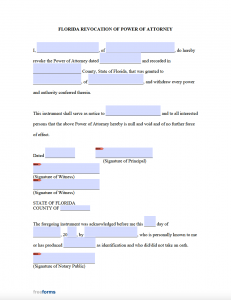 Revocation of Power of Attorney
Download: Adobe PDF