---
The Ohio General (Financial) Power of Attorney is an excellent option for individuals who need an agent to operate on their behalf pertaining to financial matters, such as real estate transactions, tax affairs, investment activities, and so on. What makes this document unique is that it allows its executor to mandate that it expires upon the point of their incapacity. In order to carry out a valid arrangement, the conveyor of authority will have to record the name of their agent, stipulate which powers will be at their agent's disposal, and provide confirmation by signing the instrument as necessary.
Laws
Statute – A power of attorney terminates when the principal becomes incapacitated if the power of attorney is not durable (§ 1337.30(A)(2)).
Definition – "Power of attorney" means a writing or other record that grants authority to an agent to act in the place of the principal, whether or not the term power of attorney is used (§ 1337.22(G)).
Signing Requirements – Acknowledgment of Notary Public (§ 1337.25)
Other Versions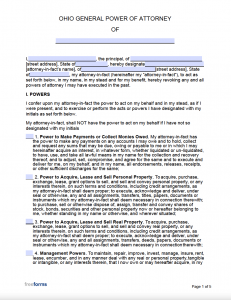 Ohio (General) Financial Power of Attorney – Version 1
Download: Adobe PDF, MS Word (.docx)
Related Forms (2)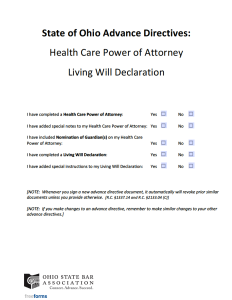 Advance Directive (Medical POA & Living Will)
Download: Adobe PDF
---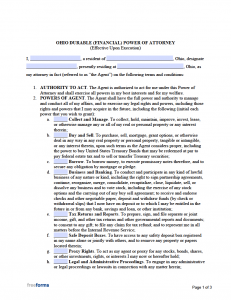 Durable (Financial) Power of Attorney
Download: Adobe PDF, MS Word (.docx)