---
The Georgia Real Estate Power of Attorney is helpful to those who need another person to act in their place for certain property transactions. What separates this instrument from your average durable or general POA is that it only sanctions the conveyance of real estate powers as opposed to listing an assortment of other financial authorities. Also, the powers are more defined in this document consist of common actions that may need to be performed for a property, such as purchasing or selling a home, refinancing a mortgage, or managing a premises.
Laws
Statute – § 10-6B-43
Definition – § 10-6B-2(7)
Signing Requirements (§ 10-6B-5) – Must be signed in the presence of at least one (1) witness and an officer who is authorized to attest registrable instruments, e.g., a notary public or another type of official mentioned in § 44-2-15 of the Georgia Code.
Other Versions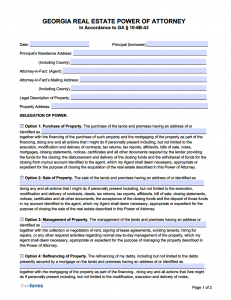 Georgia Real Estate Power of Attorney – Alternate Version
Download: Adobe PDF, MS Word (.docx)
Additional Resources
Related Forms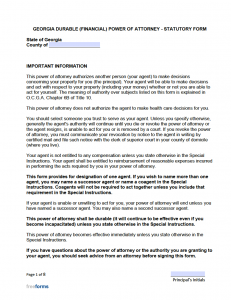 Durable (Financial) Power of Attorney
Download: Adobe PDF
---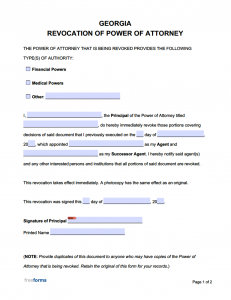 Revocation of Power of Attorney
Download: Adobe PDF, MS Word (.docx)