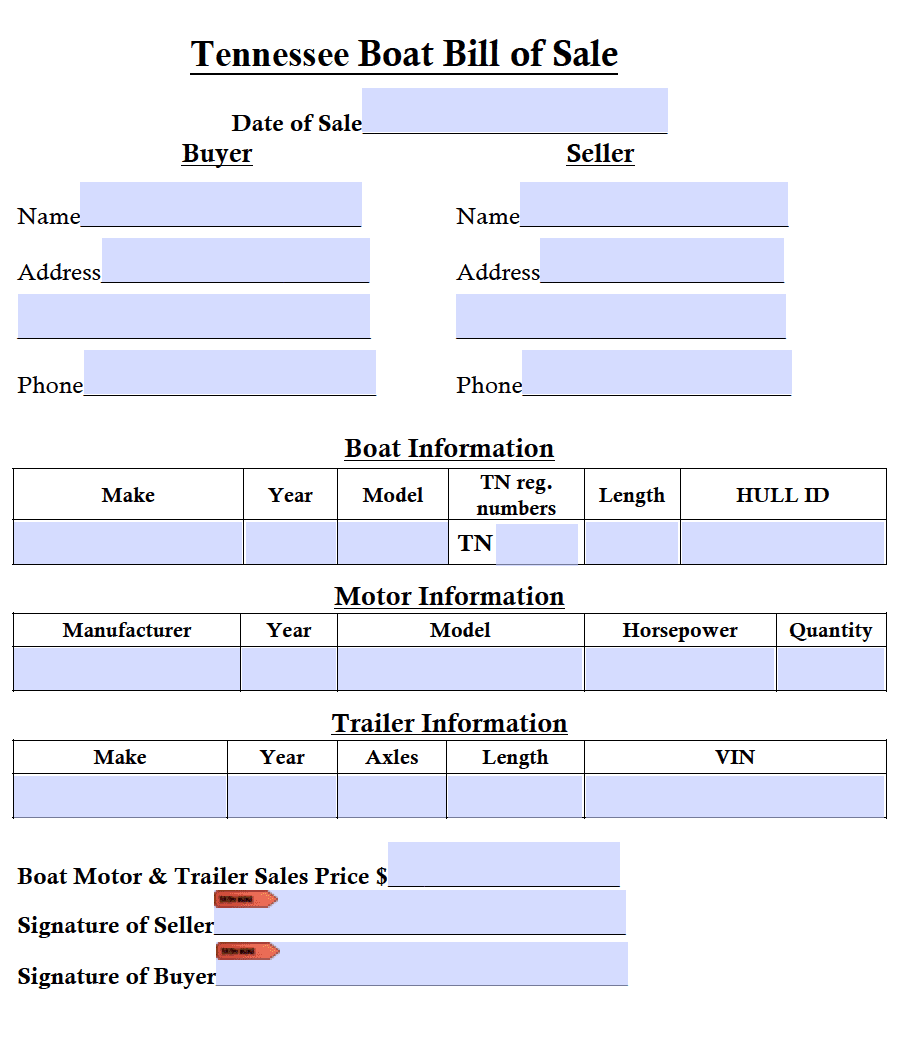 Downloads: 1,517

---
The Tennessee boat bill of sale form allows individuals to record the data concerning the exchange of a vessel from one person to another. Factual information specific to the buyer, seller, and watercraft is transcribed to form solidifying the existence of the transfer of property. Tennessee requires that a bill of sale be executed during a private sale in order to process the vessel for registration.
How to Register a Boat
All boats powered by motor or sail must be processed for registration within the state of Tennessee. To register in person, visit any of the county clerk offices in your area and have the following ready to furnish:
A completed bill of sale.
Boat Registration Application (obtainable at your nearest county clerk's office)
Proof that sales taxes were paid (the county clerk will validate your application with a stamp upon approval).
Form of payment to satisfy any fees applicable to registration.
You also have the option of registering through the mail by sending your application to the county clerk location listed on the form or online by visiting the Vessel Registration website provided by the Tennessee Wildlife Resources Agency.
How to Write
Step 1 – Download in Adobe PDF.
Step 2 – Date of Sale – Enter the exact date in which the sale is taking place into the blank space provided.
Step 3 – Buyer Details – The following information regarding the individual(s) purchasing the vessel is required:
Name(s)
Address

Street
Apt. #
City
State
Zip Code

Phone Number
Step 4 – Seller Details – Enter the following information pertaining to the seller as you did with the buyer details:
Name(s)
Address

Street
Apt. #
City
State
Zip Code

Phone Number
Step 5 – Boat Information – Insert the following data concerning the vessel involved in the transaction:
Make
Year
Model
TN Reg. Numbers
Length
Hull ID
Step 6 – Motor Information – If the vessel contains an outboard motor, you are going to want to provide the requested information listed below:
Manufacturer
Year
Model
Horsepower
Quantity
Step 7 – Trailer Information – If there is a trailer included in the sale of the vessel, insert the following description details:
Step 8 – Sales Price – Add up the amount of the items being sold (Boat, Motor, & Trailer) and input the final sales price into the space provided.
Step 9 – Signatures – Finalize the agreement by having each party sign the document on the indicated lines.